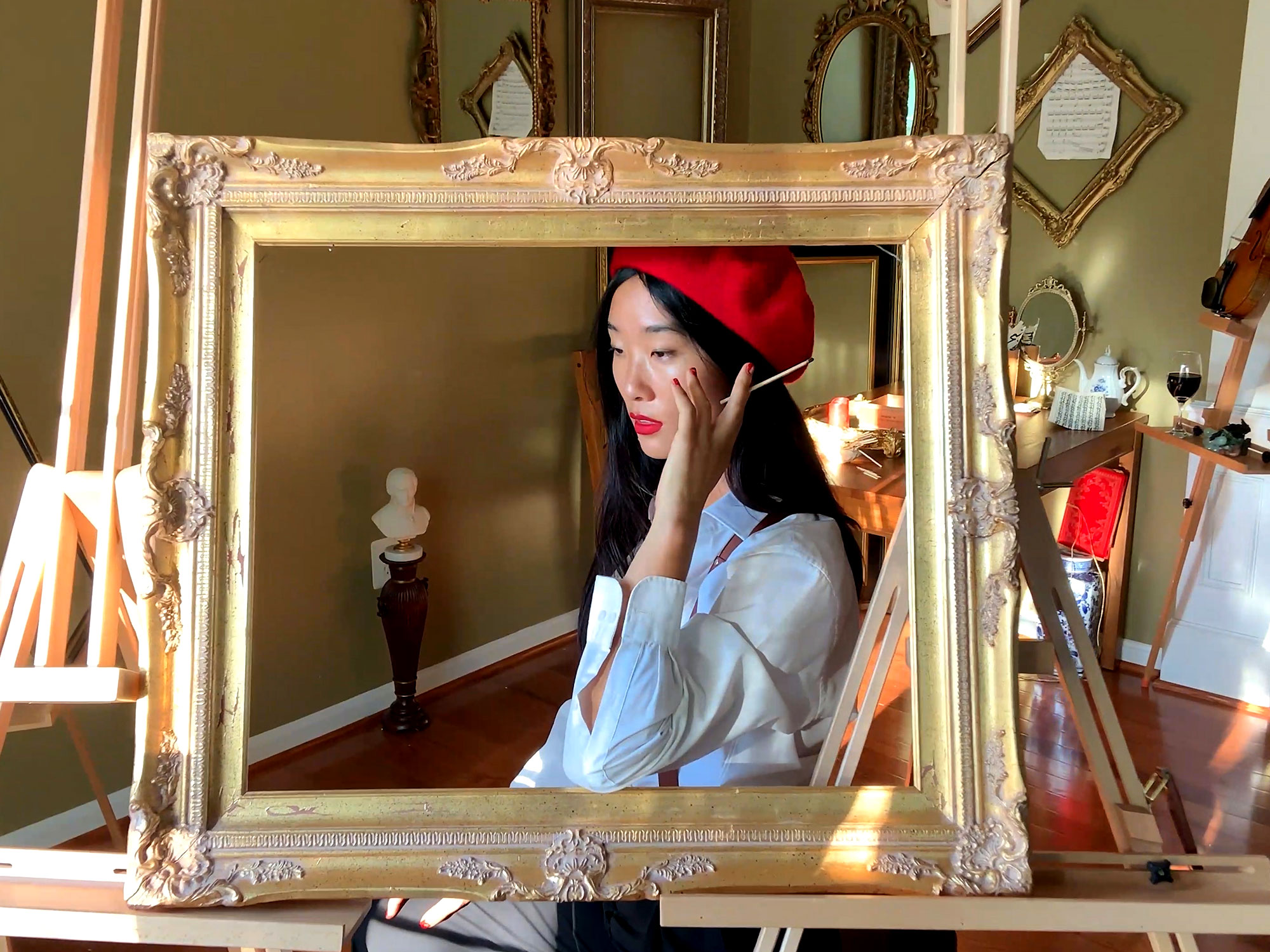 It is sunrise and Victoria Misu, 26, is wearing a light blue dress, cinched at the waist with a bronze belt, lying in front of five mirrors. Light pours in through a blush curtain. She lifts her left hand, traces her collarbone and picks up a glass filled with flower petals. She then leans back and lets you see her, briefly, as a perfect painting before the TikTok begins again.
The whole clip – staged, composed, colour-corrected – lasts 15 seconds. It's been viewed on the app by 1.3 million people.
Misu is one of the many filmmakers that have joined TikTok in order to find an audience for their work. With over two billions downloads and counting, the video-sharing platform has taken the world by storm and is addictive by design. Videos cannot exceed 60 seconds and are usually much shorter. In the early days, TikTok content primarily consisted of trendy, easy-to-learn dances, often appealing to a younger crowd (reportedly 41 per cent of users are between 16 and 24). As Madelaine Turner, a 28-year-old TikTok filmmaker, puts it, "I'm an old lady. I shouldn't be on this app!"
But TikToks have evolved way beyond lip-synced dance routines. Now that creators are being signed by big-name agencies like William Morris Endeavor and United Talent Agency, the platform has emerged as a viable path to Hollywood. The possibilities for filmmakers are endless – assuming they can adapt their content to the app's unique format and perhaps have a little luck.
Misu has already reaped the rewards of her viral video. She saw an influx of followers (she now has over 100,000) followed by tangible opportunities. Record labels, she says, have reached out for her to collaborate with their artists and several companies have asked to license her videos. Turner has had a similar experience. When she made a parody of Wes Anderson's films, it blew up far beyond her then-small pool of followers. The video got over a million views, and Turner was suddenly getting phone calls from industry professionals.
"It feels like in some way almost everyone should be big on TikTok," Turner says. "The nature of TikTok is that you sort of find your niche of people who want to watch your stuff." The "nature" she's referring to is the mysterious 'For You' page. While most social media platforms prioritise showing users content from creators they follow, many TikTok users spend much of their time scrolling through their 'For You' page – a stream of videos curated for them by TikTok.
Many have tried to crack the 'For You' algorithm with minimal success, but the gist is that TikTok first shows a video to subgroups that will be most likely to engage with it; the more engagement within that subgroup, the more people the app shows the video, regardless of how many actual followers the creator has. If that sounds completely random to you, you're not alone. One filmmaker, Connor Landhauser, 23, laments, "Some things blow up for no reason and then other things that people put a lot of effort into don't get as many views."
But that randomness can act as an equaliser. "It gives people a lot of space to get in without having to make these super high-budget films," Misu says. Even if you're just getting started, the app will essentially curate an audience for you.
Of course, making 15-second videos is deceptively challenging and often requires filmmakers to rethink their usual techniques. "If you can't nail someone's attention in the first five seconds," Landhauser says. "They're gonna scroll past and you're not going to get that back."
Landhauser adapts his usual narrative style by upping the tempo, with quick cuts and multiple locations. Turner says the app forces her to "trim the fat as a filmmaker" and critically assess every second.
For Rhegan Coursey, 17, that meant adopting an entirely new style. After years of making YouTube videos without finding an audience, she suddenly gained about two million followers in three months. All it took was making her head disappear. Coursey is known for her "transition" videos, where she uses quick cuts and clever camera placement to create optical illusions.
In a single video, she twists her sweatshirt to "rip" off her head, puts it back on, multiplies so there's ten of her, and then "rips" her head off one more time for good measure. She reveals it can take up to an hour to make one 15-second clip.
The app provides an ever-expanding selection of filters and soundtracks, while creators themselves are constantly inventing new trends and styles. Rather than feeling limited by the app, Turner says she feels like "a kid in the candy shop."
Some filmmakers, however, do feel constrained by the platform. Most of the big-name TikTokers – the Hype House, the Sway Boys – have already expanded to YouTube where they can make content without worrying about length. Many filmmakers similarly have their eyes set on bigger projects.
Landhauser wants to become a professional cinematographer and sees TikTok as a crucial stepping stone. Once he gained a following, he reached out to other creators to collaborate. He now plans on shooting a pilot this summer with Jake Karamol, a tattoo artist TikToker with 900,000 followers, to pitch to streaming services in the fall. Although Landhauser received a traditional film education at the School of Visual Arts in New York City, he quickly realised that the industry was changing. "Since graduating," he says, "social media plays a big role in making money or making those connections to get those jobs."
Landhauser hopes to one day make it to Hollywood, but for now he plans to keep growing his following on TikTok. "Love it or hate it, numbers can help you."
The post With Hollywood at a standstill, young filmmakers turn to TikTok appeared first on Little White Lies.