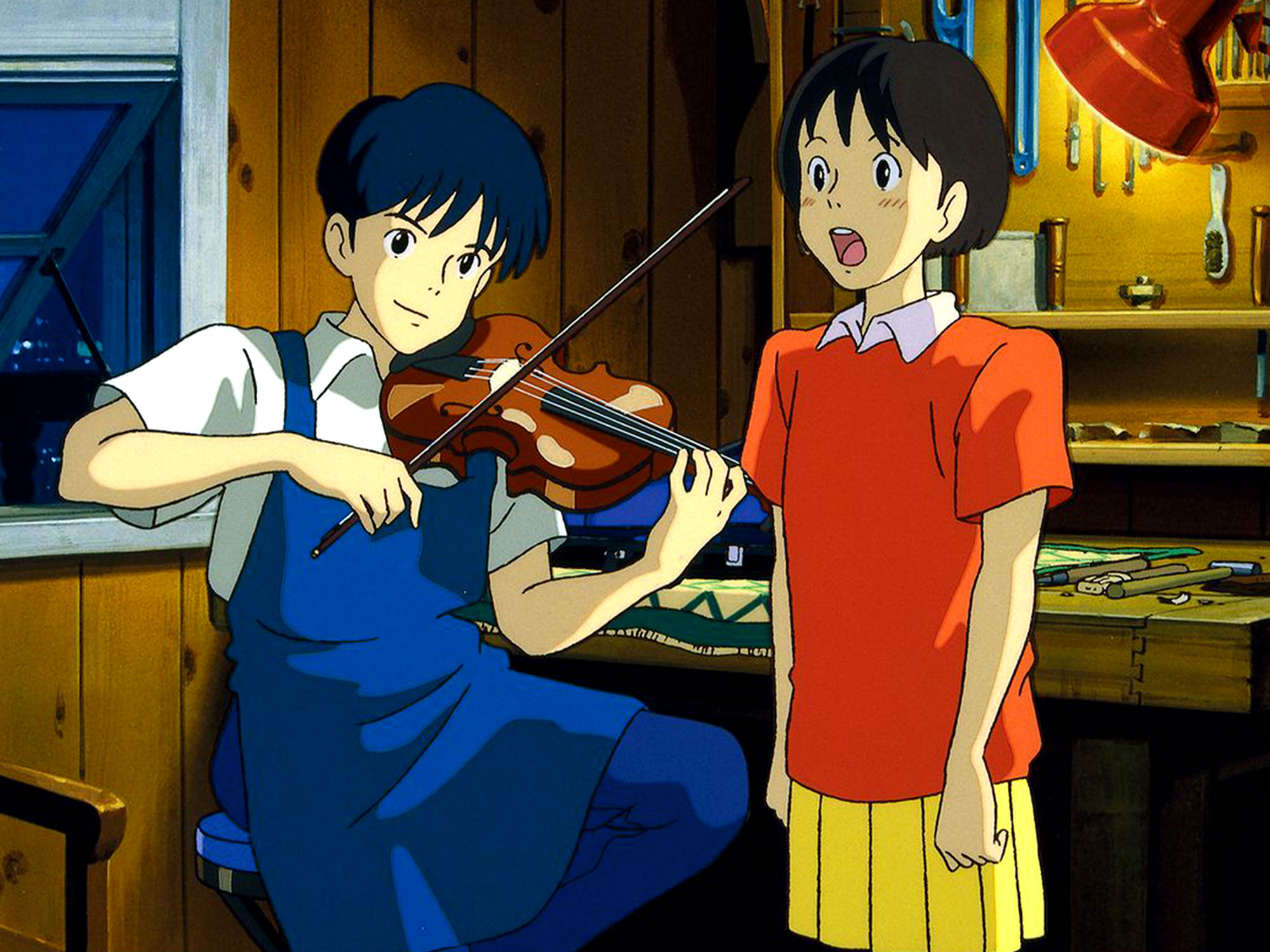 Twenty five years after its release in Japan, Studio Ghibli's first theatrical film not directed by either of its co-founders, Hayao Miyazaki and Isao Takahata, stands among its very best. Based on the 1989 manga of the same name by Aoi Hiiragi, Whisper of the Heart is every bit as soulful and thoughtful as the work of director Yoshifumi Kondo's mentors. It's said that Kondo would have been their successor, but tragically the animator died from illness in 1998.
Written for the screen by Miyazaki, the film observes teenage girl Shizuku (Yoko Gonna) living in Tama Hills in Tokyo. When we meet her, an unknown boy Seiji has taken out 3 of the same books as her, and her imagination begins to whir – what is Seiji like? The curiosity spurs her on to look for him, and she soon finds his grandfather Shiro's shop, and with it inspiration to start creating her own work.
From its opening, Whisper of the Heart's romantic view of the city at night already strikes a different tone to previous Ghibli films, which often concern man's encroachment on nature's territory. Swooning cuts of blimps, pylons and other evidence of human connection overtake views of forests and open landscapes, with soundscapes of cicadas, trains and cars mixed with classical and electronic notes from composer Yuji Nomi (a mentee of Ryuchi Sakamato).
This all feels immediately distinct from every Ghibli film that came before it, perhaps with the exception of Isao Takahata's Only Yesterday. It could be said that's part of why it has particular favour among Ghibli enthusiasts; it has a quiet and humanist interest in the ecosystem of the city, how people connect and move around, and how art connects them.
Unlike Only Yesterday, however, Kondo focuses on cramped urban spaces over that film's more spacious middle class, rural living. He could even be said to romanticise them, as Kondo packs every space with the smallest, lived-in details; human habitats imbued with as much wonder as the more fantastical Ghibli films. Most important is the expression of a deep appreciation for all kinds of creativity – whether written or played or crafted, all are equally worthy and expressive, like the clock face in Shiro's shop.
There's also song. Shizuku works on translating John Denver's 'Take Me Home, Country Roads' into Japanese for her classmates to perform. That translation is (initially) the focus of much of its musings about creativity, and a pivotal part of the film's standout set piece, a singalong with Seiji and others. The moment is an emotional turning point for Shizuku, deciding she wants to more directly share her feelings through artistic expression of her own. Like Kiki or Taeko before her, Shizuku is immensely relatable, worried that she hasn't got the talent to create. But the film assures that there is something there that she need only recognise and polish.
Whisper of the Heart is about how young people make sense of the world, learning to create as well as the agency they need to do so, something Shizuku's father and Seiji's grandfather both recognise. It's not even about solving something entirely, it's simply about finding the beginning of their path, less a typical coming-of-age story than it is a tale of self-actualisation.
The particulars about Shizuku's book aren't important, nor the roughness of her prose – as Shiro puts it, that glimpse of an unpolished jewel of talent is valuable in itself. It's worth mentioning the literal translation of the film's title Mimi o Sumaseba, meaning "If you listen closely". Through its loving detail and close attention to character, Kondo and Miyazaki determine that it doesn't matter what form that talent takes. As the title suggests, all you have to do is find it.
The post Whisper of the Heart remains Studio Ghibli's most moving outlier appeared first on Little White Lies.