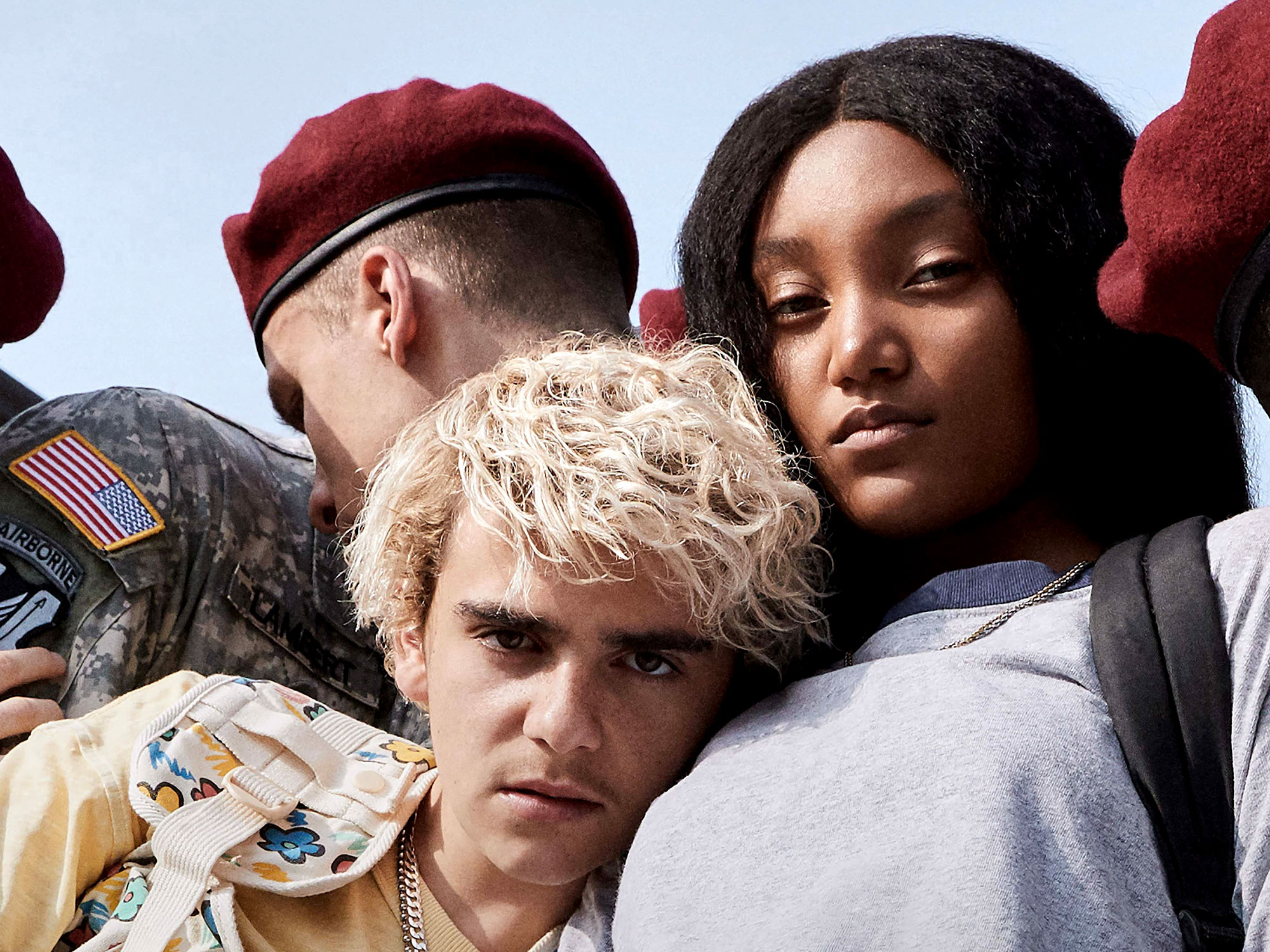 While one would never expect a teenager to be ecstatic about leaving their home city, their friends and everything familiar behind to embark on a new life overseas, one would at least expect to see a trace of curiosity upon landing in an unfamiliar country. Especially a country as culturally rich as Italy – and especially a teenager like Frasier (Jack Dylan Grazer), who exudes a self-conscious stylishness in his choice of fashion and footwear.
Upon first being introduced to the character, however, as he whines and moans about his lost suitcase and being thirsty while his mothers, Sarah (Chloë Sevigny) and Maggie (Alice Braga), calmly try to sort out the baggage situation, the only thing we get from him is indifference and hostility.
Set in 2016, Luca Guadagnino's We Are Who We Are follows this unconventional military family as they settle into their new base in Chioggia. In its premiere episode, 'Right Here Right Now I', Jenny (Faith Alabi) is assigned to pick them up from the airport, escort them to their new home and show them the ropes. As much as she tries to hide her surprise and discomfort realising that Sarah and Maggie are married, she fails miserably, and is repeatedly thrown by their family dynamic and Frasier's eccentric and rude mannerisms.
Sevigny slips into her character effortlessly, portraying Sarah as stoic and extremely outspoken; she is in complete control of her surroundings and, more so, her new position as commander. She is quick to comment on the small church on base, which is predominantly attended by Christians, and the fact that she feels a "duty to respect those that aren't."
Sarah's roles as outpost commander and wife to Maggie starkly contrast her role as a mother. Her relationship to Frasier is marked by a baffling inability to discipline him, not to mention an unhealthy urge to nurture and, most significantly, be needed on an infantile level. Though Maggie seems to be equally forgiving of Frasier's stroppy attitude and utter disregard of other people's personal space, she at least attempts to treat him his age.
Watching Frasier's behaviour in his home environment can be rather infuriating, as his attitude goes beyond that of a sulky, rebellious teenager and into the realms of down-right spoilt, disrespectful and unlikeable. Once he begins to navigate his new home base, however, we see a different side to him, one that is endearing and somehow courageous in all its awkwardness and über-cool attire.
Even in Little America, where the shop on base is stocked identically to the shops on every other military base in the world (to stop people from getting and feeling lost), Frasier stands out. Not just because he's new, but because he's a New Yorker. To most kids here, New York is as alien as the leopard print shorts he wears, as intriguing as the alternating colours of nail varnish he wears on each finger. Though they are American by nationality, most of them have never lived in, or possibly even been to, the country. This adds another layer to the new-kid-on-the-block experience, one that is possibly more intimidating than any typical transition from one high school scenario to another.
And yet, Frasier handles the situation with confidence and poise, dancing to the beat of his electric music, taking in the generous sightings of male bodies all around him, and making it known that he is looking to make a connection with Caitlin (Jordan Kristine Seamón) in indirectly conspicuous manners, for he has recognised something in her which he clearly relates to. Unlike everywhere else on base, he knows they can be someone – be who they truly are – without requiring an ID card.
Under Guadagnino's masterful direction, We Are Who We Are radiates a sticky kind of adolescent heat as it examines the characters' identities, which are refracted through both the relaxed Italian setting and rigid American military customs. On the evidence of its first episode, this is a miniseries which aches with a longing for those endless summer days that saw us come of age.
The post We Are Who We Are aches with longing for the summer of youth appeared first on Little White Lies.