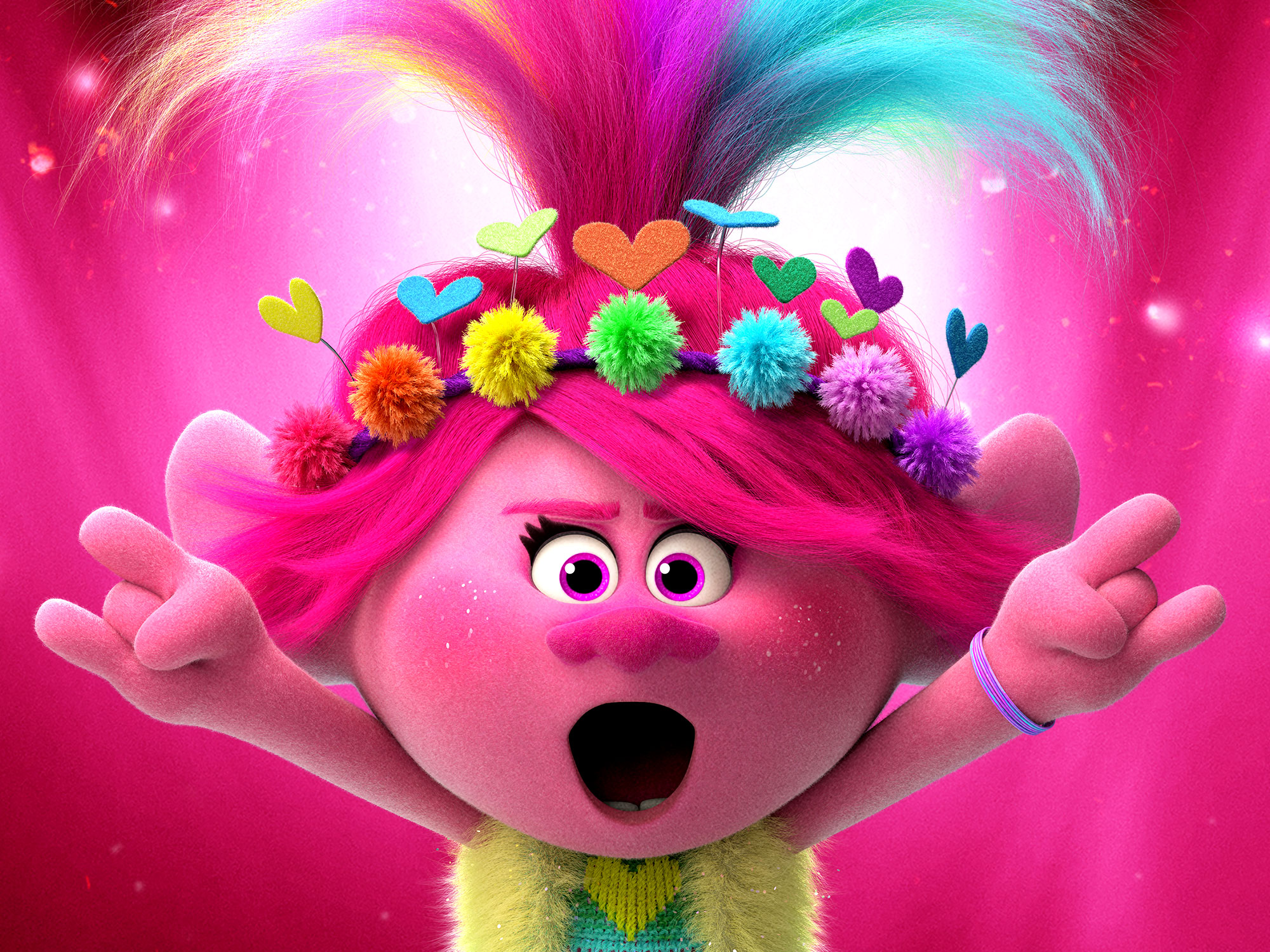 As we mourn for all the cinematic offerings that have been cut short, delayed or cancelled in the wake of coronavirus, I find myself mourning the fact that I won't be able to see Trolls World Tour as big and as loud as intended. For me, watching the first Trolls film remains one of the strangest cinema trips of recent years.
It was a Saturday morning, and the dark lights and strong coffee at my local cinema were a balm for sore heads from the night before. Upon arrival, I immediately regretted my decision not to check the listings in advance; the only thing on was a 'kids club' screening of Trolls. Luckily, no one had actually booked a ticket, so the screening was all mine. Ninety-three minutes later, the world was a very different place.
Trolls has a strange grasp on me now, the more I try to explain it, the more it eludes me. My friends must be on the brink of writing me letters, delivered by hand for me to read aloud whilst they stand in a circle, and I shed tears learning of the pain I've caused in my pursuits to understand it. Mike Mitchell and Walt Dohrn's 2016 film is a kids animated musical about how human-like villains love to eat small, colourful, hairy trolls that provide an extreme psychedelic experience when consumed.
Anna Kendrick's pink-haired Princess Poppy and Justin Timberlake's wooden outsider Branch have to team up with Trolls of all shapes and sizes to save the day, with the help of lots of singing, dancing, rainbows and a naked, auto-tuned troll that farts glitter. This is all established fairly early on in the film, and watching it then, I wondered whether it was in fact still the middle of a big Friday night. But it wasn't. It was much better than that. It was Trolls.
Trolls World Tour expands the Trolls universe with more emphasis on music, beginning with a cover of Daft Punk's 'One More Time' (a music cue dad-joke if ever there was one) that reveals the Techno Trolls and their Day-Glo kingdom, which is under attack from the Rock Trolls and their black and red Fury Road inspired convoy. These mohican-haired tyrants are on a mission to bend all of the musical lands – that's Techno, Country, Funk, Classical and Poppy and Branch's Pop Kingdom – to their will, one power chord at a time.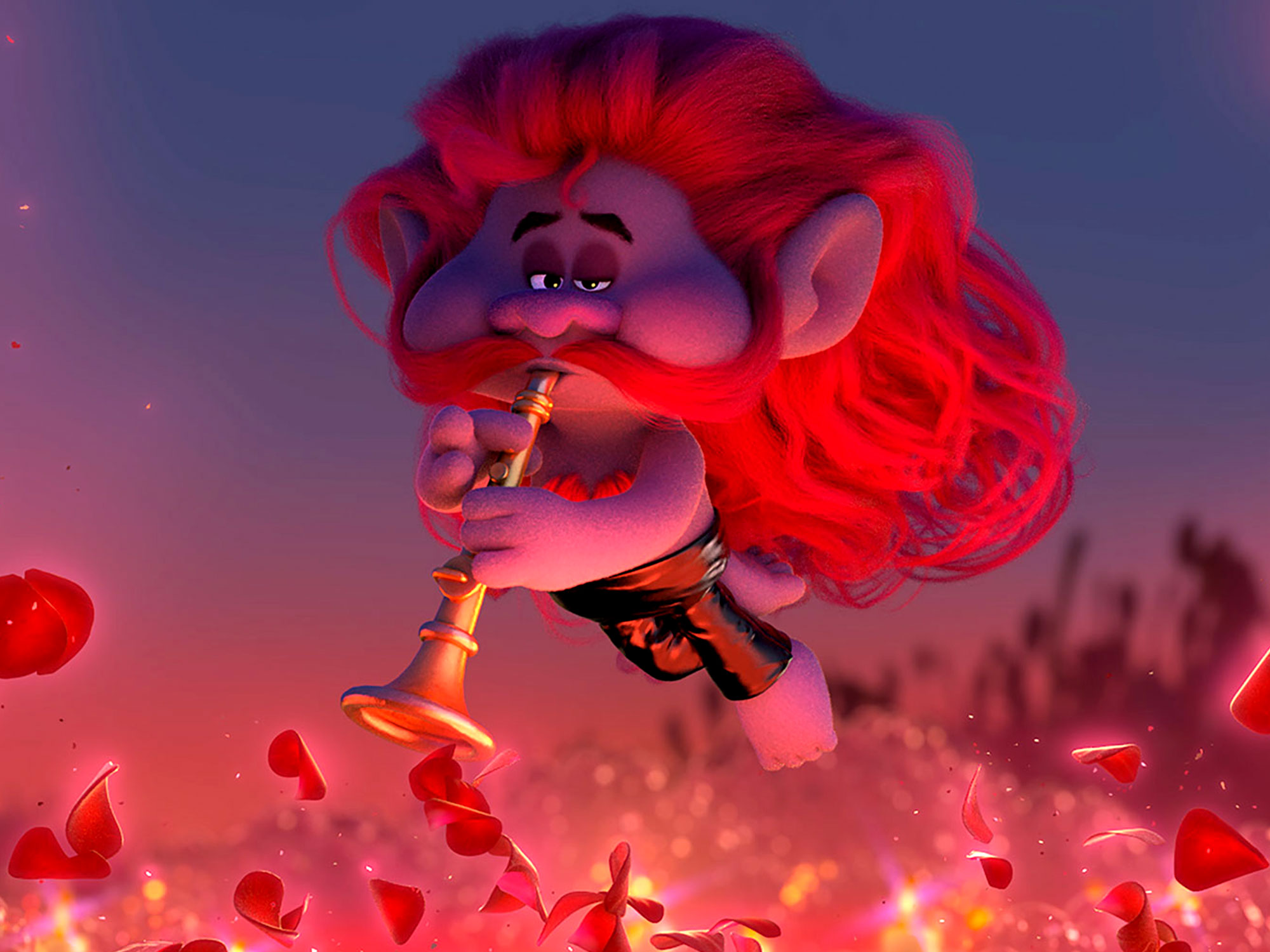 What follows is a lot of what made the first Trolls film so much fun. Namely, its endlessly surprising mechanics: lassos made of moustaches, a speedboat motor made of a sentient fluffy maggot, a rectally excreted birthday cake complete with flaming candles. And, of course, a Kenny G-inspired smooth jazz assassin, capable of inducing hypnotic Python-esque collagic visions (it's Trolls, psychotropics have to appear in some way).
Poppy aims to joyfully unite the tribes together with pop music, while Queen Barb of the Rock Trolls wants to bring them all under her rule, and it's only when they come together that their musical dictatorships become visible to one another. What if rather than bringing music together under pop, it actually stole from the other musical cultures, taking their wares, bending them to pop's will and claiming unity?
In its own overflowing pick-n-mix bag way, Trolls World Tour reminds us that history is written by the victors, and in doing so interrogates the first film's own brand of fluffy inclusion. The cheery tale presented here is one of colonialism and appropriation; one that asks us to let people express themselves fully, not just sample them.
Although World Tour hits some of the right notes, the familiar abstract quirkiness occasionally makes it feel like a cover version of the first film. And, crucially, there's no song even remotely close to Timberlake's soundtrack hit 'Can't Stop the Feeling'. For a film whose plot hinges on great music, it's a shame to see it fall flat there.
The post Trolls World Tour appeared first on Little White Lies.