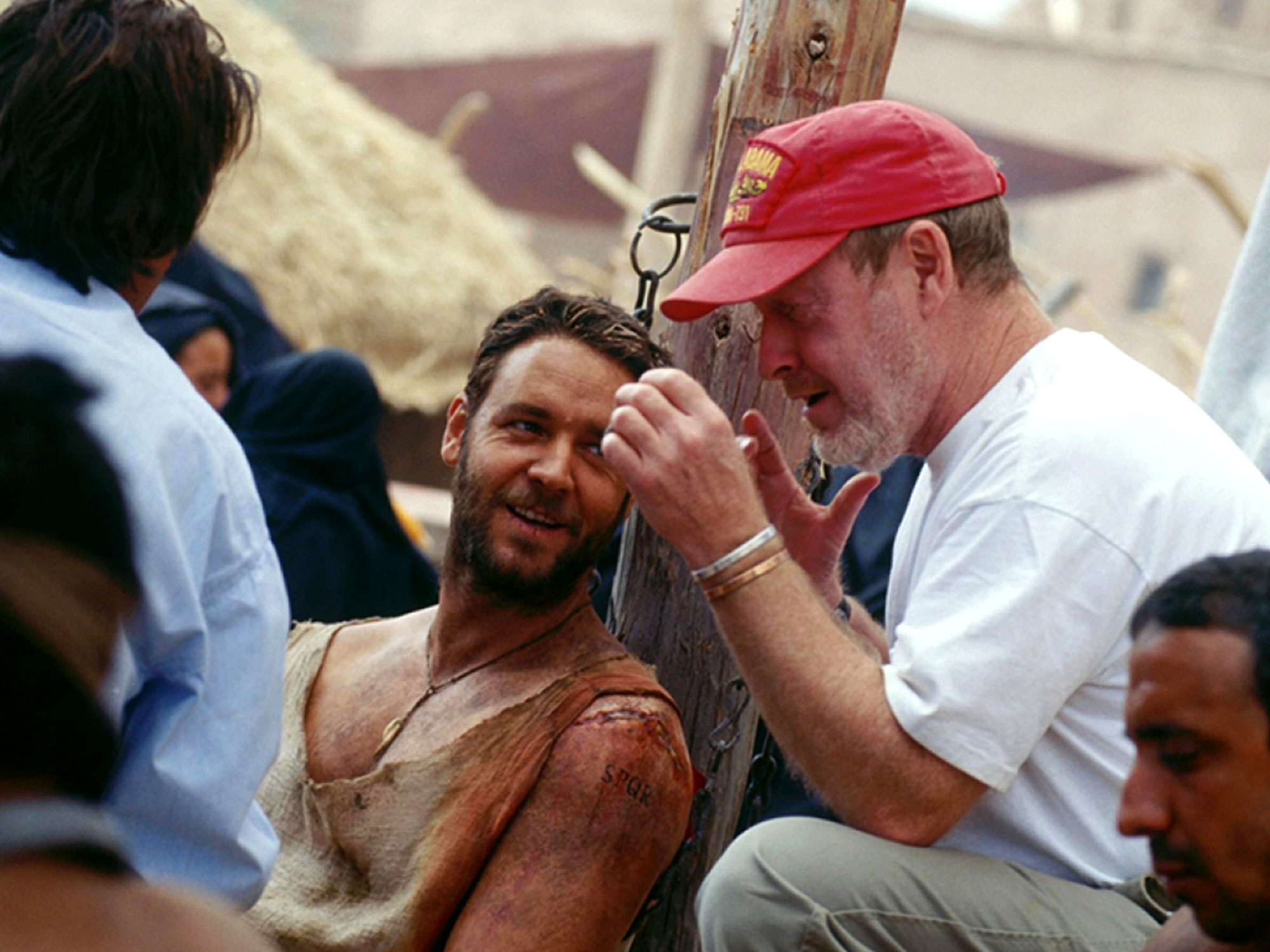 Twenty years have passed since Russell Crowe's scorned warrior Maximus went on a bloody quest to avenge his dead family in 2000's Gladiator – but his journey wasn't meant to end there.
Ridley Scott's Roman epic was such a huge success, the film's star wanted a sequel and approached an unlikely pal to tackle scriptwriting duties. Oh, and the minor issue of bringing his sword-wielding hero (erm, spoiler alert) back from the dead. "I know Russell really well," revealed musician and Bad Seeds frontman Nick Cave on Marc Maron's WTF Podcast in 2004. "He rang me up at home and asked me if I wanted to write Gladiator 2, which for someone who had only written one film script was quite an ask."
Having forged a fast friendship during pre-production of The Proposition, the 2005 Outback western that Cave wrote and Crowe almost starred in, the actor believed Cave was just the guy to bring Maximus back into battle. Not only that, Cave had a killer idea for how to sidestep the original ending.
"That's where it all went wrong," Cave has said of the ill-fated experience. "I was like, 'Hey Russell, didn't you die in Gladiator one?' He was like, 'Yeah, you sort that out…' so he goes to purgatory. There's this Christ character down on Earth who is gaining popularity and many of the Gods are dying so they send Gladiator back to Earth to kill Christ and all of his followers. I wanted to call it 'Christ Killer'."
If Cave's descent into the mythic Greek underworld sounds a bit too far out, his wild ideas didn't stop there, with Gladiator 2: Christ Killer culminating in an epic, era-spanning climax. "In the end you find out that the main guy was his son. So he has to kill his son and he's tricked by the Gods and all this sort of stuff," teases Cave. "He becomes this eternal warrior and it ends with this twenty minute war sequence that follows all the wars of history, right up to the Vietnam war. It was wild."
Wild, indeed. And when Cave's unproduced screenplay leaked online back in 2009, fans were able to see just how out-there his story was – with Crowe's immortal warrior ultimately commanding World War Two tanks and making an appearance in the modern day Pentagon.
Cut to 2020 and it's no secret that Cave's flight-of-fancy follow up didn't see the light of day, proving a little too larger-than-life for its would-be star. "I said, 'What do you think?' 'Don't like it, mate,'" chuckles Cave, recalling Crowe's reaction to reading the finished script. "'What about the end? 'Don't like it, mate'."
That said, his sequel idea didn't seem too outlandish for the film's director. "It was a good idea,' Scott remarked during a junket interview for 2017's Alien: Covenant, before shedding some more light on the thinking behind how Maximus was able to return to Earth. "I knew how to bring him back," he added. "[Cave] used a portal of a dying warrior as a portal that could bring somebody back."
Despite Cave's ready-to-go script and Scott's apparent enthusiasm, it wasn't enough to resurrect Maximus for another clash in the colosseum. When quizzed on the current status of Gladiator 2: Christ Killer, Scott was quick to reiterate its dormant status, "It's on the shelf somewhere at DreamWorks."
However, while the story may have ended its life on a dusty studio shelf, Cave doesn't regard the experience as a complete waste of time. In fact, according to his chat with Maron, he looks back on the whole experience very fondly, adding just one more colourful and unexpected string to the musician's multi-faceted bow. "I enjoyed writing it very much. I enjoyed writing it because I knew – on every level – it was never going to get made."
The post The supernatural, Nick Cave-scripted Gladiator sequel that never was appeared first on Little White Lies.