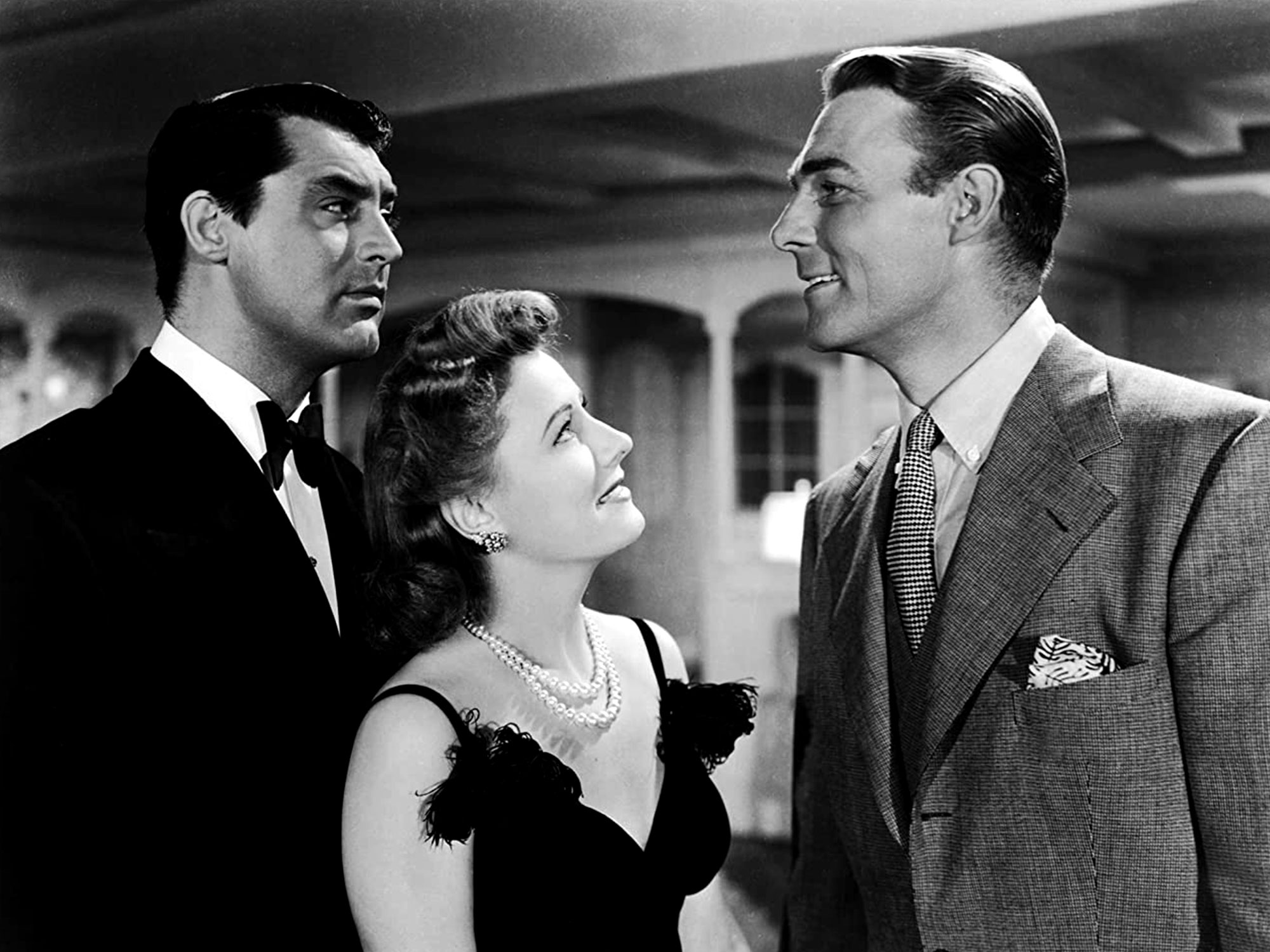 Discussion of LGBT+ themes was denied in Golden Age Hollywood, thanks in no small part to the constraints of the Hays Code. The rules enforced by the Code resulted in such strong censorship that even the suggestion of a same-sex relationship could result in a film being banned globally.
Consequently, filmmakers eager to explore these themes had to get creative. Perhaps no genre was more successful at subverting the rigid conventions of the time than the screwball comedy. Known for fast talking and farcical situations, this particular style of comedy was particularly adept at hiding connotations in quips and the bizarre predicaments the characters invariably found themselves in. Released in 1940, My Favorite Wife is like any other screwball on the surface, its themes of bisexuality and polygamy subtly veiled.
As newly-wed Nick Arden, Cary Grant finds himself entangled a typical hetero-love triangle when his first wife – previously presumed dead after disappearing on an island seven years prior – returns home on the day of his second marriage. In the first half of the film he juggles pleasing both Ellen (Irene Dunne) and Bianca (Gail Patrick),until it is revealed that Ellen wasn't missing after all. She found the company of Stephen Burkett (Randolph Scott), a rugged and well-kept man who on first impression seems a perfect fit to play the love rival. Thanks to Grant and Scott's personal relationship, however, the queer-coding of these characters is given real-life context.
From 1932 to 1944, Grant and Scott lived together, sharing a Santa Monica beach house and Los Angeles mansion. Depicted as supposed bachelors, they had a photo shoot to commemorate their lifestyle of working out, swimming and socialising (semi-nude) together. Although it has never been confirmed, Grant's same-sex relationship with Scott appeared to coincide with two failed marriages, which would rise to five in Grant's later years.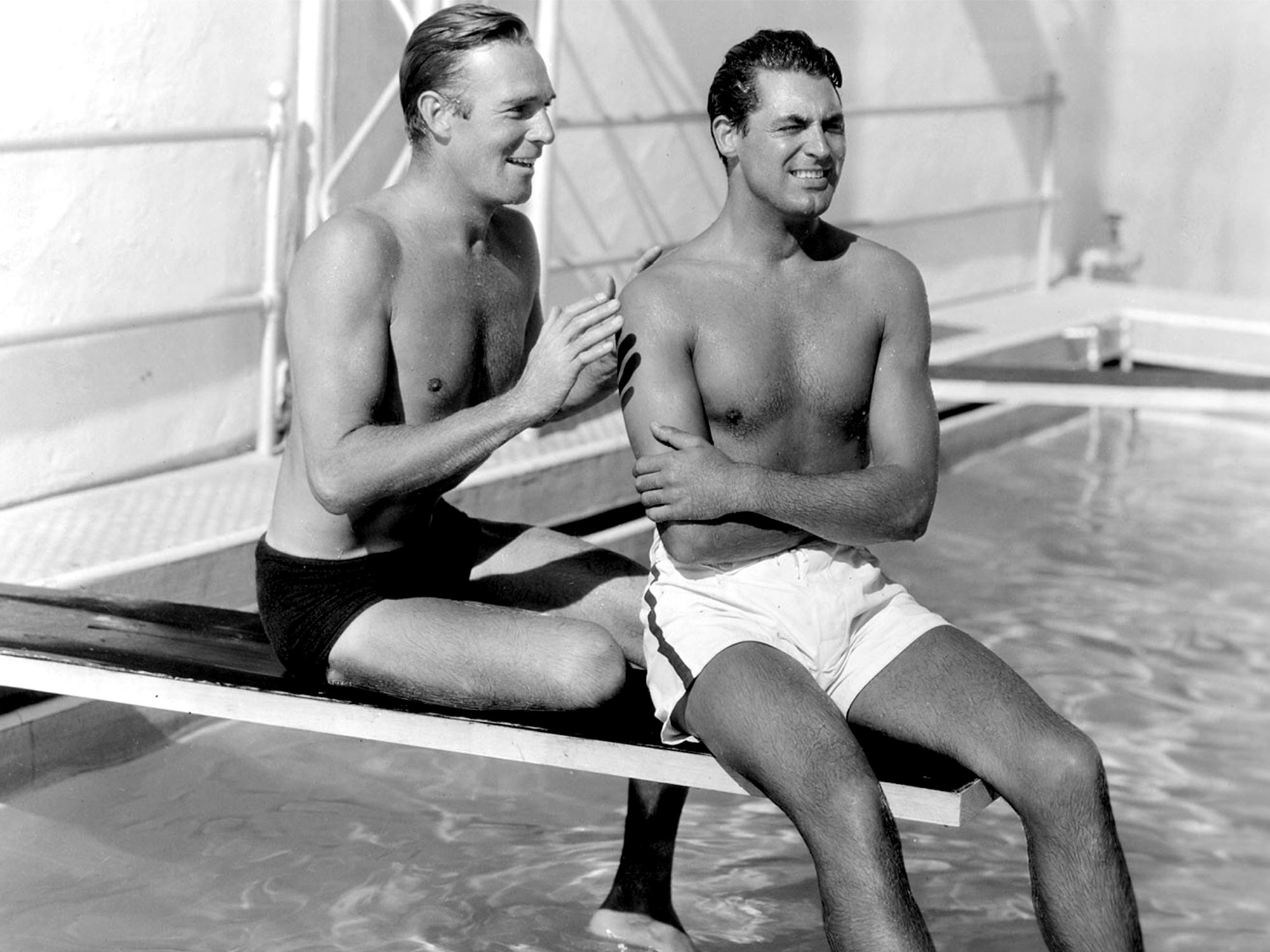 When Nick first sees Stephen, he is standing in trunks atop a diving board waving emphatically to Ellen. The initial glances between the men may seem to convey envy, but there is a palpable sexual energy between all three as Stephen joins the table to sit between them.
Hints of bisexuality and homosexuality were not pervasive in 1940s Hollywood, often buried in the subtext and assigned to stereotypical villains. The antagonist of John Huston's The Maltese Falcon, for example, has his homosexuality minimised (in the novel it's much less ambiguous). On the other hand, Scott's Stephen is a prime example of the macho Hollywood idol. If anything it is Nick who is the more effeminate of the pair, as he spends much of the film pacing back and forth in a leopard print gown.
The tension between Nick, Stephen, Bianca and Ellen is shared evenly and the love triangle effectively becomes a square after Stephen's introduction. If it wasn't for the era's strict censorship rules, My Favorite Wife might have ended with Grant and Scott running off together.
But the possibility of a polygamous relationship between all four characters is still present during the final scene, where they attend court after Nick is charged with bigamy. Despite their contrasting personalities, none of them stand to gain from denying or suppressing their impulses. So it's a real shame when the judge's verdict forces a more traditional romantic outcome.
Screwballs became known as "sex comedies without the sex", as the American film critic Andrew Sarris put it; sexual tension is not out in the open but instead concealed in the sharing of a cigarette or the exchanging of suggestive glances. My Favorite Wife is programmed to repeat this format, never following up on the hidden desire between Grant and Scott. Viewed today, however, this classic screwball comedy seems genuinely subversive, going against the grain of heteronormative Hollywood by queer-coding its male leads.
The post The queer-coding of this classic screwball comedy appeared first on Little White Lies.