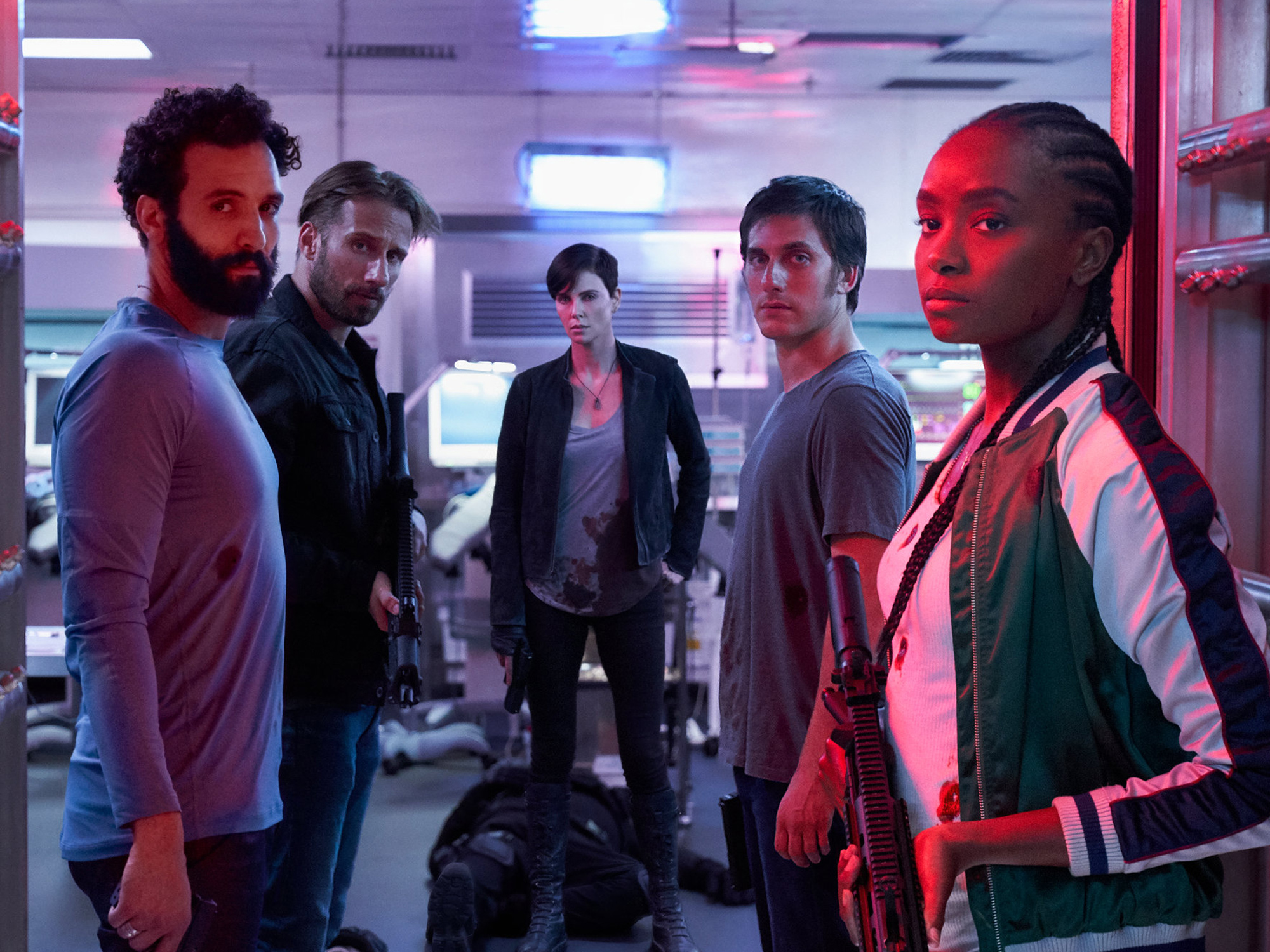 With the likes of Black Widow and Wonder Woman 1984 on ice due to the impact of COVID-19 on cinemas, streaming has experienced a bumper few months, with many distributors weighing up the pros and cons of releasing their 2020 slate on demand rather than gambling on the public being willing and. able to pack into cinemas any time soon. Of course, for native streaming services, this has been a busy time, and Netflix continues to lead the charge, responsible for lockdown hits such as Tiger King and Spike Lee's Da 5 Bloods.
Their latest release is also one of their glossiest: a superhero action movie about a band of international mercenaries who just so happen to be immortal. Is this a sign of Netflix gearing up to take on the might of Marvel and DC? All the hallmarks are there: certifiably cool source material (Greg Rucka and Leandro Fernández's graphic novel series of the same name) great director (Gina Prince-Bythewood, returning to feature directing after six years working on serialised TV) and a clutch credible, bankable stars (Charlize Theron, KiKi Layne and Chiwetel Ejiofor).
Certainly Netflix manages to succeed at one thing Marvel and DC have always faltered at: portraying a gay character without it feeling like tokenism. In The Old Guard, two of the ensemble, Nicky and Joe, (Marwan Kenzari and Luca Marinelli) are in a long-term relationship – their love for each other plays a part in the story, but crucially it feels completely sincere (lest we forget Marvel's attempt at LGBT representation in Avengers: End Game.) On a similar note, Prince-Bythewood is the first Black woman to direct a comic book movie; a landmark moment, even if it's staggering to think it's taken this long.
Credit too is due to Theron, whose action game as Andy, the no-BS leader of the gang, is as strong here as it was in Mad Max: Fury Road, and her brusqueness is once again combined with a genuine emotional core. She is tired of watching her friends die and, despite her best efforts to prevent global catastrophes across the millennia, the world never seems to get any better. She has also become disillusioned with their mysterious abilities and omnipotence. KiKi Layne – in her biggest role since she wowed in Barry Jenkins' If Beale Street Could Talk – plays Nile, who presents to Andy and the gang a chance at redemption, but only if they can outwit the nefarious pharmaceutical company hot on their tails.
The antagonist plot of the film, Harry Melling's hoodie and sport coat-wearing CEO, is where things falter, as the characterisation leans heavily into familiar tropes of sadistic doctors and money-grabbing British villains. Even though the film poses some big questions about morality, individual sacrifice for the greater good and the emotional toll of living forever, it doesn't give itself much room to answer them, jumping from one action scene to the next in a manner that doesn't quite give the characters a chance to breathe.
Even so, it's a pleasing shot of escapism for these strange days, stymied by convention but boosted by charisma and an earnestness often forgotten in the hyper-serious world of comic book movies. It could do with a few less distracting needle drops, but if Netflix are hoping for a sequel (and an end credits scene suggests as much) there's certainly enough groundwork here to entertain the idea.
The post The Old Guard appeared first on Little White Lies.