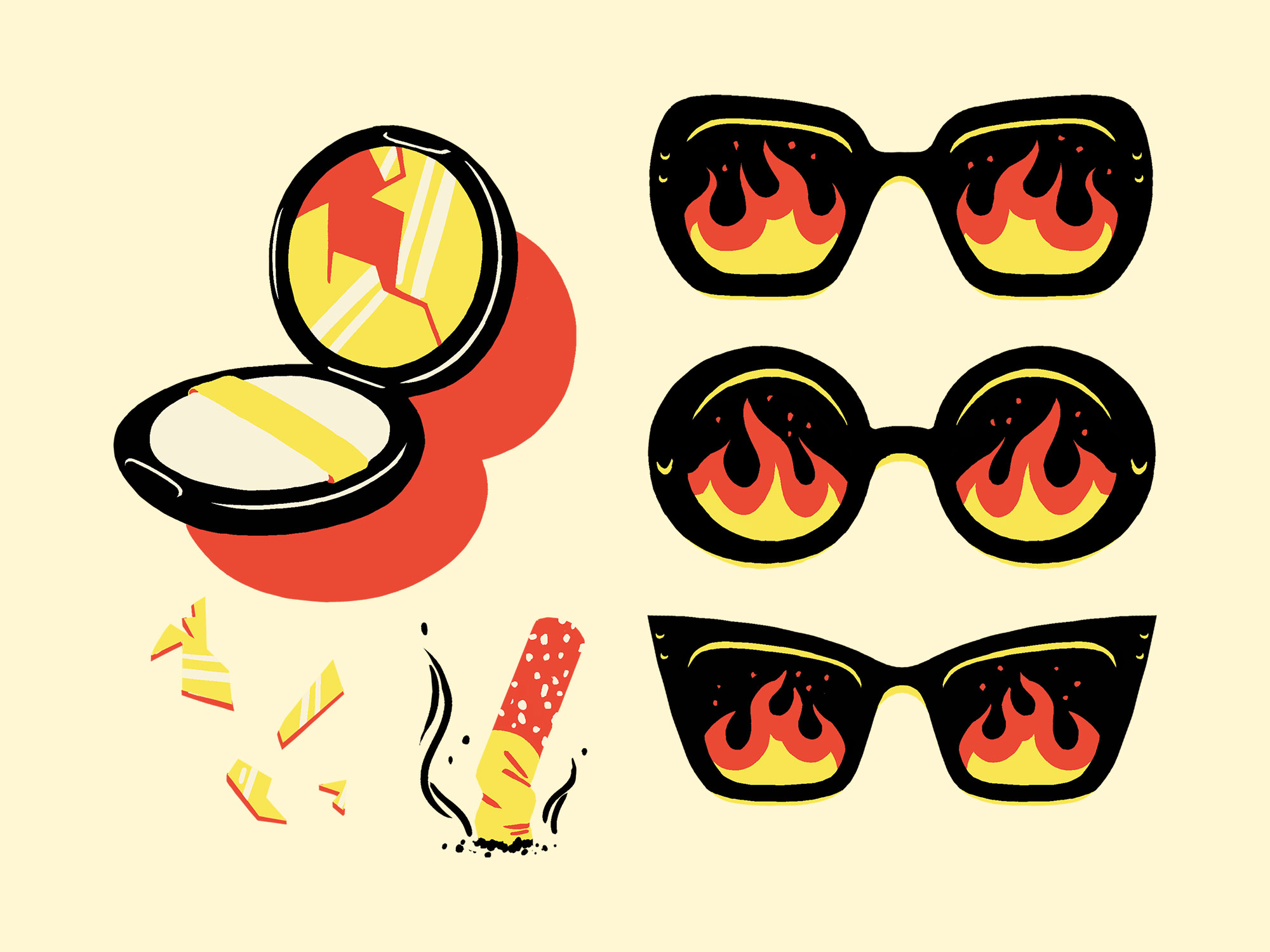 "If a man says a woman is crazy or difficult, ask him, 'What bad thing did you do to her?' That's a code word. He is trying to discredit her reputation."
These are the words of actress and activist Natalie Portman, spoken in a speech at Variety's 2018 Power of Women event. Met with rapturous applause as her sentiments reverberated around a room filled with peers, she then laid out a series of ways to improve the American filmmaking industry in the wake of the explosive allegations levelled against producer Harvey Weinstein.
Show business operates on perception. Gossip and tittle-tattle is part of its ecosystem. To be branded with a loaded moniker such as "difficult" can be an effective silencing method. And if we've learned one thing from Hollywood movies, it's that money and power are intrinsically linked. If you take away someone's source of income by unfairly tarnishing their name, they won't be able to put up much of a legal fight. Stringent non-disclosure agreements have been employed to prevent women from sharing their stories, whereas lies that inflict damage and hiring potential are harder to disprove.
The New York Times and The New Yorker broke details of the Weinstein story seal in October 2017, and since then more than 80 claims of sexual misconduct have been levelled at the mogul (who, at time of writing, has been convicted of two charges and awaits sentencing from prison). For years, journalists at several publications (including The Hollywood Reporter, New York Magazine and The New Yorker) had been trying to break this story wide open, but nothing would stick.
The mega producer was the ultimate untouchable figure, protected by power, fear and non-disclosure agreements – a veritable 'white whale', which is why Jodi Kantor, Megan Twohey and Ronan Farrow's Pulitzer Prize-winning investigative reporting sent shockwaves throughout the industry and altered the fabric of Hollywood.

Not only did they secure multiple sources willing to go on the record about Weinstein, they opened the floodgates regarding other claims of misconduct by men in positions of power. In the weeks and months that followed, other reporters and publications broke stories about abusive figures in the entertainment industry. A reckoning had come to Tinseltown.
In the aftermath, director Brett Ratner's multimillion-dollar director deal was not renewed by Warner Bros after accusations of sexual harassment came to light, and Pixar co-founder John Lasseter stepped down from his chief creative officer position in 2018 after reports of inappropriate behaviour. Television wasn't immune to the wave: the chairman and CEO of CBS Corporation, Leslie Moonves, stepped down amid multiple allegations of sexual harassment. In each corner of the industry, powerful figures who had gone unchecked for years were now being held accountable.
Those accused were more often than not in a position to threaten their victims' careers, leaving many victims isolated and with silence their only viable option. The sheer volume of people who came forward after the initial articles were published revealed this was far from the case. The Time's Up and #MeToo campaigns have shown that there is strength in numbers. But, the fight for justice is an ongoing process, and stories of misconduct continue to break more than two years after the initial flurry.
The accounts of the women who have come out against Weinstein share not only similarities in the methods of harassment, but also the systematic manner in which their work ethic was attacked in the aftermath. Rosanna Arquette, Ashley Judd, Mira Sorvino, Annabella Sciorra, Rose McGowan, and Daryl Hannah all experienced the ebbs and flows of any professional artistic career, but each can pinpoint the moment of a drastic downturn in offers as a form of perceived retribution from the producer.
"The idea that there was this malevolent hand that actually had changed the course of my professional life was devastating to me," Sorvino told The LA Times a year after the Weinstein story broke. Following her 1996 Oscar win for Mighty Aphrodite (the rare comedy performance to get honoured), Sorvino appeared to fall foul of the dreaded "Oscar Curse", where an actor experiences career misfortune in the years following their victory. This reasoning is indicative of how easy it is to explain why someone is no longer considered buzzworthy.
It isn't a conspiracy or an insidious case of blacklisting, rather it can be chalked up to ageing out of roles/being difficult/or something as vague as a curse (delete where applicable). Regardless of how many awards an actress has on her mantlepiece, or how iconic a previous role has been, this form of plausible deniability is an effective method for perpetuating a narrative that protects the abuser.
Sorvino seemingly had the world at her feet after the Academy triumph, but beyond her turn in beloved cult comedy Romy and Michele's High School Reunion, and the lead in sci-fi horror Mimic, her movie profile faded and the studio roles dried up. To be deemed difficult is a shortcut to Hollywood purgatory. And Sorvino is not alone.
"From 1992, I didn't work again until 1995. I just kept getting this pushback of, 'We heard you were difficult; we heard this or that.' I think that that was the Harvey machine," Annabella Sciorra told The New Yorker in 2017. It is impossible to know what work she would have gotten over this three-year period if the alleged "difficult" tag had not been added to her unofficial resumé (not to mention the psychological trauma), but her star had been on the rise.
In 1989, Sciorra's film debut in comedy True Love led to an Independent Spirit Award nomination. She followed this with a starring role opposite Wesley Snipes in Spike Lee's Jungle Fever, which led to further critical raves. The hot streak continued in 1992 with the number one box office hit, The Hand That Rocks the Cradle. Everything came crashing down, a career in tatters and a reputation ruined after the alleged violent rape and years of harassment at the hands of Weinstein. This career slump didn't go unnoticed by those who knew Sciorra.
"Why did this woman, who was so talented, and riding so high, doing hit after hit, then all of a sudden fall off the map?" actress and friend Rosie Perez told journalist Ronan Farrow about her recollections in the wake of Sciorra's alleged attack. A few parts did come her way, but it wasn't until 2001 when Sciorra appeared on The Sopranos that audiences sat up and took notice once again. An Emmy nomination followed this career redefining performance as Gloria, which showcased her ability to play a confident woman who seemingly had it all but was teetering on the edge of self-destruction.
Since the revelations, the women that had been labelled 'difficult' are being hired again. However, the perfect Hollywood ending is far from guaranteed. Certainly, the landscape and power balance has shifted over the last few years, but the true extent of how much has changed is unclear as various legal battles rage on in criminal and civil court (at the time of writing, Weinstein is on trial in New York City, a second criminal case will follow in Los Angeles). It is impossible to measure exactly what has been lost – both personally and professionally – and what would constitute victory for the women seeking justice. Nevertheless, nagging questions about the loss of significant roles in era-defining movies have since come to light.
In some cases, what could be dismissed as paranoia-laced fear has been corroborated by a director who was swayed by the apparent smear campaign. "I recall Miramax telling us they were a nightmare to work with and we should avoid them at all costs," revealed Peter Jackson after he had shown interest in casting Mira Sorvino and Ashley Judd in the Lord of the Rings trilogy. Taking these claims at face value meant Jackson immediately dismissed the pair from consideration. Gossip has long been wielded as a weapon by Hollywood moguls to silence, shame, intimidate and destroy careers.

Often forgettable television and minor movie roles helped pay the bills when the leading lady offers dried up. Sorvino spoke of the financial toll to The LA Times regarding the alleged blacklisting after the Oscar win, "Because that's when I had the biggest potential to solidify my career as a leading lady, and to make the kind of economic strides that would have secured my family forever. And we've had some lean years over the last 10 years." It isn't just a case of losing out on personally fulfilling parts, but also the job security that comes with plaudits and visibility.
While the television industry itself isn't free of sexual predators, for the movie actors who saw their careers destroyed by Weinstein it's television that now provides a chance for them to reinvigorate their stalled careers and remind audiences of their gifts. The landscape has changed over the last 20 years, and television is no longer viewed with disdain or as a distant second-best to film.
As the golden age of television gets set to head into yet another decade, many former film stars who've found prestigious work for the small screen must be questioning whether a splashy return to film would even be desirable. Ashley Judd received an Emmy nomination in 2012 for mystery thriller mini-series, Missing, as well as appearing in the critically lauded Twin Peaks: The Return. Along with the aforementioned Sopranos career jolt, Sciorra has recently guest starred on GLOW, Daredevil and Luke Cage, as well as landing a recurring role on the Apple TV+ series Truth Be Told. And Daryl Hannah starred in the beloved (and cancelled-too-soon) Netflix sci-fi series Sense8.
Ryan Murphy is one of the most prolific TV producers of the 21st century and has recently signed a multi-million dollar deal with Netflix. Two of his forthcoming projects have cast high-profile Weinstein accusers, joining his ever-expanding acting troupe. Arquette will appear in Ratched – an origin story based on the 'One Flew Over the Cuckoo's Nest' character of the same name.
The allure and perils of fame are often at the heart of Murphy's work, and Hollywood is no different, with Sorvino tapped to guest star. Set in the 1940s, Murphy has described Hollywood as, "a love letter to the Golden Age of Tinseltown," and that it will explore how, "everything has changed and nothing has changed." Before this, Sorvino flexed her comedic chops on sitcom Modern Family as a Gwyneth Paltrow-esque lifestyle guru.
This is not the final act of a gritty but ultimately uplifting tale of triumph in the face of adversity with a central performance guaranteed to garner an Oscar nomination, causing the audience to weep tears of joy at how far we have come. Rather, someone needs to be held accountable, even if there is no form of recompense. Shifting the focus back to those who had their names tarnished is one way to reclaim lost time.
Years have likely been snatched away from the talented women deemed "difficult", and while there is no quantifiable way to measure the overall impact of the blacklisting claims, the code has now been broken and this terminology takes on new meaning. The tenacious reporters who wouldn't be intimidated and the brave sources that made their voices heard have started to break the cycle. It took a monolith like Weinstein to be toppled for the entertainment industry to take claims of workplace harassment seriously, but how can Hollywood ensure this doesn't happen again? This is a story yet to be written.
The post The Lost Careers of Difficult Women appeared first on Little White Lies.