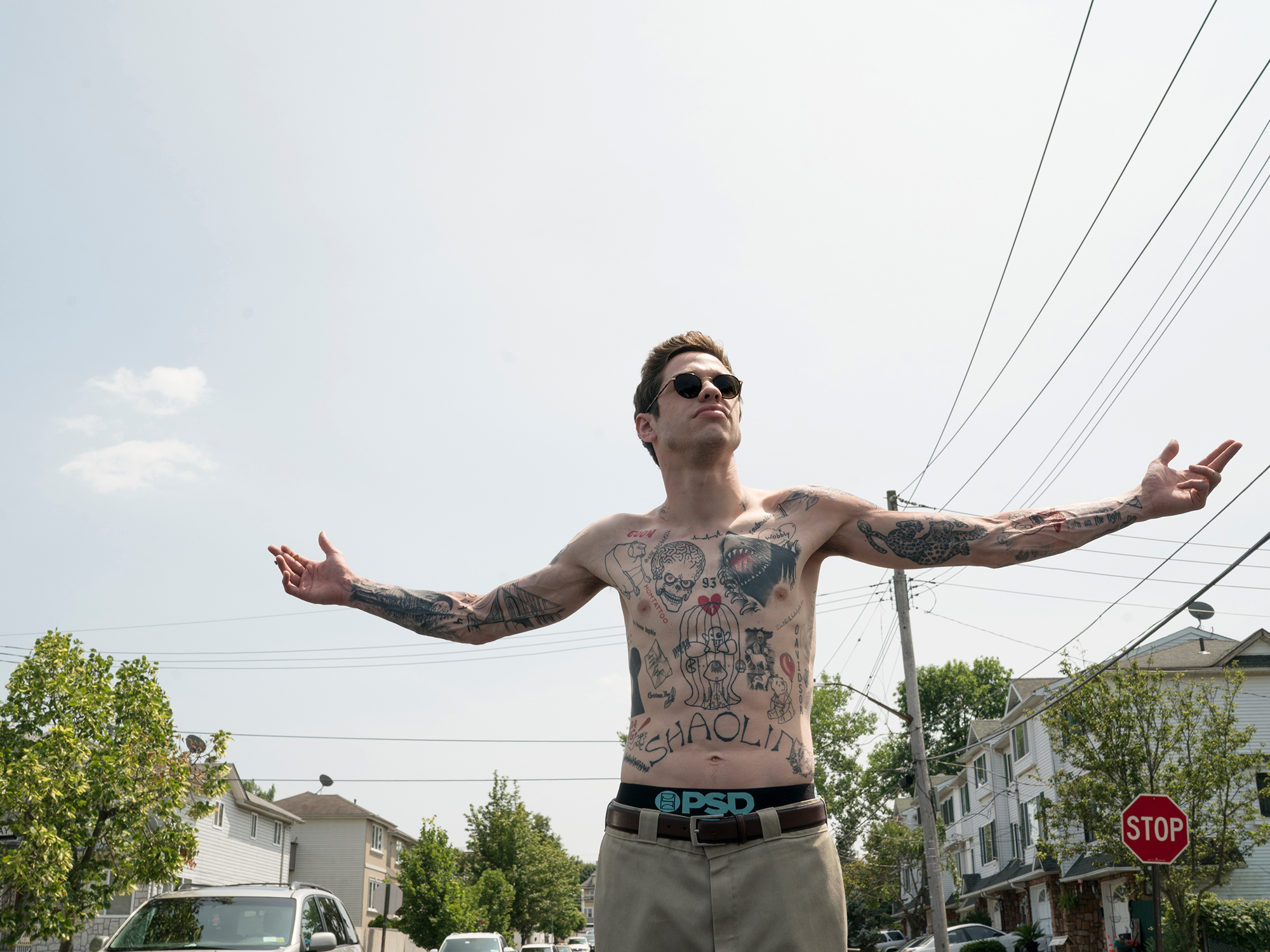 When Pete Davidson joined Saturday Night Live in 2014, he became one of the show's youngest ever cast members. Given that the iconic American sketch show launched the careers of Eddie Murphy, Adam Sandler and Will Ferrell (and many more besides) many were quick to herald the then-20-year-old Davidson as a star-in-the-making.
In recent years he's made more headlines for his off-screen romances than for his comedic and acting prowess. But Judd Apatow saw enough potential in Davidson to make him both the subject and star of his latest project, taking inspiration from his own experiences growing up in Staten Island, New York.
That prospect – a 'biopic' about a twentysomething stoner bumming around the neighbourhood in a state of arrested development – might not sound particularly appealing given Davidson's somewhat divisive style of comedy, which errs toward sex and pot jokes. But Apatow is a pro at harnessing star power into accomplished performances; he did so with Adam Sandler in 2009's Funny People, and again in 2015 with Trainwreck, which, despite being a fairly conventional romantic comedy, saw Amy Schumer garner praise in the lead role.
While not quite as ambitious as Funny People (who else had the nerve to make a three-hour Sandler vehicle back in 2009), The King of Staten Island is a refreshing take on the 'bro comedy' genre that Apatow himself helped to usher in. While it does centre the perspective of a seemingly feckless scamp in much the same way as Knocked Up, Superbad and Forgetting Sarah Marshall, The King of Staten Island offers far more of an interrogation of its central character while still retaining a certain charm and wit.
Davidson was seven when his firefighter father died in the 9/11 terror attacks, a fact he has spoken candidly about and frequently incorporated into his stand-up routines. His character here, Scott, has evidently not recovered from the death of his father in a hotel fire some years before. When his mother Margie (Marisa Tomei) begins dating another firefighter (Bill Burr) Scott is outraged.
This forces him to confront his feelings not only about his father's death but also his state of perpetual adolescence; he spends all his time getting high with his friends, doodling crude tattoos on them in a dank basement, and refusing to commit to his supportive but frustrated lady friend Kelsey (Bel Powley).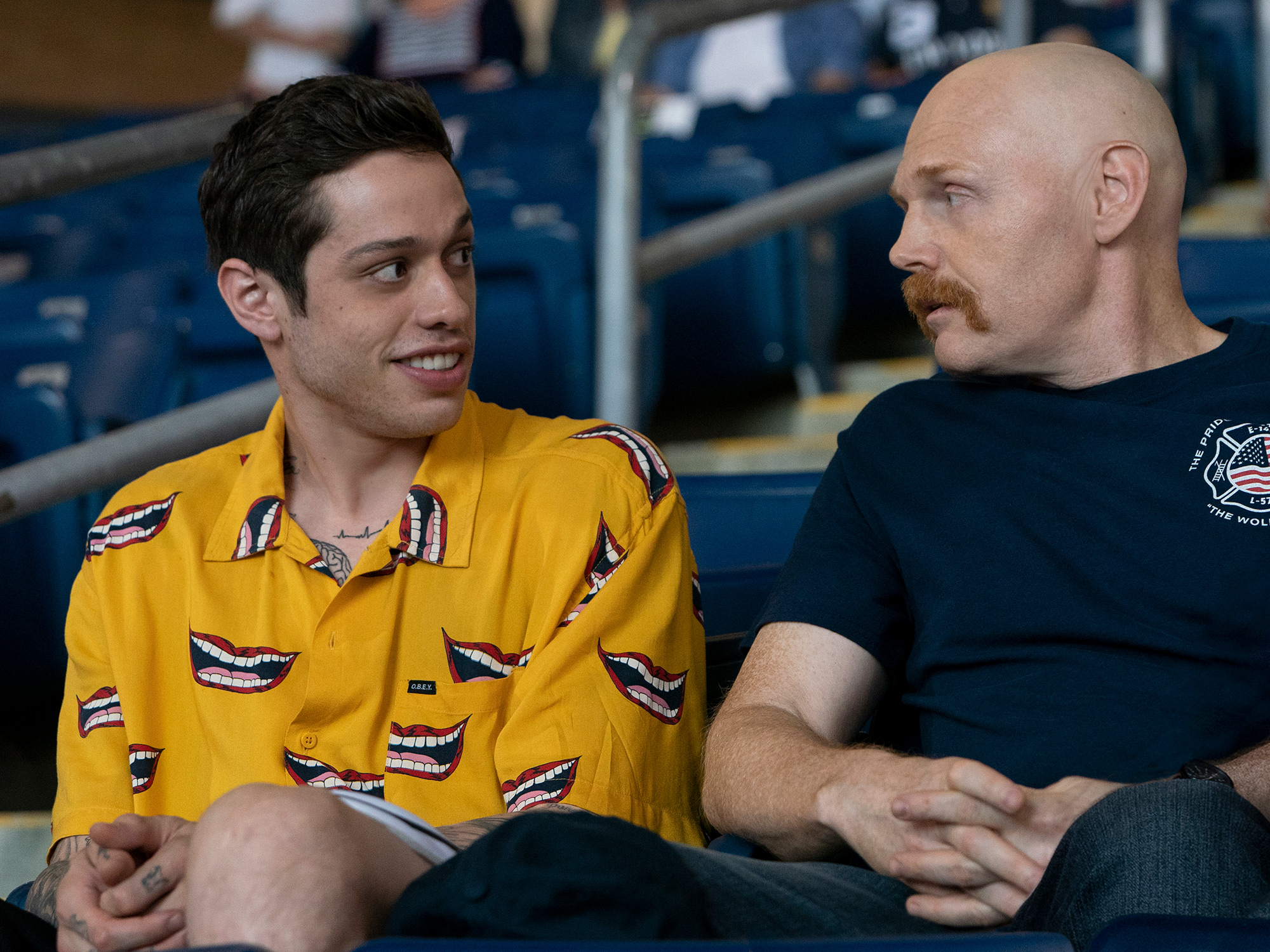 Elements of the film are undoubtedly familiar, but there's a sense of comfort in the formula – this isn't an attempt to reinvent the wheel, more to correct its course. While Scott is sympathetic, he's also infinitely frustrating: childish, irresponsible and crude, although ultimately not a bad person.
Crucially, the film understands that it's up to him to change his own behaviour; there is no Manic Pixie Dream Girl or other outside force to convince Scott to be a better person. That's something he has to decide out for himself. And it is a choice to own your personal demons and to live alongside them, instead of simply languishing in self-pity.
Although this is Davidson's film, Apatow doesn't waste the strong supporting cast. Powley is on top form as the would-be girlfriend with her own set of ambitions, while Burr is a perfect foil to Scott as the hot-headed Ray (who has some growing up to do of his own). There's a frankness to the way male relationships are portrayed here, from Scott's basement buddies to the camaraderie of the firehouse. While traditionally men have been dissuaded from talking about their feelings and mental health, The King of Staten Island encourages openness as a step toward recovery.
Perhaps the most surprising aspect of the film is how it looks. Shot on 35mm film by Paul Thomas Anderson's regular DoP Robert Elswit, it is undeniably gorgeous, even watched at home on a tiny laptop screen. It has the cosiness of a home video – although this is a studio comedy, Apatow is clearly striving for a more indie aesthetic, and as such the film has more in common with Freaks and Geeks than The 40-Year-Old Virgin.
The combination of personal history and great comedy writing works exceptionally well, and there's a sincerity to The King of Staten Island that elevates it from toxic masculinity missive to wry exploration of trauma-based inertia.
The post The King of Staten Island appeared first on Little White Lies.