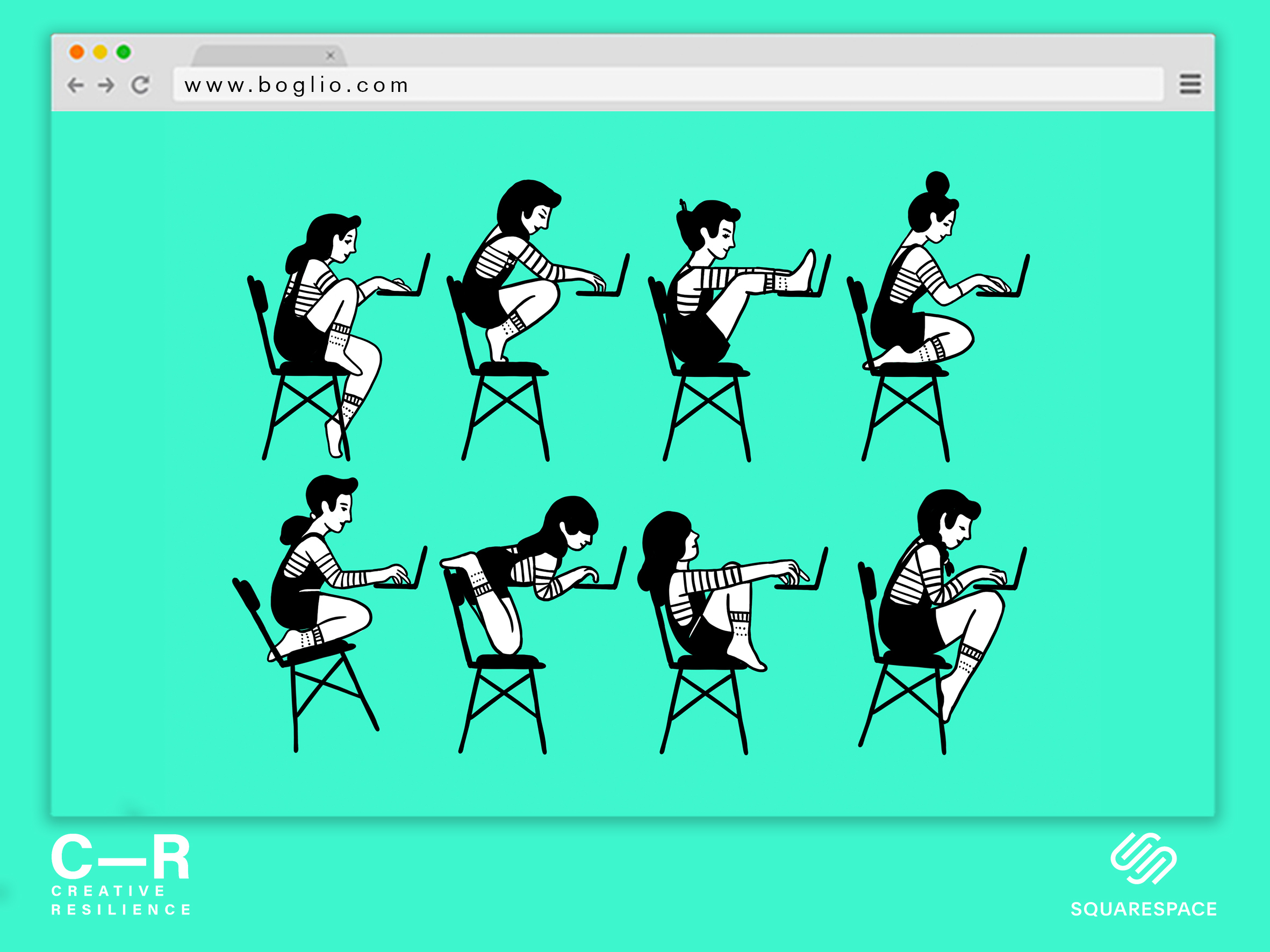 This story is part of Creative Resilience, an editorial series produced in collaboration with Squarespace.
---
"When I started making GIFs, it was basically just a way to talk with my friends, to make jokes," says Laurène Boglio. The Little White Lies art director's subtle energy has defined the look and feel of the magazine for the last three years. She doesn't give too much away about what motors that energy. Until she feels that you are her friend.
"At first I just saw GIFs as these really condensed little pieces of storytelling," she says, "but I soon realised that they were a perfect tool for me. I am an introvert; I don't spend much time being social, I don't like talking to strangers. I'm not a depressive person, it's just that I'm happiest when I'm alone and when I'm drawing. So it's easier for me to share things about myself in this way. Much easier than doing these things face to face!"
"I would like to see cats go on strike. They are being exploited in the instagram feeds of locked down humans…"
Laurène was born and raised in the beautiful city of Annecy in the French Alps. Never really at home with what she calls "all these healthy people happily running in the fields," as a teenager she went to study at Les Arts Décoratifs de Strasbourg before arriving in London via Paris. Stints at various advertising agencies and design houses led to freelance work creating GIFs for platforms like TUMBLR and GIPHY. Once she moved to London a chance encounter with Little White Lies led to her current position at the creative helm. And for Laurène, the journey would have been impossible without being able to get her work out there via the web.
"For someone who spends so much time on their own, having a digital presence that looks beautiful and works simply is absolutely essential," she says. "It has definitely helped me as an introvert, to say things in drawings that would be impossible to say without having an online platform…" These tiny slices of storytelling are perfectly suited to meet the demands of the digital age. And much of Laurène's freelance work still comes directly from the contact tab of her Squarespace site. "Commissions that are all about my personal style, the black and white, darker stuff, always comes direct from the website – and often these develop into work for bigger brands."
One of the defining things about Laurène is that it's impossible to pigeon hole her. "I think it's really important that you don't allow yourself to be defined by one single thing, she says. If you can develop a range of skills within what you do, and then represent that, the possibilities become much more broad. Unexpected things will come your way."
"Sometimes I would like to smash all my devices and just look out into a beautiful landscape. That would be real catharsis for me."
When Taylor Swift's people commissioned Laurène to produce a series of animated assets for her 2018 world tour, it was something of an irony. "Before I worked on the project I didn't know much about Taylor's music," she says. "But I love to collaborate, and I like it when my work has to fit into a wider picture."
The brief was to create animated banners that would represent the respective cities on the global stadium tour. "Because I am a graphic designer I was really interested in what the font was going to be, what the ratio would be of the illustrated elements to the logo etc. I am used to doing the whole thing, so I was able to bring layout and type treatments as well as illustration and GIFs to the project – and in the end it defined the whole identity for the tour. It was brilliant to be able to integrate my work into what already existed. We had to create 35 banners for the different stops in the tour, so it was a real challenge. But my real takeaway was that my work could literally stand up for itself on the world's stage. And I realised that my dream commission hasn't happened yet. I would love to make a full length animated music video."
Though she's still waiting for a knock on the door from Gene Simmons, during the recent weeks and months the world has swivelled into a space that Laurène has always occupied. "I haven't been getting out for walks any more than usual," she says. "I have always walked everywhere. I have always loved house plants. I have always spent time at home making things. Now everyone is doing it!"
"Many humans dream of communing with nature. It won't happen."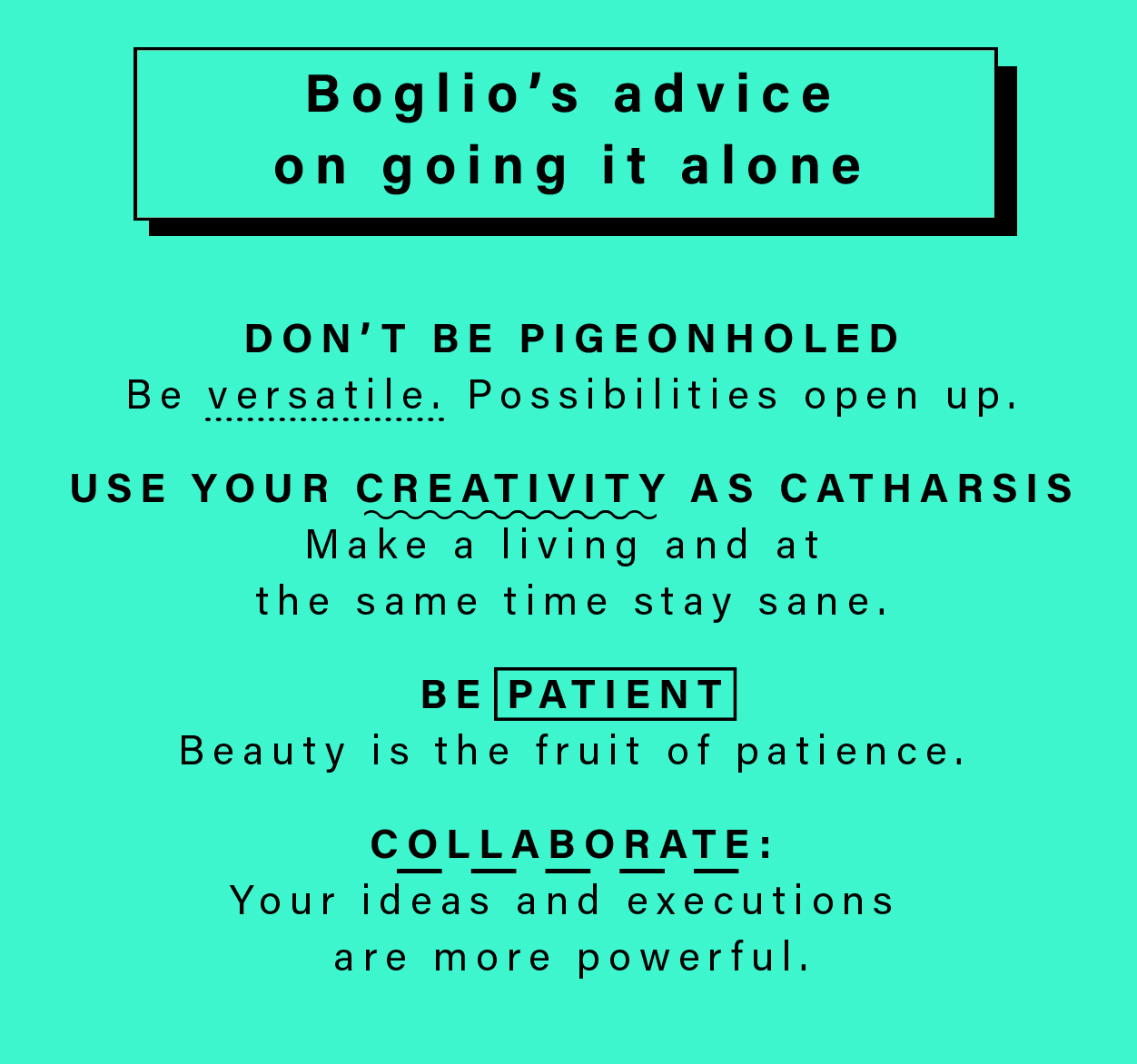 And where the masses seem to be switching on to the world of home entertainment, Laurène has typically eschewed binge watching on streaming services. "I don't like to fill my head with too much random stuff," she says. "I like to be really selective and watch films that I can take something from. But occasionally I also like to watch something really trashy, for escapism. I like something a bit 'clever' and something totally two dimensional. I like bad films. They de-stress me."
There is a subtlety and brevity to Laurène's observational powers that finds the perfect expression in the lines of the drawings she creates. And though there is a tangible introspection to the way she interacts with the world, as a personality she is drily hilarious. Presiding over the visual character of Little White Lies makes sense. Her work comes together with the quickness and exactitude of a true auteur.
"Sometimes I think my most successful work is the very small pieces which convey something emotional that happened to me," she reflects. "If, for example, I get dumped or stood up by someone, and I'm sitting around on my own at home being miserable, I will create a GIF and send it out into the world – something emerges from the negative. I can contain all these feelings in a series of drawings. I can make them live, and then I can send them away. It's like, 'That's what I felt; that's what happened; here it is: bye bye!' It's completely cathartic for me."
"Beautiful things are the fruit of patience. I realised this a long time ago. Now everyone has caught on."
There is something very… French… about Laurène, though that identity is a complex nexus of elements – and when you live away from home, there is another layer. "There is a nugget of truth at the heart of every cliché," she says. "French people love to complain about everything. I had to live somewhere else to realise that this was true of French people, and myself. We can create a drama over nothing. We love to ruminate and to be difficult. These ideas don't come from nothing."
But have the careworn clichés of Frenchness been an advantage or the opposite for Laurène in her line of work? The jury is still out. "I am a visual artist. I receive a brief, I send the artwork, so I don't really have to talk with anyone," she says. "And anyway, I don't really like talking to strangers. This reinforces the stereotype of myself as this 'mysterious Frenchwoman'. I don't wear a beret and dark glasses, but you know what – I might start! Perhaps I need to be more mysterious!"
Create a digital presence that reflects your visual identity. Use the code LWLies to get a discount on a new Squarespace website.
Read more stories from our series on Creative Resilience, in partnership with Squarespace.
With thanks to Stéphanie Sergeant for her help on the animations.
The post The art director who creates humorous, introspective snapshots of everyday life appeared first on Little White Lies.