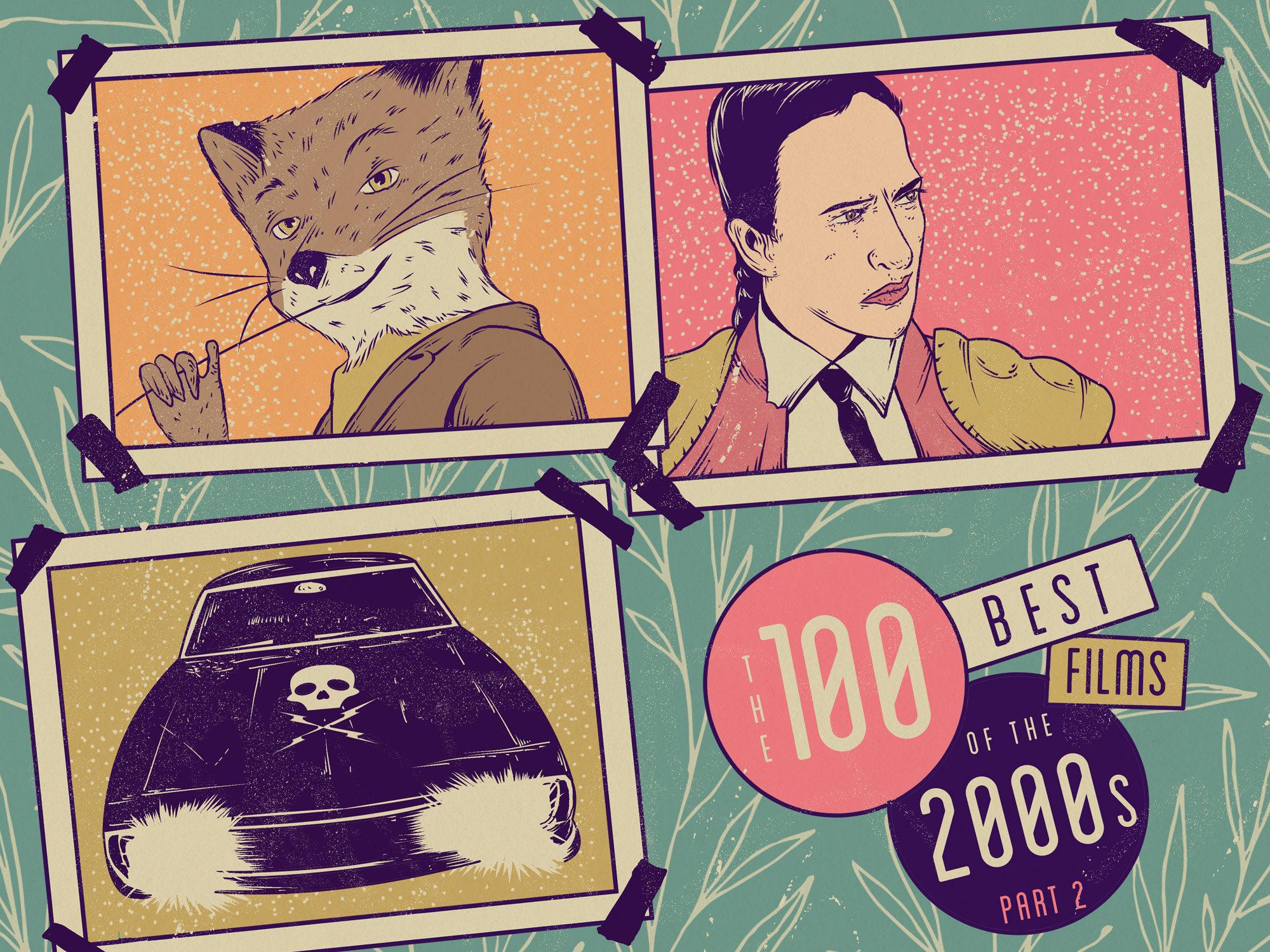 After you've read this part, check out numbers 100-76.
---
75. Chicken Run (Peter Lord and Nick Park, 2000)
Aardman Animations are one of the UK's greatest contributions to the world of television and film, a truly pioneering studio who did for claymation what Walt Disney did for anthropomorphic mice. While Wallace and Gromit made their name on home shores, Chicken Run catapulted the company to international fame when they pitched "The Great Escape with chickens" to Steven Spielberg and DreamWorks. This story of camaraderie, heroism and romance starring a band of plucky hens has stood the test of time. A witty, slapstick classic which also makes some salient points on the power of unionisation. Hannah Woodhead
74. La Danse: The Paris Opera Ballet (Frederick Wiseman, 2009)
Having already spent months with the American Ballet Theatre for his 1995 film Ballet, Frederick Wiseman made a rare return to a subject he's already covered. While the earlier film offered more by way of the institutional investigation we've come to expect from the great American documentarian, La Danse hews closer to the performative rigours of the dance itself. Wiseman's passion for the art form is evinced by the extended ballet sequences, his observational style working its magic by simply letting them speak for themselves. Matt Thrift
73. Liverpool (Lisandro Alonso, 2008)
If the phrase "less is more" is something that floats your boat when it comes to movies, then you'd do well to dive into the playfully philosophical work of Argentinean director Lisandro Alonso. He hasn't made anything since 2014's stupendous Jauja, but you'd do well to catch this bleakly funny 2008 film which follows a sailor disembarking a ship and heading on a journey to… somewhere. The film patiently follows his largely uneventful slog until he reaches his destination and… that's where the magic happens, and you find out why the film is called what it is. David Jenkins
72. Let the Right One In (Tomas Alfredson, 2008)
Oskar, a vulnerable, bullied, pale child finds both love and an avenging angel in Eli, a hundred-year-old vampire in the body of a girl. The snow-white Swedish landscape really shows up each blood-spill. Tomas Alfredson's pacing is what makes the film. It's slow and poised, building to sudden flurries of drama, with Oskar's fate as the emotional stakes. Sophie Monks Kaufman
71. Le Pont Des Arts (Eugène Green, 2004)
The eccentric French filmmaker Eugene Green had found something of a muse in lead actor Adrien Michaux, who not only bears uncanny physical resemblance to Jean-Pierre Léaud, but also sounds and acts like him too. The film is set in the 1970s, though anachronisms remain in the foreground as an obsessive and emotionally fragile philosophy student Michaux finds a will to live in a classical recording of a famous opera chanteuse. It's a reference-filled, lightly mocking journey through high-culture and its preening purveyors, and remains one of the most unique and unheralded European films of the decade. DJ
70. Pulse (Kiyoshi Kurosawa, 2001)
If its horror exports are anything to go by, Japan was in technophobic meltdown as the new millennium dawned, with anything from VHS players to cellphones ripe for supernatural exploitation. It's the internet that's the source of futurist and transhumanist nightmares in Kiyoshi Kurosawa's Pulse, a film that dishes out supremely atmospheric chills with little recourse to shock tactics. As far as the J-horror cycle goes, this one's top tier, which is more than can be said for the wretched US remake that came a few years later. MT
69. Jackass: The Movie (Jeff Tremaine, 2002)
In the 1995 episode of The Simpsons 'A Star is Burns', Homer delights in a short film called 'Man Getting Hit by Football'. Five years later, MTV commissioned a television show from Johnny Knoxville, Jeff Tremaine and Spike Jonze along similar lines. After ending its run on the small screen, a bigger, lewder, cruder beast was born, showcasing all the stars from the series in pranks and pain endurance tests. Is it a documentary? Performance art? Who cares – Jackass: The Movie holds up as a fascinating insight into the rituals of male bonding in modern America, disgusting and compelling in equal measure. HW

68. Mysterious Skin (Gregg Araki, 2004)
Connecting private trauma to wide-scale social ills such as toxic masculinity, child abuse and homophobia, Mysterious Skin sees writer/director Gregg Araki abandon the irreverent style of his earlier work in favour of something more caustic and raw. The film stars Joseph Gordon-Levitt and Brady Corbet as two teenage friends from smalltown Kansas who reunite and gradually come to terms with a haunting event from their childhood: their molestation at the hands of their Little League baseball coach. Fearless indie filmmaking from one of America's most vital voices. Adam Woodward
67. Bamako (Abderrahmane Sissako, 2006)
This ingenious and righteously angry film by the great Mauritanian director Abderrahmane Sissako offers a disquisition on Africa as a hub for global exploitation through the ages. It is, in a vaguely surreal way, a ramshackle courtroom drama in which an outdoor yard in the Malian capital is kitted out for a trial and various locals attempt to determine whether their continent has been exploited by the World Bank and the IMF. As in the real-world situation, the arguments stutter and amble, and ultimately prove themselves to be part of a much broader set of questions. On paper it sounds like a slog, but in reality it is completely engrossing and the work of a master filmmaker. DJ
66. Eastern Promises (David Cronenberg, 2007)
Once seen, never forgotten is the sight of Viggo Mortensen nude, wrestling for his life, after gangsters ambush him as he unwinds in a sauna. (Rude.) Even if the rest of the film doesn't make quite as big an impression on you, that scene is ample recompense for one's time. David Cronenberg is a freaky king who rarely lets the side down. SMK
65. Synecdoche, New York (Charlie Kaufman, 2008)
I've wrestled for years over whether or not Synecdoche, New York is deliberately off putting. It's not a pretty film – the pervasive browns and greys of the colour palette are distinctly unpleasant – but I suppose it makes sense that a film about an ailing and alienated theatre director would wrong foot the viewer. The late, great Philip Seymour Hoffman is on top form as Caden Cotard, while a supporting cast packed full of incredible acting talent in the form of Catherine Keener, Michelle Williams, Samantha Morton, Jennifer Jason Leigh and Emily Watson proves there are indeed no small parts. It's sad, strange, and surreal, but that's kind of Charlie Kaufman's whole schtick. HW
64. Dead Man's Shoes (Shane Meadows, 2004)
Dead Man's Shoes, already one of the most harrowing British films of the decade, gained further poignancy in 2019 with the revelation of writer/director Shane Meadows' own traumatic childhood. Set up as a violent, rough-hewn revenge thriller centred around an ex-paratrooper who returns home hellbent on exacting retribution, the film is a tender ode to brotherhood and, above all, a moving lament for lost innocence. Powered by Paddy Considine's terse performance as the wronged man-turned-avenging angel, it remains Meadows' most affecting film. AW
63. Ginger Snaps (John Fawcett, 2000)
Death-obsessed sisters Ginger and Bridget Fitzgerald (Katherine Isabelle and Emily Perkins) are super close and fairly comfortable in their status as outsiders, until Ginger gets bitten by a werewolf. Gradually, she undergoes a transformation from angsty teen to full-blown were-creature with a bloodlust. Coming well over a decade before the so-called renaissance of female horror, Ginger Snaps is a gruesome and earnest exploration of young women trying to operate in a world where they're set up to fail. Anna Bogutskaya
62. The Assassination of Jesse James by the Coward Robert Ford (Andrew Dominik, 2007)
All hail Roger Deakins, whose every frame is a painting in Andrew Dominik's epic and melancholic take on the classical western. Casey Affleck is all sad-eyed, silent-movie-star facial expressiveness as Robert Ford, while Brad Pitt's Jesse James is full-bodied suave charisma. Deakins' composition of golden wheat-fields, and train headlights at night lend majesty throughout. SMK
61. Lost in Translation (Sofia Coppola, 2003)
Prior to filming her sophomore feature, Sofia Coppola spent a year pursuing Bill Murray for the lead role, leaving him voicemails, sending letters, and even asking Mitch Glazer to pass messages along to him. Eventually she locked him down, and thank heavens she did, because what would Lost in Translation be without him? The melancholy almost-romance between fading movie star Bob Harris and young college graduate Charlotte (Scarlett Johansson, who was just 17 when they shot the film) is the film's beating heart, as they explore Tokyo together and reflect on their personal frustrations. HW

60. The Prestige (Christopher Nolan, 2006)
Christopher Nolan's films are designed to feel like a magic trick, puzzles to be repeatedly mulled over. So of course he would make The Prestige, which both deliberately obfuscates the truth behind the protagonist's actions and hides it in plain sight. Perhaps its best quality is that, amongst Nolan's fairly self-serious oeuvre, it's a surprisingly loopy film; David Bowie as Nikola Tesla only being the beginning of its delightful strangeness. Kambole Campbell
59. The Triplets of Belleville (Sylvain Chomet, 2003)
Sylvain Chomet's animated lark spins a crackerjack adventure from far-flung pockets of pop culture: '60s Tour de France mania, Tati-esque wide-scale visual gags, the '20s music hall culture presided over by Django Reinhardt and Josephine Baker. In this unlikely milieu of caricatured homage, a clever crone, her cyclist grandson, their loyal hound, and a trio of found-object musicians bust up a gangster's kidnapping scheme with maximum whimsy. The toe-tapping soundtrack is just the icing on this exquisite French confection. Charles Bramesco
58. The Beaches of Agnes (Agnès Varda, 2008)
Agnès Varda was, unequivocally, one of the most important filmmakers that ever lived. In what was supposed to be her parting gift to cinema (she'd make Faces Places a decade later), she revisits the places and people that influenced her. Shifting effortlessly through techniques and memories, The Beaches of Agnès is an exquisite meld of an artists' sketchbook, auto-biography, documentary and a love letter to the small, everyday wonders that had inspired, and continued to, Varda's work. AB
57. Night and Day (Hong Sang-soo, 2008)
Since making Night and Day in 2008, the South Korean director Hong Sang-soo has averaged about two films a year. Occasionally, such as in 2013 and 2017, he even managed three. This relatively early missive remains one of his finest because it's a little less oblique than some of his later work, as it sees various expat Korean artists simply tooling around in Paris and trying to find some kind of clue as to the next chapter of their lives. It's one of Hong's funniest films, particularly in the way it spirals off into a strange dreamstate by the time of its peerless final reel. DJ
56. Death Proof (Quentin Tarantino, 2007)
Ever the champion of cobwebbed corners of cinematic history, it was only a matter of time before Quentin Tarantino entered a feedback loop of his own design, fashioning – alongside Robert Rodriguez's Planet Terror – a double-feature pastiche that harked back to the gory days of the 42nd Street exploitation circuit. With its digitally-added scratches and 'missing reels' – in the Grindhouse cut, at least – Death Proof roars onto the screen as a fetish object from American cinema's foremost fetishist, a fitting marriage of form and content given the kicks Kurt Russell's villain gets from his modified vehicular viagra. With riches to be found in its seeming structural straightforwardness and possessing a striking female agency in the face of male violence, it's – whisper it – probably QT's best. MT
55. Ten (Abbas Kiarostami, 2002)
We already knew from his 1997 Palme d'Or-winner The Taste of Cherry that Iranian filmmaker Abbas Kiarostami saw dramatic riches in the concept of filming people driving cars and interacting with people from behind the wheel. His 2002 film, Ten, comprises of 10 vignettes in which an unnamed female driver becomes becomes a therapeutic council for her various passengers – some wanting to discuss domestic issues, others revealing their strenuous spiritual lives, and no less than three times its her feisty young son Amin riding shotgun and giving the driver a piece of his mind. DJ
54. Fantastic Mr Fox (Wes Anderson, 2009)
The mixture of whimsy and darkness of Wes Anderson's films has never been more ideally balanced than in Fantastic Mr Fox, his almost cartoonish deadpan and formal precision translates all-too-well to stop motion, as do the voices of his star studded cast. The foray into animation feels inevitable, an ideal outlet for the very particular control that the director holds over his live action films, but one that retains empathy and heart. KC
53. West of the Tracks (Wang Bing, 2002)
If you've seen Hu Bo's magnificent 2018 film An Elephant Sitting Still, set in the economic wasteland of Jingxing, you could turn to this monumental study of industrial decimation for context. Ever the documentary maximalist, Wang Bing's rigorously structured West of the Tracks runs to nine hours, affording him the luxury of a panoramic view of a workforce obliterated by the closing of cable and smelting factories in Shenyang. If a broad overview attests to systemic political failure in the pursuit of productivity, Wang's essential humanism insistently returns to the personal costs at ground level, finding hope and a seemingly impossible resilience in the eyes of a economically abandoned people. MT
52. The Man Without a Past (Aki Kaurismäki, 2002)
A nameless man steps off a train in Helsinki. He falls asleep on a park bench where he's set upon by a group of muggers. He awakens, collapses in a toilet, then reawakens in hospital, bandaged from head to toe, with no memory of who he is or where he is from. The man has lost everything, but somehow resolves to start a new life in an empty shipping container, where he seems happier than ever. Welcome to the darkly comic world of Aki Kaurismäki. One of the finest deadpan comedies ever made, The Man Without a Past also contains a sly social critique, laying scorn on the bureaucracy and economic powers that keep people below the poverty line. AW
51. Talk to Her (Pedro Almodóvar, 2004)
Pedro Almodóvar had been making films for over 25 years before he corralled his patiently-accrued mastery, a love of 1950s melodrama and a concerted leap towards maturity into this 2002 opus about two men tending for the comatose women they love. One is a caregiver who gives himself over to his job in a way that verges on the unhealthy, while the other is a man whose lover (a bullfighter) was about to tell him something important prior to being gored. This film is the whole package: a beautifully written, lightly eccentric, juicily tabloid tale of obsession and impossible love. DJ
The post The 100 Best Films of the 2000s: 75-51 appeared first on Little White Lies.