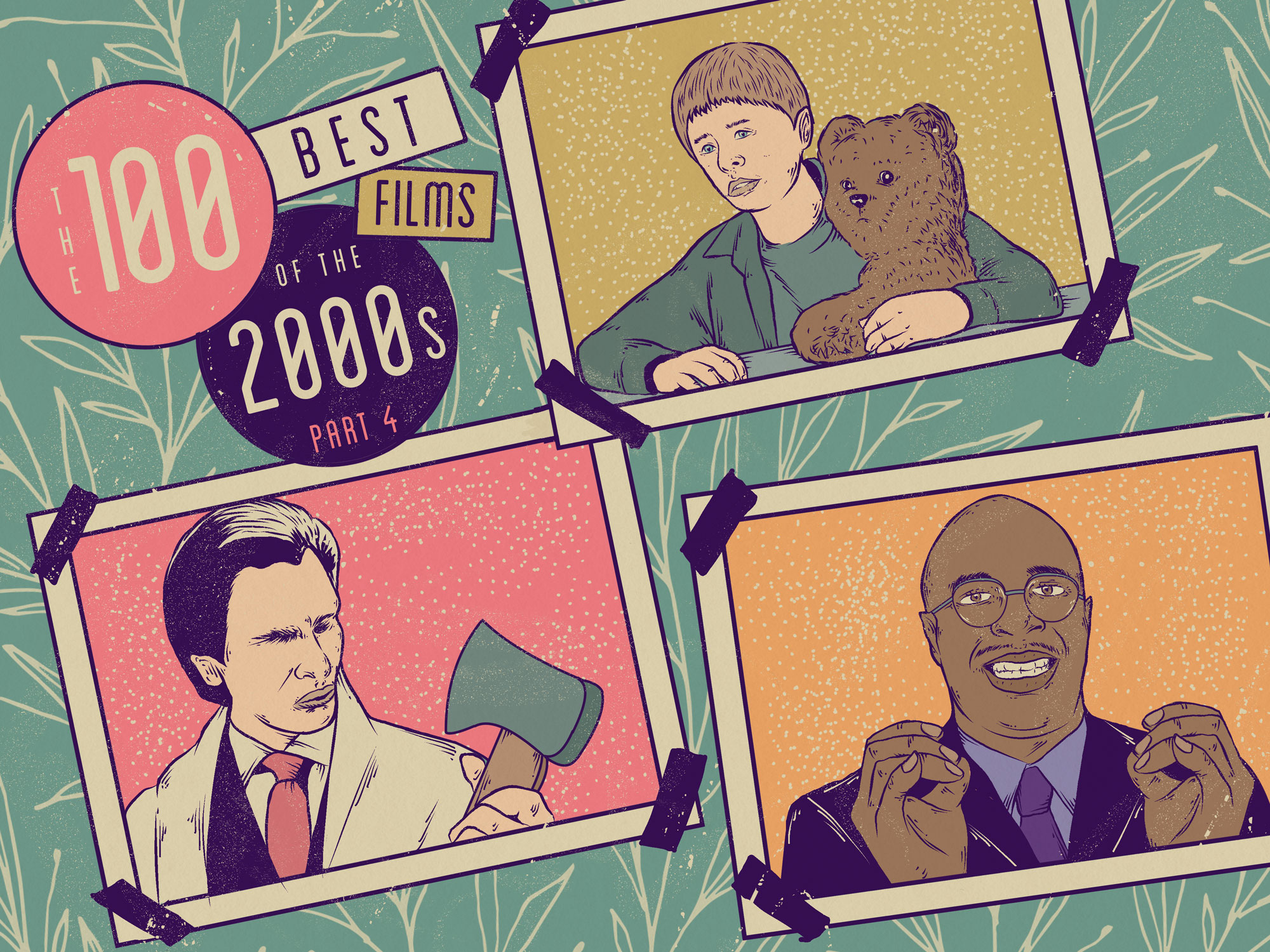 After you've read this part, check out numbers 100-76, 75-51 and 50-26.
---
25. Hunger (Steve McQueen, 2008)
Hunger is both off-putting and arresting in its powerful imagery of IRA leader Bobby Sands' (Michael Fassbender) resistance against dehumanisation at the hands of his jailers and the British government. Director Steve McQueen allows image and editing to do most of the talking as the film remains mostly wordless, excluding the film's centrepiece: a long, single-take conversation between Sands and his priest. An austere and fragmented film, as well as McQueen's best. Kambole Campbell
24. Everyone Else (Maren Ade, 2009)
Maren Ade became an arthouse celebrity with 2016's Toni Erdmann, yet there's nary a dud in her previous back-catalogue of two. Chris (Lars Eidinger) and Gitti (Birgit Minichmayr) are a couple whose love contains barbs both comic and serious. Over a summer getaway another couple crashes in, inducing a comparison-induced meltdown. Their relationship is addled beyond definition. Sophie Monks Kaufman
23. Goodbye, Dragon Inn (Tsai Ming-liang, 2003)
The cinema is closing. King Hu's wuxia classic Dragon Inn illuminates the screen. A handful of punters roam its aisles and subterranean passageways, seeking a fleeting connection with strangers. A disabled janitor goes about her duties for the last time. Tsai Ming-liang's mournful ode to the cinema experience cuts even deeper when viewed from the tail end of 2020, its yearning rumination on death and loss aching with a bittersweet awareness of the fragility and transience of all but the shared dreams of the silver screen. Matt Thrift
22. In the Cut (Jane Campion, 2003)
Dead women cast a long shadow over kinky sessions between a professor (Meg Ryan) and a detective (Mark Ruffalo), who may or may not be a killer, in Jane Campion's grizzled and grown-up NYC thriller. Meg Ryan shed her America's Sweetheart image, along with her clothes, which lends her performance extra electricity, and Mark Ruffalo – oh, Mark Ruffalo. SMK
21. The New World (Terrence Malick, 2005)
Terence Malick's running preoccupation with purity and its tarnishing at the hands of humanity fit perfectly into this historical fable of Europeans colonising Powhatan land. A soul-deep bond flowers between strapping white man John Smith (Colin Farrell) and native ingenue Pocahontas (Q'orianka Kilcher), a love too spiritually uncontaminated for our compromised world. Their story ends in tragedy, as it must, leaving behind it a template for transgression and sin in America. Charles Bramesco
20. Children of Men (Alfonso Cuarón, 2006)
Comments abound on the grim resonance of Alfonso Cuarón's dystopia where immigrants are held in barbed-wire pens and the world is wracked by environmental disaster. Emmanuel Lubezki's camera creates a gliding continuity, a handle on the chaos, as we are plunged into Clive Owen's mission: to protect a pregnant women, possibly the last one, from the destruction everywhere. SMK
19. No Country for Old Men (Joel and Ethan Coen, 2007)
For their terse yarn of vengeance along the Texan border, both a salute to classical Westerns and a merciless dissection of the same, the Coen brothers earned three Oscars apiece. Of course, they couldn't care less about awards; they got their jollies on the blood-chilling set-pieces that see Anton Chigurh (Javier Bardem) blazing a path of carnage through the desert in hot pursuit of his missing money and the man who's got it (Josh Brolin). Coin flips would never be the same. CB

18. Spirited Away (Hayao Miyazaki, 2001)
Hayao Miyazaki's Spirited Away is beloved among children and adults alike – and with good reason. A profound and dreamlike coming-of-age tale intertwined with questions of humanity's relationship with nature, it's a perfect realisation of both Miyazaki's thematic interests and the talents of his collaborators. It's hard to talk about the film without mentioning the track One Summer's Day from the score, as Hisaishi's finest ever work captures all the beauty and terror and other complexities of this world sprung from Miyazaki's imagination. KC
17. Far from Heaven (Todd Haynes, 2002)
Beneath picture-perfect 1950s American suburban surfaces dwell passions too cowed to emerge. Such are the swollen sorrows in Todd Haynes' tribute to Douglas Sirk's melodrama All That Heaven Allows. The love that blossoms between a white woman (Julianne Moore) and her black gardener (Dennis Haysbert) prompts neighbourhood bigotry, while her closeted gay husband (Denis Quaid) has an arc with a sliver of hope. SMK
16. Colossal Youth (Pedro Costa, 2006)
Not to disparage the often breathtaking earlier works of Portuguese maestro Pedro Costa, but when Colossal Youth was released it felt like the apotheosis of a career to date; a film that consolidated a decade and a half of formal explorations into a staggeringly satisfying whole. Set amid the ruins of Lisbon's Fontainhas slums and a new housing development, it's a miracle of digital filmmaking and of direct political address, one that only the big screen experience can do justice to. The film's paternal protagonist Ventura, a Cape Verde immigrant who later starred in Costa's Horse Money and Vitalina Varela, stands as one of the great discoveries in either century of cinema. MT
15. A.I. Artificial Intelligence (Steven Spielberg, 2001)
It's fascinating to reconsider Steven Spielberg's exploration of a robot child who feels even more than humans do in our Siri, Alexa and robot dogs era. Big Steve's adaptation of Brian Aldiss' short story, 'Super Toys Last All Summer Long' maps a primal son-mother bond onto a philosophical adventure epic with emotional results, while Jude Law is enjoyably sassy as Gigolo Joe. SMK
14. The Headless Woman (Lucrecia Martel, 2008)
Is it possible to be so wrapped up in your trifling bourgeois existence that you might forget that you'd run someone over and driven away from the scene of the crime? Lucrecia Martel's lugubrious puzzle box movie sees Maria Onetto as Veronica, harried mother and wife who, one day, looks down for a moment while she's driving along a deserted road, and then feels a bump under the tires. Believing it to be at best a pothole and at worst a mangy dog, she drives on. But the moment gnaws at her, and the film opens into one of the great explorations of class-based guilt ever made. David Jenkins
13. Sexy Beast (Jonathan Glazer, 2000)
That poster image of Ray Winstone sunbathing in yellow budgie smugglers is Jonathan Glazer's nod to the amiable stylings of his cockney lead man, and a display of confidence – he doesn't strain to advertise the riches behind those trunks. Sexy Beast is a crime thriller, a love story and a character drama rammed with brilliant British performances and spectacular images. SMK
12. Yi Yi (Edward Yang, 2000)
Nearly two decades after it began with the 1982 portmanteau film In Our Time, the Taiwanese New Cinema movement effectively drew to a close with this magisterial grace note. The final film from Edward Yang (who died in 2007 at just 59), it's a panoramic urban family drama structured around three major gatherings, beginning with the wedding that opens the film. Less pointedly formalist than contemporary works by the likes of Hou Hsiao-hsien and Tsai Ming-liang, it's a gently flowing film, heartrendingly rich in its tender humanism, with a breadth of focus that spans generations. It's the perfect entry point for one the great movements in world cinema. MT
11. Mulholland Drive (David Lynch, 2001)
David Lynch's labyrinthine LA love story is a film steeped in legend. The eponymous road has long served as a passageway to the American Dream, cutting as it does through the spine of the Santa Monica Mountains – indeed, Lynch pays homage to one of Tinseltown's most (in)famous residents, Elizabeth Short, aka the 'Black Dahlia', who was better known to her family as Betty, the name given to Naomi Watts' character. As well as launching Watts' career, Mulholland Drive sees onetime MGM idol Ann Miller sign off her own, playing the landlady of the apartment complex where Betty stays. In the process of harking back to Hollywood's Golden Age, Lynch's film creates its own gilded legacy. Adam Woodward

10. Memories of Murder (Bong Joon-ho, 2003)
Bong Joon-ho may have achieved wider recognition with Parasite, but true fans know he's been quietly making masterpieces for the past two decades. Based on the Hwaseong serial murders which took place in South Korea between 1986-91, Memories of Murder centres around detective Park Doo-man (Song Kang-ho) who is tasked with investigating a series of crimes in his rural jurisdiction. Like all of Bong's films, this has a biting wit and social commentary, focusing on police corruption and bias profiling, but also demonstrates the impact of the murders on both the community and the detectives charged with solving them. It also features one of the finest closing shots in cinematic history. Hannah Woodhead
9. Morvern Callar (Lynne Ramsay, 2002)
The moral complexity of suicide, and the ramifications it has on those in its close vicinity, is the subject of this blistering and chaotic second feature by Lynne Ramsay. Samantha Morton astonishes as Morvern, the supermarket shelf-stacker whose writer boyfriend decides to cash in his chips early, but leaves a strange gift in the form of a pre-written novel and a request for his beau to put her name on it and become the literary success that he was supposed to be. The film covers a massive amount of thematic ground, from the glories of hedonism, the strictures of class and the ethics behind authorship in art. Someone put this out on a big, juicy Blu-ray asap. DJ
8. Bamboozled (Spike Lee, 2000)
Maligned upon release, Bamboozled holds up a hell of a lot better than one might think – Spike Lee's experimentation with digital video achieves mixed results, but his dissection of how the entertainment industry continues to exploit and commodify Blackness is as sharp as ever. Its blistering final montage of the practice of blackface/brownface within popular culture still holds real sting, as well as setting the template for a lot of Lee's later work. KC
7. Trouble Every Day (Claire Denis, 2001)
I am tempted to fill this slot by retyping the same two words: Béatrice. Dalle. The sexy, gap-toothed femme-fatale fulfils the role she was born to play: a cannibal who can't have sex without eating her mate alive. Claire Denis finds the melancholic flip-side to this predicament, aided by a now iconic Tindersticks score. Stark, devastating, horrifying, unruly; this film satisfies strange tastes. SMK
6. American Psycho (Mary Harron, 2000)
Based on Bret Easton Ellis' stomach-churning novel of the same name, Mary Harron's pitch-black satire of yuppy culture made a superstar out of Christian Bale, hitherto best known for supporting roles in Little Women and Velvet Goldmine. His unhinged portrayal of Wall Street axe murderer Patrick Bateman still holds up as one of his best, while Harron's sharp direction (and the screenplay she co-wrote) turn Ellis' bitter novel into a fascinating, stylish examination of male entitlement and misogyny. HW
5. Ghost World (Terry Zwigoff, 2001)
Terry Zwigoff initially found acclaim for his documentaries, but his black comedy based on Daniel Clowes' graphic novel of the same name (who wrote the screenplay with Zwigoff) is arguably his best work. Featuring Thora Birch and Scarlett Johansson as a pair of teenage outsiders who prank Steve Buscemi's lonely blues fan, it's a smirking, cynical take on adolescent inertia and human loneliness, and one of the few comic book adaptations to successfully – but subtly – mimic the vivid nature of the form in life-action. HW
4. Wendy and Lucy (Kelly Reichardt, 2008)
With a running time of just 80 minutes, Kelly Reichardt's third feature is a work of bone-lean narrative and emotional economy that, in its boundless reserves of empathy, contains multitudes. It's an acutely political picture, essaying our capitalist society's limits of care, even as Reichardt holds little truck with dogmatism, instead trusting her broader thematic schemes to our identification with the itinerant Wendy (Michelle Williams) and the dog she can no longer afford to feed. Reichardt remains one of the greatest filmmakers working today, and with every passing year, Wendy and Lucy looks increasingly like one of the Great American Films. MT
3. Zodiac (David Fincher, 2007)
A harrowing account of the decades-long hunt for the serial killer who terrorised the San Francisco Bay Area in the 1960s and '70s, David Fincher's Zodiac retains its spine-chilling qualities some 13 years after it was released. In a bumper year that also heralded Michael Clayton, No Country for Old Men and There Will be Blood, Zodiac didn't get much love, but its focus on the procedural nature of criminal investigation – and the impact of the case on those closest to it – set it apart as one of the finest true crime films of all time. The scene in which Jake Gyllenhaal's cartoonist turned amateur sleuth Robert Graysmith tracks John Carroll Lynch's prime suspect Arthur Leigh Allen to a hardware store? Heart-in-mouth stuff. HW
2. Millennium Mambo (Hou Hsiao-Hsien, 2001)
An avid chronicler of his country's personal and political history, Taiwanese master Hou Hsiao-hsien trains his eye on the contemporary malaise of alienated urban youth with Millennium Mambo, albeit with a structural device that casts the present as past. Shu Qi's Vicky narrates her story from 10 years in the future; a depersonalised, third person account of her life with a deadbeat boyfriend and would-be suitor in the Taipei club scene. Cinematographer Mark Lee Ping Bin effects a woozy, blacklight vibrancy for the numbing nightlife rituals, as Hou pierces Vicky's stasis with a shard of hope found at a snowbound film festival. A masterpiece, whose restoration is long overdue. MT
1. In the Mood for Love (Wong Kar-wai, 2000)
In the Mood For Love made Wong Kar Wai synonymous with a breathtaking visual grace that enshrouds characters. Maggie Cheung and Tony Leung are neighbours in British Hong Kong. They realise that their spouses are having an affair together and form a friendship, passing the time in different rooms, moving with deliberation as smoke curls into an atmosphere alive with unspoken feelings. They role-play interactions between their cheating other-halves; as close as they allow themselves to get to mirroring the betrayal. Time stretches into eternity, until it is cut short. Shigeru Umebayashi's indelible string theme conveys the delicate emotions that hang in the balance. They are both impossibly elegant, governed by a strange dignity. SMK
Thanks for reading our countdown of the 100 best films of the 2000s. We'd love to hear what your favourite films of the decade are. Share your personal Top 10 with us @LWLies
The post The 100 Best Films of the 2000s: 25-1 appeared first on Little White Lies.