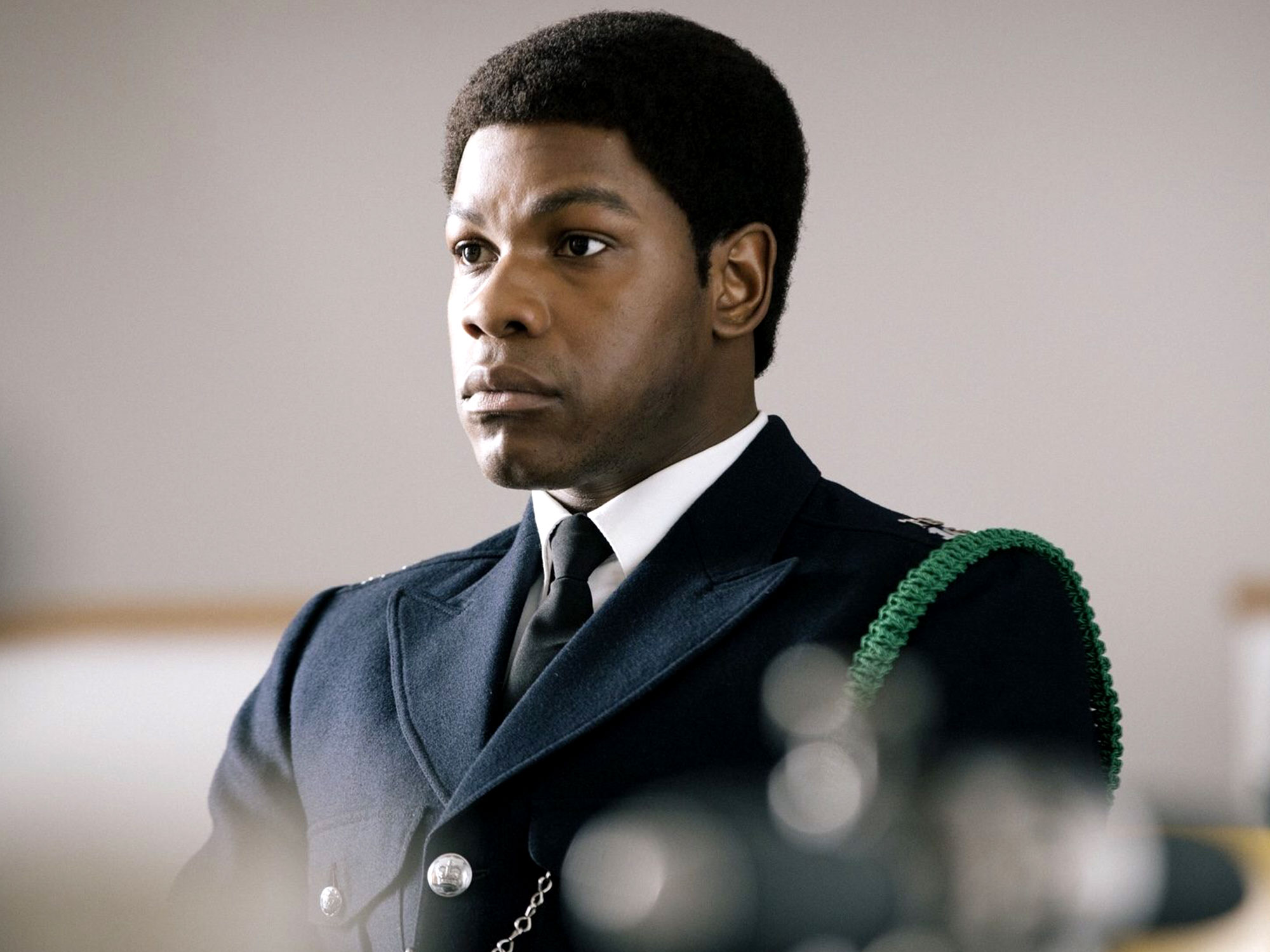 In recent months, John Boyega has proven himself beyond all shadow of a doubt to be a real one. He was on the front lines of the police brutality protests, speaking candidly about the sorry state of racial inequality in the UK without a care as to how it could affect his career prospects in the future. He signed a deal with Netflix to expand their African productions back in March, and his commitment to furthering the cause of Black entertainment will continue later this year on the small screen.
An item from Deadline today contained a first look at Boyega in the upcoming TV movie anthology series Small Axe, squaresville hairdo and all. Though, to be fair, that's just period detail – he portrays real-life officer Leroy Logan as he works to clean up London's Metropolitan Police department from the inside out after witnessing his father's assault at the hands of two cops.
Boyega stars in the feature-length episode 'Red, White and Blue', one of five films directed by Steve McQueen that will collectively comprise Small Axe. The other episodes ('Alex Wheatle', 'Education', 'Mangrove', and 'Lovers Rock', the latter two having been selected to play at the canceled Cannes Film Festival earlier this year and this fall's New York Film Fest) also speak to life experiences in the West Indian community of London between the 1960s and '80s, the guiding theme of the series.
Leroy fought valiantly to improve law enforcement in London, developing anti-racism policies that earned him a knighthood from the Queen in 2001. All the same, he was still a policeman – by the end of his career, a superintendent – and positive depictions of police have gotten increasingly controversial as the public has engaged with questions of complicity in broken systems. Boyega's performance will surely usher in a fresh wave of debate over whether there really is such a thing as a good cop.
Though a premiere date has yet to be set, the series will run after the semblance of festival season later this year, on the BBC in the UK and on Amazon in the US. McQueen's last full film, Widows, also covered the difficult subject of police violence and institutional corruption, though it would appear he'll tackle the subject more directly with these films. Brace for discourse!
The post Steve McQueen's John Boyega-starring miniseries is arriving this year appeared first on Little White Lies.