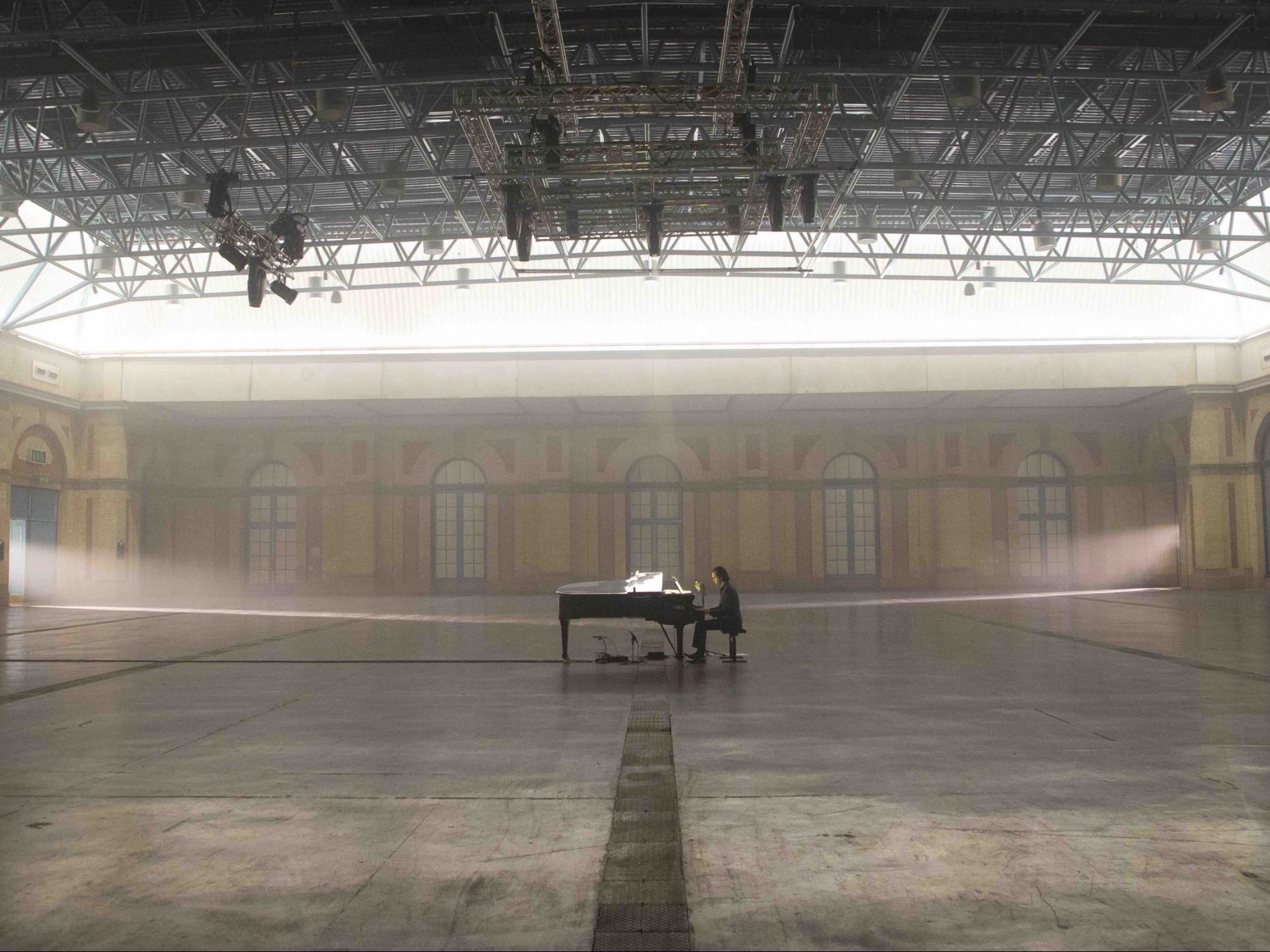 Of course an artist as tirelessly inventive as Nick Cave wasn't going to let a little thing like a global pandemic slow him down. A new press release issued today by the musician/writer/filmmaker/all-purpose creative fount paints a picture of a Cave chafing under the confinement of quarantine, and using his resources to break through these obstacles.
The unconventional concert film Idiot Prayer finds its subject stripping down to the basics, wandering around an empty Alexandra Palace as he recites the lyrics to his songs a cappella. Cave refers to this new style as a "Conversations" format, closer to a poetry reading than a musical performance, winnowing away everything but the words from his own catalogue as well as his songs under the Grinderman and Bad Seeds flags.
The release describes an elaborate system of health precautions that enabled Cave to safely shoot in the august Alexandra while it's been closed off to the public. Working with a crew of essential personnel only (including cinematographer Robbie Ryan, recently of The Favourite), with "Covid officers" armed to the teeth with tape measures and thermometers, with everyone masked and dipping into a "bucket" of sanitizer, they captured haunting footage of Cave in isolation and repose. As he puts it: "Together we created something very strange and very beautiful that spoke into this uncertain moment, but was in no way bowed by it. "
The film will stream on 23 July, at three different showtimes depending on time zone, with tickets in the UK going for £16. (One ticket is for North and South America, another applies to the UK and the rest of Europe, and a third is for Asia and Australia.) Cave sees Idiot Prayer as fitting into an informal trilogy with his other films 20,000 Days on Earth and One More Time With Feeling, all three united in their drive to challenge the usual structures and archetypes of concert films.
Cave's innovative project raises the question of how and when productions will start back up, with no end to the Coronavirus threat in sight. It sounds like he's taken the proper measure to ensure that all involved crew will be secure, but this was by the film's nature a small outfit. It's hard to imagine a production of larger scale being able to maintain this assurance with a larger crew, or a more involved script.
Idiot Prayer will stream online on 23 July.
The post See the trailer for a stripped-down concert film Nick Cave recorded under COVID appeared first on Little White Lies.