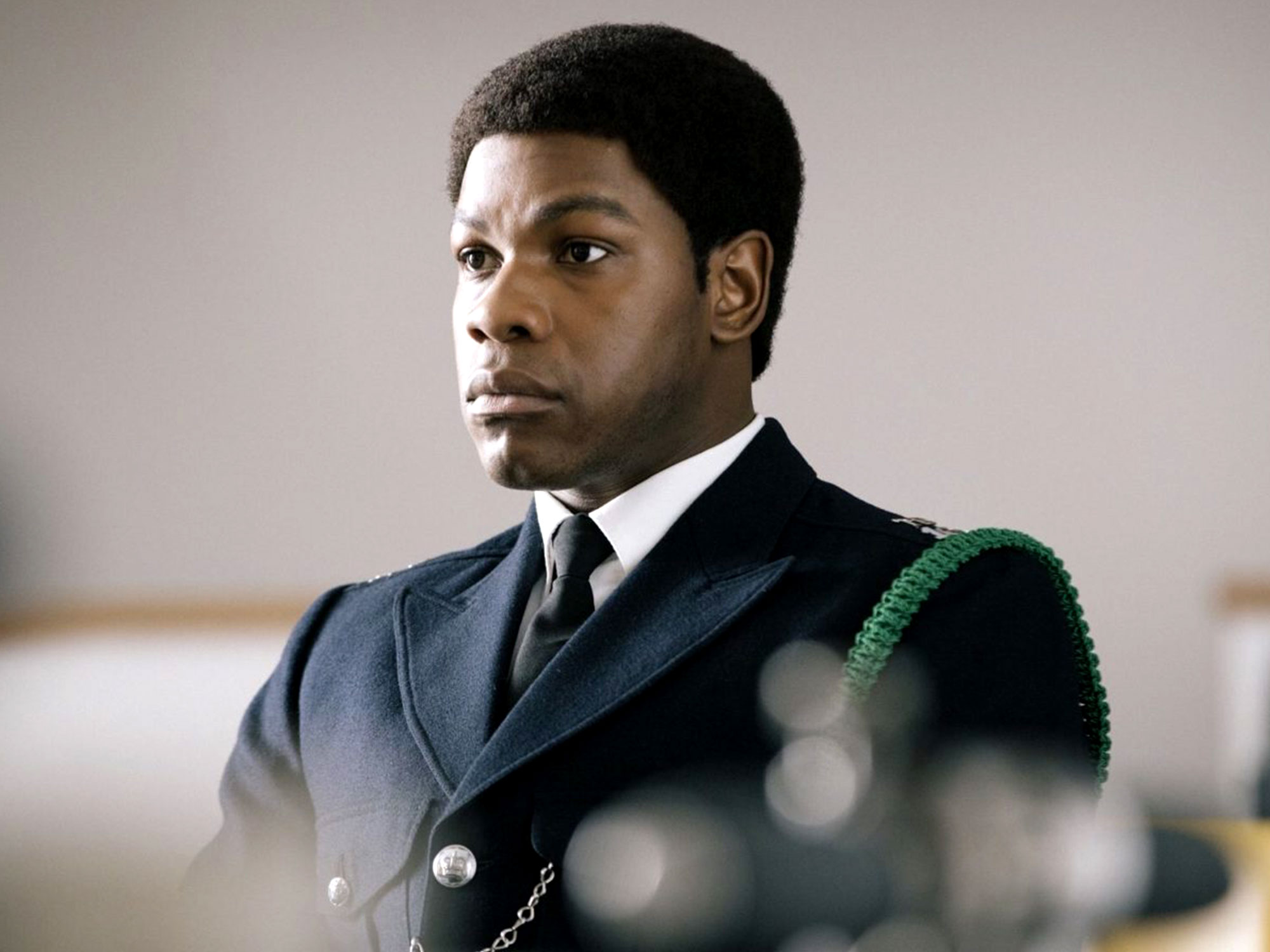 Steve McQueen's Red, White and Blue, a film which is part of his Small Axe series, confirms its brilliance at the very moment it cuts to black and its first end credit appears. That's not to say the drama which precedes this shock curtain-drop fails to make a robust case for that already. It's more that when the director and co-writer (along with Courttia Newland) chooses to drop a hard punctuation point, it suddenly augments and complicates the story's themes without overstating them, or parlaying them into a conventional climax that delivers a prosaic answer or statement.
What remains unspoken, unresolved and unknown from the moment we abruptly depart from the lives on-screen is what imbues this film with its richness, and a sense of melancholy that, we understand, is gradually being subsumed by rage.
If you're Black and growing up in London during the 1960s, you live with the generational truism that the Metropolitan Police is a racist institution. A young Black boy named Leroy Logan, a picture of scholarly innocence, is accosted on the street by a pair of overzealous white beat bobbies. His father, Kenneth (Steve Toussaint), arrives before this unnecessary stop and search escalates beyond reason, and snatches his son away to safety. In the car ride home, he delivers a lecture in thick Jamaican patois on his extreme distaste for the police, suggesting some kind of formative run-in which is never confirmed.
Flash forward to the mid-1980s, and a grown, bulked-up and bearded Leroy (a thrilling, powder-keg performance by John Boyega, and confirmation were it needed that this guy can do absolutely anything) is considering joining the force. It's a decision which is fast-tracked in his mind when his father is brutalised by two overzealous white beat bobbies.
Leroy fervently believes that this corrupt institution can only be overhauled from the inside, and so he heads to basic training with the intention of correcting the correctors – albeit with frank diplomacy and charm rather than tit-for-tat violence. He hopes that his mere presence will help to normalise bigoted attitudes inside the rotten ranks, and that it may also help to convince the dyed-in-the-wool xenophobes (who are plentiful) to avert their accusatory gaze from those with skin a different colour to their own. Yet his disenchantment arrives far sooner than expected when he swiftly comprehends the futility of his task.
The film isn't solely focused on political point-scoring, as we're also given a vivid cross-section of the West Indian community, where seemingly inconsequential side characters come freighted with their own emotive back stories. Leroy's mother is crushed by his father's monomania, fixated by the promise of getting his day in court and a shot at retribution, while a more affluent family friend who works as a police liaison officer stands in as a second mother, supplying Leroy with a more modern, cultured and progressive outlook than his parents were able to provide.
For the most part this is Boyega's show, and he just nails scene after scene after scene. His numerous emotional flame-outs are rooted in a sense of dashed righteousness, making the intensity of his anger occasionally tough to stomach. The potential for hair-trigger violence is always there, but he also tempers this brasher aspect of the performance with a loucheness and gentleness that presents a character of depth, texture and hard-edged humanity. His strained relationship with his father is eventually revealed as the film's moral arc.
And what a time to make a film about racially-motivated police corruption. It's hard to think of a more reflective and candidly philosophical film for this moment of widespread malaise, distrust and darkness. The convincing, economical plot machinations combine to build a convincing argument as to why the boil of systemic racism within any professional institution cannot simply be lanced – the entire body needs to die and be completely reborn for real true change to take hold.
Red, White and Blue premiered at the New York Film Festival. It will screen later this year on BBC One and BBC iPlayer as part of Small Axe, a collection of five films created by Steve McQueen.
The post Red, White and Blue – first-look review appeared first on Little White Lies.