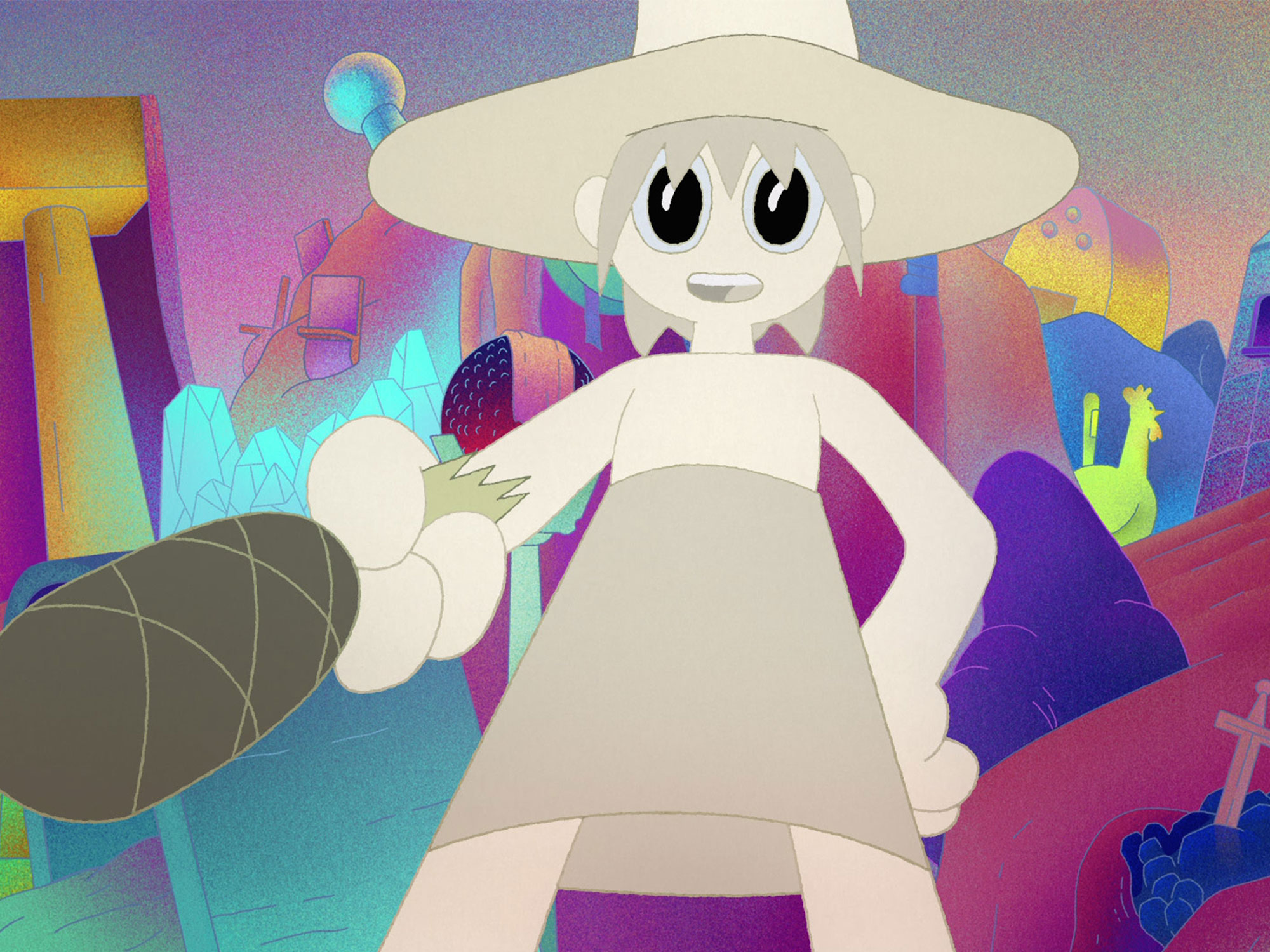 While insisting that something is "timely" upon its immediate arrival often inspires eye-rolls, the mutant spawn of podcast and animation The Midnight Gospel really does feel like a balm to this specific moment. Created by Pendleton Ward (Adventure Time) and Duncan Trussell (The Duncan Trussell Family Hour podcast), and animated by Titmouse, the Netflix series explores human connections through digital media and broadcasting, examining the lives and belief structures of each semi-fictional guest through topics including death, religion and recreational drug use.
Trussell lends his voice to the lead role, Clancy, an inter-dimensional podcaster who journeys to different worlds to conduct interviews via his "multiverse simulator", broadcasting the episodes from his ramshackle house located on 'The Ribbon', an extra-dimensional space resembling a möbius strip.
The show replicates the dynamic of podcast interviews, with the appropriately spontaneous dialogue taken from real conversations and spoken through animated avatars. With the voice performances seemingly recorded in shared sessions, there's rambling anecdotes and half-formed opinions, digressions and slowly developing rapport. The novelty here is the surreal visuals, enabling a chat about spiritual enlightenment to take place on a planet overrun by tiny clowns and giant deer-dogs.
The animation is delightfully bold, pairing eye-popping colours with rough digital lines to create an intentionally computerised, psychedelic look. The disconnect between the conversations and the show's endlessly creative, phantasmagoric animation is hilarious, though with the constant movement and unhindered conversation it can be sometimes overstimulating.
But for all its bright colours, base vulgarity and hyperactive spectacle, The Midnight Gospel is at once an honest, personal work, with real experiences becoming the show's narrative focus. Even though the visuals are absurd, the conversations are always sincere: a man reveals how studying magic and spirituality helped him through his time in prison; a woman calmly speaks about how she has coped with the death of her loved ones.
Despite the adult content, there are elements that will be familiar to anyone who has watched Adventure Time (veteran storyboard artist Jesse Moynihan serves as art director). Be it the effortlessly weird cadence and comic timing, the odd but beautifully arranged original songs, or the candy-coloured animation that mixes fluid bodies and blocky geometric landscapes – all of it walks the line between cute and macabre. The environments range from a multi-coloured zombie apocalypse to an abattoir on a clown planet just in a couple of episodes.
And like Adventure Time, The Midnight Gospel is a show about learning, though completely untethered from the didacticism of children's television (and also now indulging in expletives and gory violence). It is interested in how other people live, how they cope with distress and uncertainty. There's some interrogation of the nature of podcasting, too – as each heartfelt conversation is eventually strip-mined for content, the emotional affect on Clancy is often unclear (though notably he brings new shoes home with him after every trip, perhaps a sign of new understanding).
By studying profound human interactions in such a strange and fantastical setting, The Midnight Gospel taps into the allure of this kind of storytelling. It values the opportunity to share and to learn, and recognises that this expansiveness format allows people to share personal experiences that might otherwise go unheard. As obnoxious and self-serving as some hosts may be, the ability to send intimate, rambling musings to different souls across the galaxy has a kind of wonder to it, now more than ever.
The post Podcasts become strange adventures in The Midnight Gospel appeared first on Little White Lies.