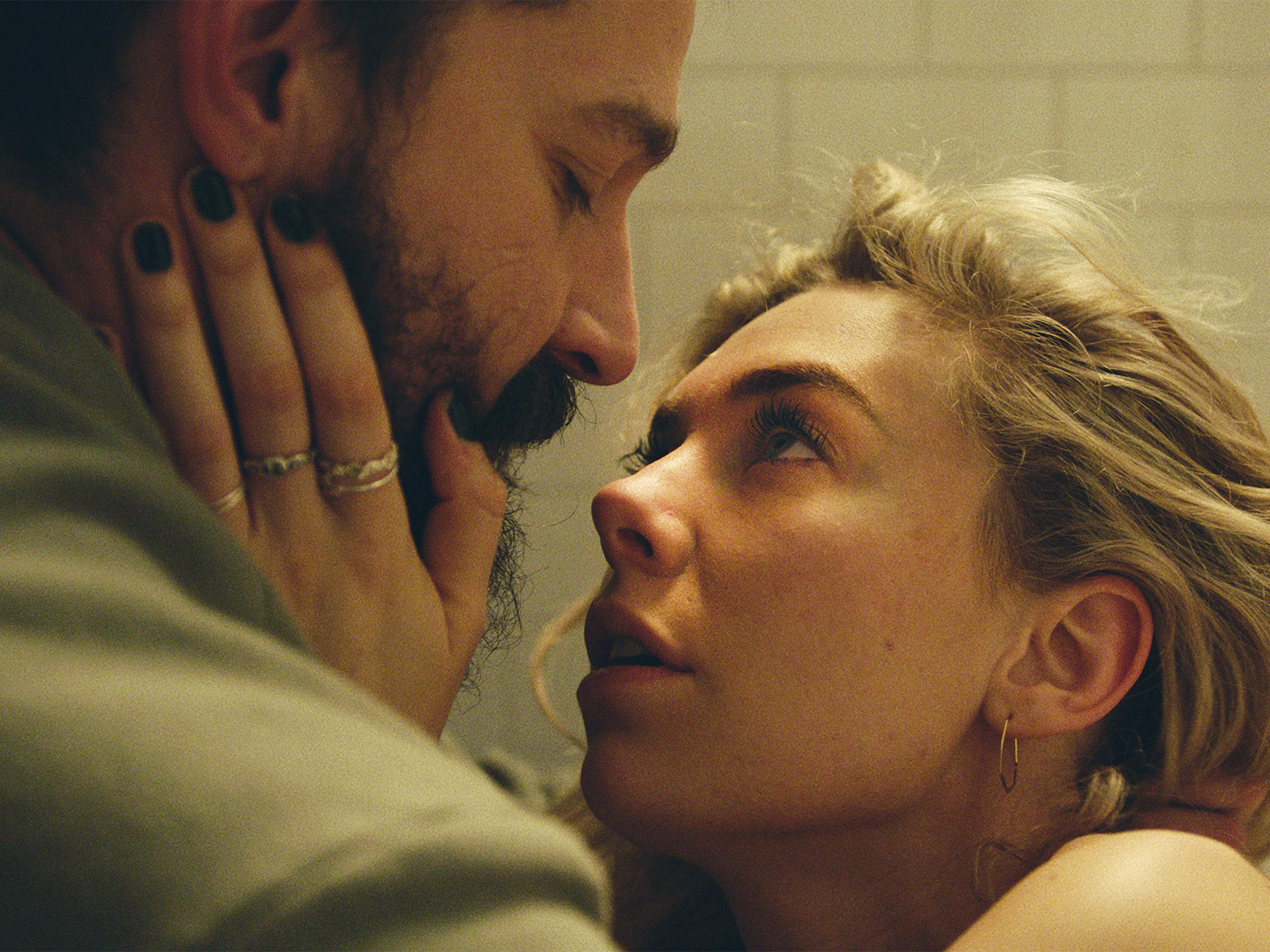 Kornél Mundruczó's drama, written by his parter and frequent collaborator Kata Wéber, focuses on an element of motherhood so rarely depicted on screen, it feels radical and devastating all at once.
Expectant parents Martha Weiss (Vannessa Kirby) and Sean Parker (Shia LaBeouf) await the arrival of their daughter in Boston, Massachusetts: they've decorated the nursery, and even purchased a new car with the help of Martha's wealthy mother Elizabeth (Ellen Burstyn). Tensions niggle between the couple – Sean is a recovering addict working an intense job in bridge construction, and Martha distant in a way that makes her appear cold – but it's evident that the baby is much wanted, and the couple are excited about her arrival.
Opting for a home birth, the couple's regular midwife can't attend when Martha goes into labour, so a replacement, Eve (Molly Parker), arrives. Over the course of a gruelling labour, which plays out in an intense, intimate 23-minute scene cut to suggest a single take (with hand-cam mimicking a home video), a tragedy occurs, and Martha and Sean's daughter dies shortly after birth.
The rest of the film deals with the aftermath of this awful, life-changing moment, and the criminal negligence court case against Eve that Martha's family instigate. No one knows how to acknowledge Martha and Sean's loss, and the couple themselves struggle to grieve, while the fallout devastates everyone in their immediate family. The apartment Martha and Sean share becomes a warzone; Elizabeth starts to unravel, heartbroken by her daughter's loss.
LaBeouf – who for the past few years has been turning in committed, thoughtful performances to defy his detractors – is decent as the epitome of blue-collar machismo unable to process grief without turning to anger, but this is undoubtedly Vanessa Kirby's film. Martha is a woman of few words: terse, stiff, unable to process her trauma in a way that people around her find acceptable.
Would it be more palatable to those around her if she screamed and cried? Perhaps, but Martha is despondent. She returns to her office less than a month after the birth, still wearing medical underwear, while her colleagues gawp at her. She goes out drinking and dancing and flirts with a co-worker. There's no right or wrong way to process a loss so monumental, and Pieces of a Woman is an empathetic look at something most of us will never understand unless we experience it.
This isn't to say Pieces of a Woman is without flaw; a distracting Sigur Ros beat threatens to derail the gravitas of the labour scene, and the climactic moment of Martha's court case feels a little heavy-handed in its execution. But Mundruczó is proving an excellent filmmaker when it comes to facilitating moments of true emotional resonance, and his latest film certainly offers them – not just in the traumatic, but in unexpectedly , awkwardly comedic beats, such as when Martha's brother-in-law Chris (Benny Safdie) tries to offer her some advice from his pastor.
There are plenty of films about motherhood in its myriad forms – even a whole subgenre of horror films about the terrors of maternity. But as a society, we struggle to talk about the devastating loss of life before it's even begun. Miscarriage, stillbirth and sudden infant death are topics many of us struggle to comprehend, let alone talk about. But for those who have undergone such a traumatic experience, it's essential that they are given the support they need, and something a simple as acknowledging their experience can be vital.
Ultimately, Martha just wants to be seen and heard. She wants her daughter's life to matter, for her to be more than just evidence in a court case or the name on a gravestone. Pieces of a Woman is a delicate, devastating account of an all-too-common but little-spoken-about sort of grief, with Kirby's performance suggesting she should be taking on roles much more challenging than her previous efforts co-starring in Mission: Impossible and Hobbs & Shaw.
The post Pieces of a Woman – first look review appeared first on Little White Lies.