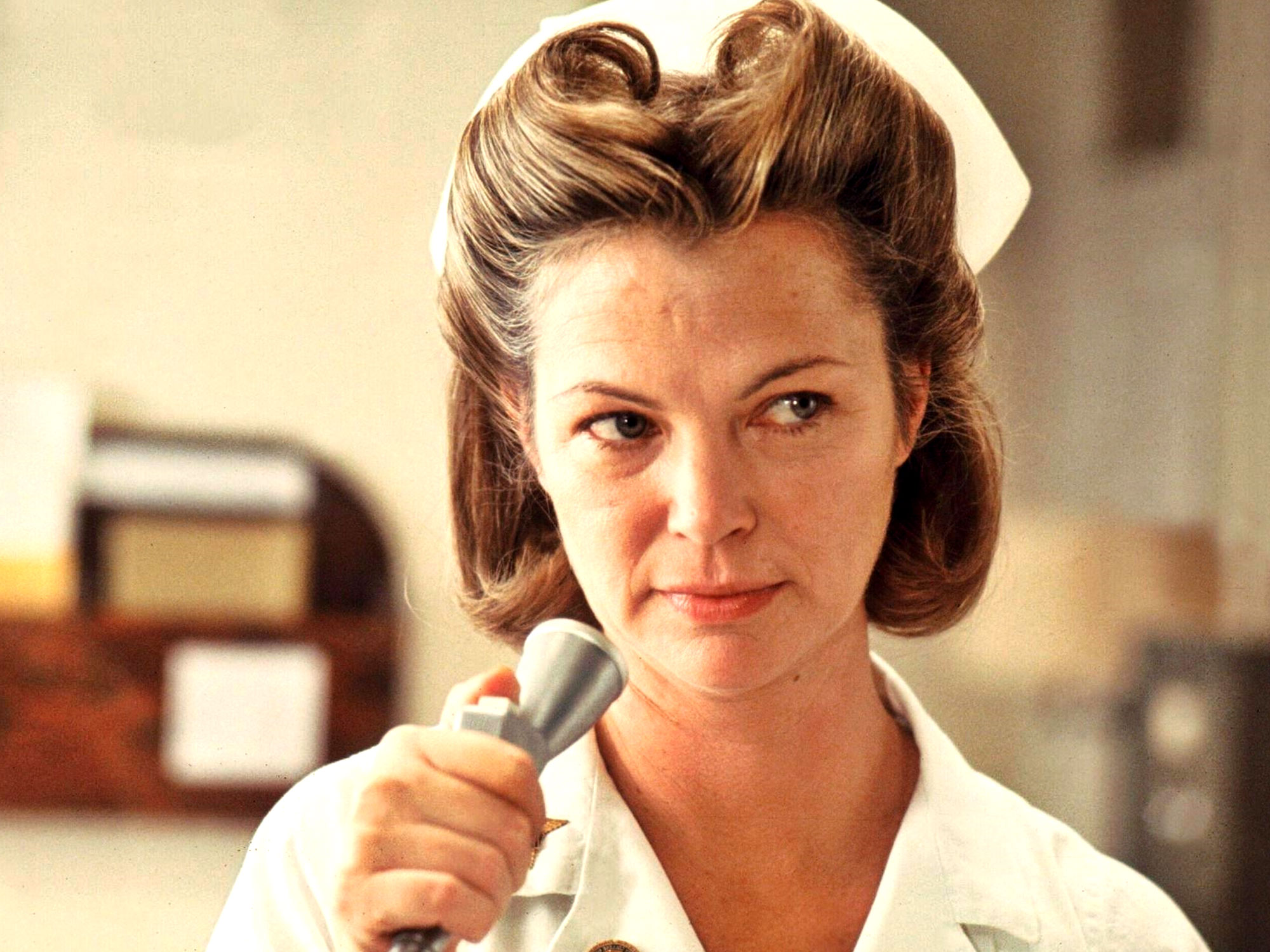 Nurses have long had nefarious connotations on screen: think of the murderous Annie Wilkes in Misery, the scheming Nurse Charlotte in High Anxiety, or the homicidal hospice sisters in the anthology series American Horror Story: Roanoke. All of these characters are terrifying because they subvert our expectations; they are cruel rather than compassionate and harm rather than heal.
Nurse Ratched, created by Ken Kesey for his 1962 novel 'One Flew Over the Cuckoo's Nest' and immortalised by Louise Fletcher in the 1975 film of the same name, is arguably the most infamous nurse villain. In many ways she is the perfect antagonist; she is also the perfect stereotype. She is an archetype of female authority: the cold, clinical, condescending woman in a position of power. She does not resort to violence, a stereotypically masculine weapon, in order to terrify and intimidate. Instead she is quietly monstrous. She dehumanises and demoralises under the pretence of placid pleasantries, exerting control and coercion in her crisp white cap of evil.
Even Nurse Ratched's appearance is deceptive. The novel describes her as "smooth" like "an expensive doll" with "baby blue eyes, [a] small nose, orange fingers [and] big, womanly breasts". Hardly an obvious tyrant. Despite her 'perfect' appearance, however, our unreliable narrator Chief Bromden imagines her handbag full of "needles, forceps, and pliers" rather than "compacts or lipstick or woman stuff." It is this blend of the sensual and the sinister which makes her such an unsettling character.
Director Miloš Forman once said that he chose Fletcher for the role because her "prim, angelic" manner "surprised [him]", but the more he thought about it, "the more it made sense." Nurse Ratched is a perversion of femininity – she looks like she should clasp you to her buxom bosom, but is in fact a battle-axe bitch. That is the genius of her character, and of Fletcher's performance.
Most disturbingly, Fletcher conveys Nurse Ratched's complete conviction that what she is doing is right. Her twisted sense of duty is touched upon in the trailer for Netflix's new drama Ratched, where Sarah Paulson ominously warns: "There are some things that are worse to feel than simply feeling nothing." As shocking as ice-pick lobotomies and insulin shock therapies may seem now, they were once regarded as viable treatments, not tortures, and Nurse Ratched is not much more than an administrative cog in a much wider machine.
People who do evil are not necessarily the same as people who are evil. Hannah Arendt's seminal text 'Eichmann in Jerusalem: A Report on the Banality of Evil' precipitated a philosophical shift in the 1960s and '70s, as people stopped viewing evil as something inflicted solely by psychopaths and maniacs but by bureaucrats, followers, and those who were just 'doing their job.' Nurse Ratched, too, represents the banality of evil – she is not some sadistic superhuman but terrifying in her normality.
In the Ratched trailer, the stand-out line "true monsters are made, not born" evokes the nature versus nurture debate while suggesting that the show will give the character added dimensionality. Given that Nurse Ratched's notoriety has stood the test of time, it could be argued that a prequel is unnecessary. Yet as Dale Wasserman, who wrote the 1963 stage play version of 'One Flew Over the Cuckoo's Nest', said, the problem is that "the book is fearfully misogynistic, and the women are treated terribly." The 1975 film, unsurprisingly, does little to address this.
Our de facto hero RP McMurphy is a criminal convicted of assault and statutory rape, while all the villains are women – not only Nurse Ratched but also Hardy's wife and Billy Bibbit's mother, all emasculating ball-breakers. The other female characters are either nurses or prostitutes.
Early on, Harding whispers to McMurphy that "we are victims of a matriarchy here," and there does seem to be a fundamental male fear of powerful women. Nurse Ratched's ultimate command comes from her ability to have patients lobotomised, but in many ways lobotomies stand as a metonym for castration. McMurphy's true fear is not losing his brain but his balls; his masculine, dominating, anarchical energy is slowly being suffocated in this female-run institution, which in itself could be seen as a metaphor for second-wave feminism.
Given Ken Kesey's notoriously anti-feminist stance, it is unsurprising that, as frightening as she may be, Nurse Ratched is ultimately a rather superficial character. In 2018, Fletcher revealed to Vanity Fair that she had dreamed up her own backstory for Nurse Ratched, imagining that she, "had sacrificed her life for other people… hadn't married, hadn't done this, hadn't done that, and was self-sufficient… because she dedicated her earlier life to other people who needed her."
This insight paints a very different picture of Nurse Ratched. Is she someone who is self-sacrificing, regretful, and ultimately lonely, or, as the novel depicts her, simply a cold-hearted "ball-cutter"? When defending critics of Hillary Clinton, radio host Rush Lombaugh famously said that "even Nurse Ratched was human". It is high time that this humanity was explored further.
The post Nurse Ratched is the perfect movie villain – and the perfect stereotype appeared first on Little White Lies.