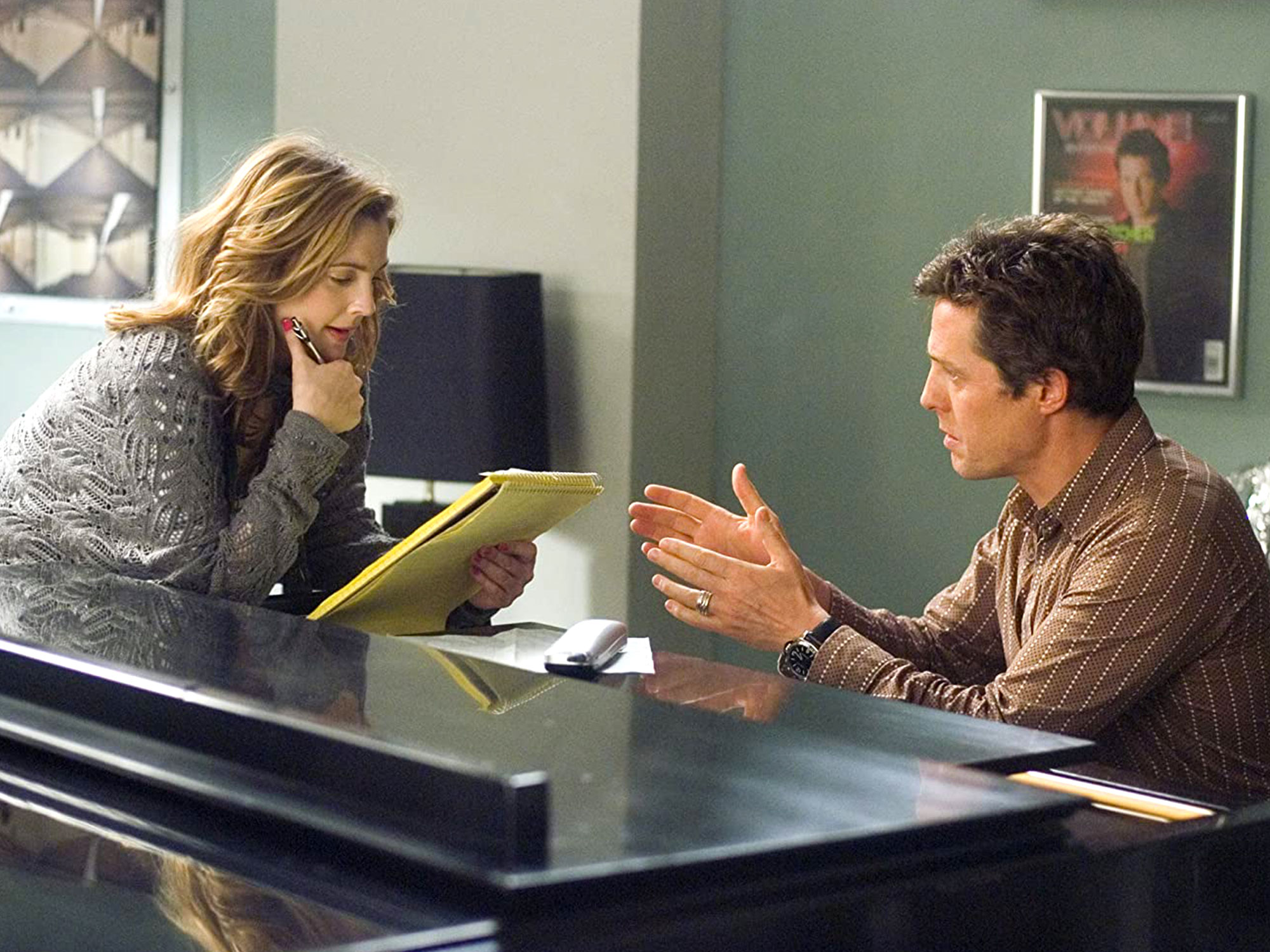 There are some films you watch when you need a warm hug from a familiar source. There's no new terrain to explore, no outside world, no alarms and no surprises – they are simply soothing. Since a global pandemic was declared on 11 March, daily life has become so strange that the solace offered by comfort blanket movies is enhanced. In this series, we want to celebrate them, in whatever form they take.
---
I will own, from these opening bars, that I have a penchant for Hugh Grant. His brisk wit always sets a strong marching beat. He blanches the sentiment from a line so all dialogue is served bone-dry. His neat, slightly Bassett hound, good looks are both thirst-quenching and creamy, like a Solero, licked up in private. My feeling for him are akin to a pop star groupie, therefore I am perfectly susceptible to the role he plays in Marc Lawrence's Music and Lyrics.
Alex Fletcher was a huge heartthrob in the 1980s thanks to the success of his band PoP!. He is now washed-up. As the film opens, he is invited to appear on a TV show called 'Battle of the '80s Has-Beens'. That's not quite right. The film opens on the full video to one of PoP!'s greatest hits, 'PoP! Goes My Heart'. It is a sensation, a triumph, a beat-perfect homage to a particularly '80s aesthetic, sound and sensibility.
Hugh shakes his butt with gusto, occasionally throwing out a knowing grin. He has floppy hair. All of the band wear tight white trousers. Intercut with footage of them leaping around and playing instruments to flashy edits, is a storyline in which Alex has a slow-motion heart attack after his girlfriend leaves him. In the hospital, a doctor shakes his head sadly. They couldn't save him. But then a hot nurse comes in and 'PoP!' goes his heart. Everyone dances.
Amazingly, the rest of the film lives up to this slick joyfest of an opener. Drew Barrymore with her sunny SoCal earnestness is the perfect foil and eventual love match for the now jaded and terse Alex. She plays Sophie Fisher, a promising writing student burnt by an affair with an exploitative older teacher, now seemingly content to work at her sister's weight-reduction centres and do odd-jobs, like watering plants – which is how she meets Alex!
Alex is under pressure as he's been offered the chance to write a song for pop sensation Cora (Haley Bennett) who is "bigger than Britney and Christina put together" with only a few days to prove himself better than the other songwriters competing for the gig. Alex knows how to write music, but not lyrics. Sophie, as it turns out, is a born lyricist.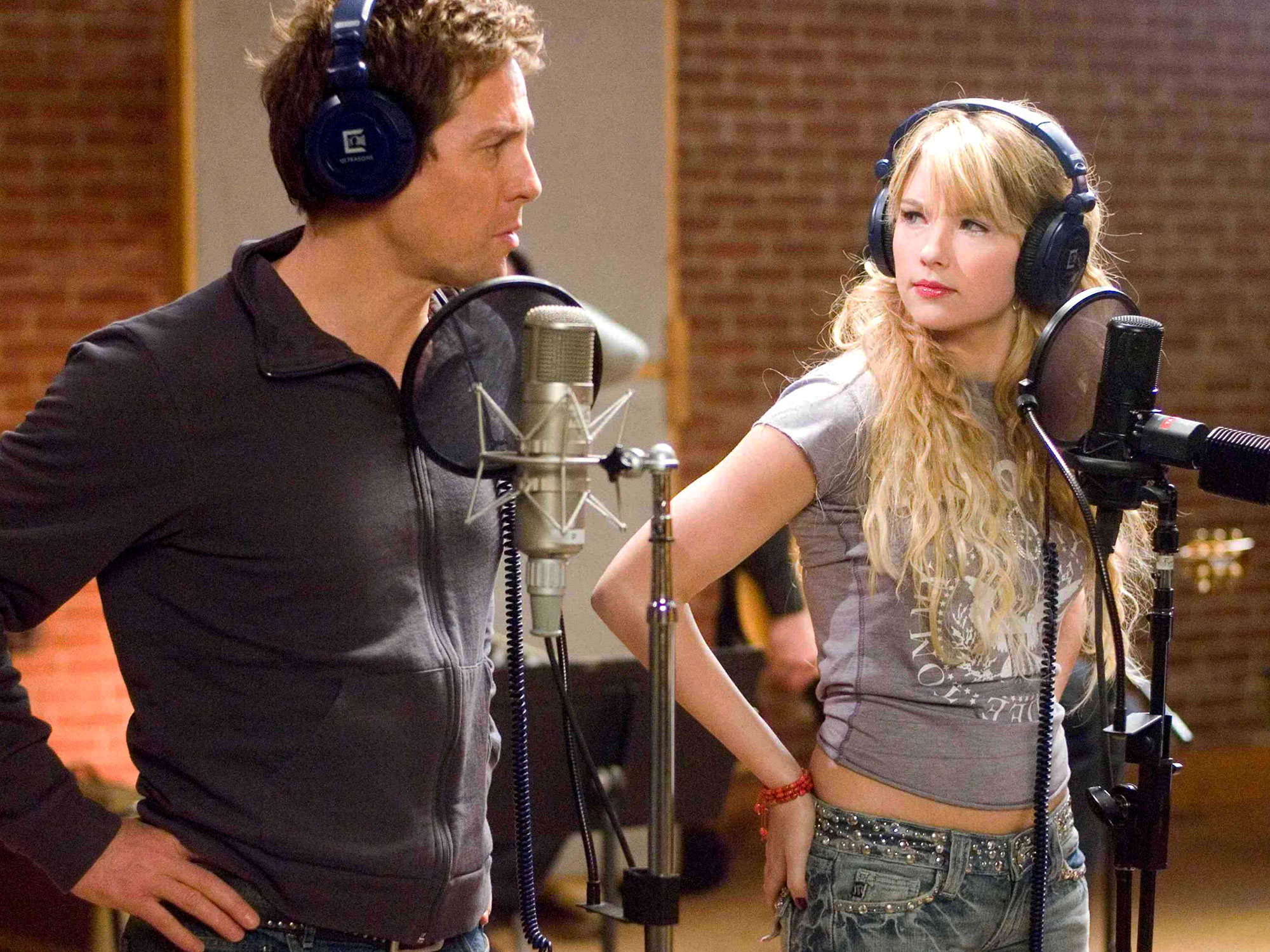 "A melody is like seeing someone for the first time – the physical attraction, sex, but then as you get to know the person, that's the lyrics, their story, who they are underneath. It's the combination of the two that makes it magic." So says Sophie at their first late-night writing session.
The wonderful thing about Music and Lyrics is that it's a pop hit of a rom-com that delivers both elements of the craft, with the bonus satisfaction that, because Alex and Sophie are writing a love song, they are foreshadowing their own story. 'Way Back Into Love' is the title Cora gave them, and as both their back-stories emerge it's clear they have been living, as Sophie's lyrics go "with a shadow overhead".
Even though the melody of the film is familiar, the lyrical attention to detail sweeps you up in surface pleasures. Haley Bennett's Cora is a glorious creation. Her brand of sexy, scantily-clad dancing is inspired by Eastern religion. The maximum amount of joy, relish and commitment has been channelled into creating an ambience of deadpan absurdism whenever she's around. To whit: amid dry ice Cora emerges out of a giant revolving gold Buddha at her Madison Square Garden show. She throws off a cape to reveal mere sparkles covering her modesty. Everyone screams. The Buddha keeps revolving in the background.
In contrast with this manicured lithe megastar, Alex and Sophie look more lived-in. Their clothes are normal, they are allowed to look rumpled, their stakes seem plausible. While the romance arc is patently a confection, the way it unfolds is so constantly delightful that I always find something new to chortle at. Supporting characters are well cast, with moments afforded to let them shine. Jokes are Russian dolls, with little jokes inside the bigger ones, such as when Alex, dancing at a school reunion, puts his hip out while gyrating, but has to quickly recover a smile, and wave to fans as he sits wincing on the sidelines. During all of this the face of his manager (Brad Garrett) is telling the whole story in a series of expressions that could have made him a silent star.
There's a moment in a cafe when Alex is defending the merits of pop music to Sophie, who is dismissing it in contrast with literature. He says, "You can take all the novels in the world and not one of them will make you feel as good as fast as… 'I got sunshine on a cloudy day. When it's cold outside, I got the month of May…'" Well, friends, I got sunshine on a cloudy day. It's called Music and Lyrics, and it's here to stay.
The post My Comfort Blanket Movie: Music and Lyrics appeared first on Little White Lies.