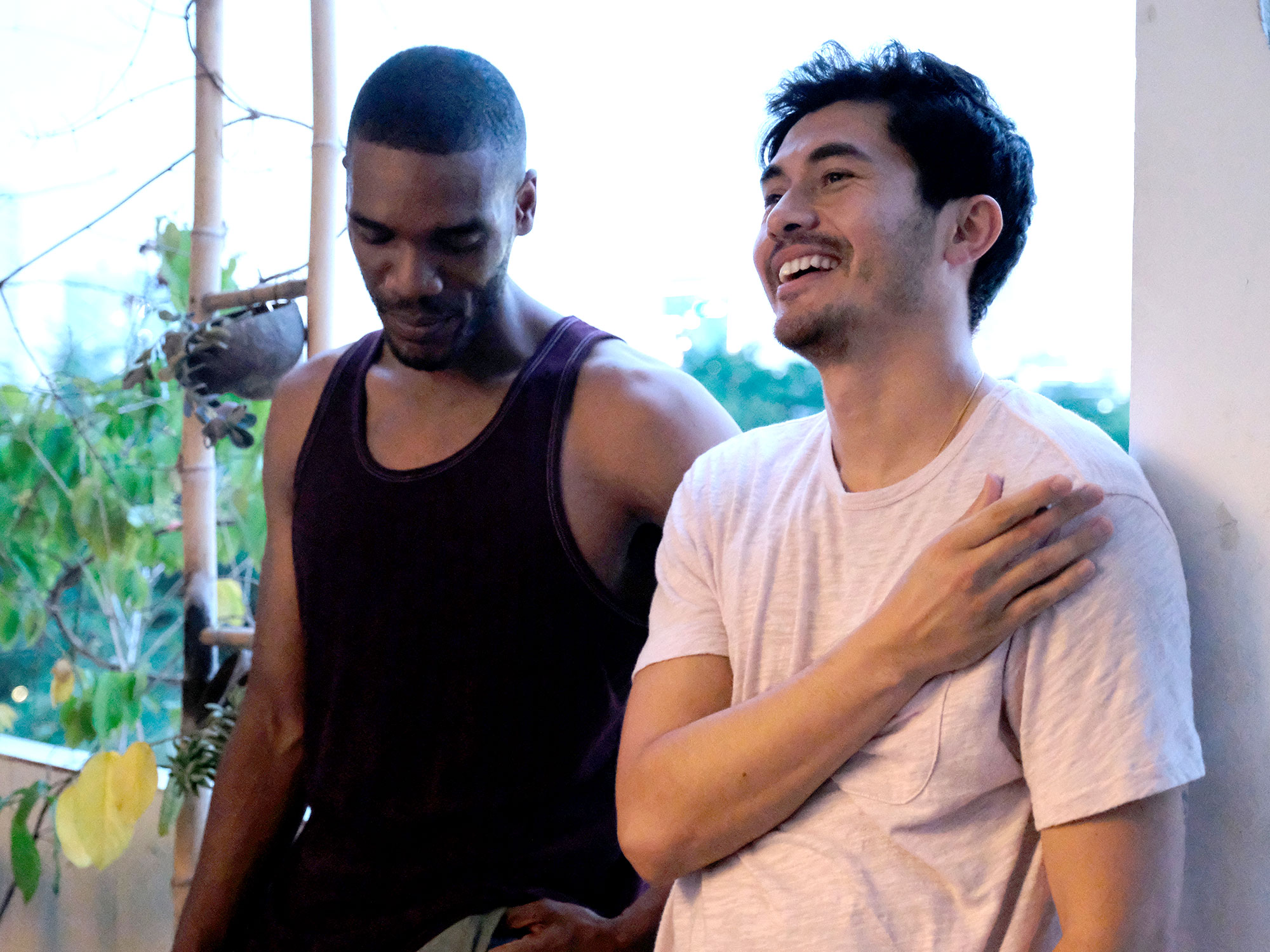 Kit (Henry Golding) returns to Ho Chi Minh City after 30 years, having fled with his family during the Vietnam war. Despite his heritage, he is now almost a tourist in the city, easily lost in the pandemonium of traffic. His goal is to find a place to scatter his mother's ashes, but as he wanders, bewildered and overwhelmed, he struggles to find any emotional connection to the places he once knew.
As with his first feature, 2014's Lilting, writer/ director Hong Khaou doesn't deal with the immediacies of tragedy. Without visualising painful memories or lost characters, Monsoon dwells solely on the hollow void left behind. This approach relies on Golding's performance; his adrift demeanour when he's alone tells the story of his loss.
Employing the vulnerability that made his previous comic performances in Crazy Rich Asians and Last Christmas so desirable, the expression behind his British reserve exudes an unwanted feeling of displacement. His disappointment at being unable to recognise the few childhood haunts he still remembered, now paved over and forgotten, is palpable. The writing leaves room for the awkward silences and, later, self-flagellation that lingers in the discomfort of communication.
The film's dialogue powers various stunningly tactile sequences each led by Kit's companions: a relative (David Tran); a lover (Parker Sawyers); and a friend (Molly Harris). Vietnam suddenly becomes less intimidating and the camera less hesitant as Kit re-discovers a sense of belonging. As he becomes more in touch with himself and the landscape – holding cold beers, gripping the back of a motorcycle, cutting lotus flowers – his roots regrow in new surroundings.
With his parents' legacy almost erased after their untimely departure, Kit discovers much about the Vietnam they left behind, as well as the one blossoming in its place. Though the towering sleek architecture of District 2 is cold and overbearing at first, its soul is slowly uncovered through its youthful, vibrant inhabitants. Kit's relationship with Lewis, an African-American whose father fought in the War, is especially poignant, as the pair mirror one another's generational trauma.
Comparatively, they are refreshingly comfortable in their sexuality – their connection not just a symbolic bridge but a specific, sweet dynamic between one so open and one so lost yet guarded.
Khaou was born in Cambodia, but spent his childhood in Vietnam before he and his family fled, and the emotions of this experiences shine through Golding's character. Each interaction rings true to the young immigrant's experience. He captures the careful navigation of this emotional grey area, of appearing like you fit in and betraying your Western upbringing when you speak, and vice versa. We see him torn three ways between loyalty to his parent's wishes, respect for their decisions and a desire to find his own path.
This dichotomy is one that Lulu Wang dealt with so magnificently in The Farewell, though here it's posthumous, with a character grieving not only for lost parents but for a lost timeline where his identity wasn't split in two. Though these weighty conflicts are only touched upon, the nuanced performances and the simple script articulate these sentiments potently. Monsoon is a hopeful, considered piece of cinema, quietly revealing and careful in its resolution of this unique turmoil.
Catch an online preview of Monsoon followed by a live Q&A with Henry Golding, Parker Sawyers and Hong Khaou on 23 September – tickets available here.
The post Monsoon appeared first on Little White Lies.