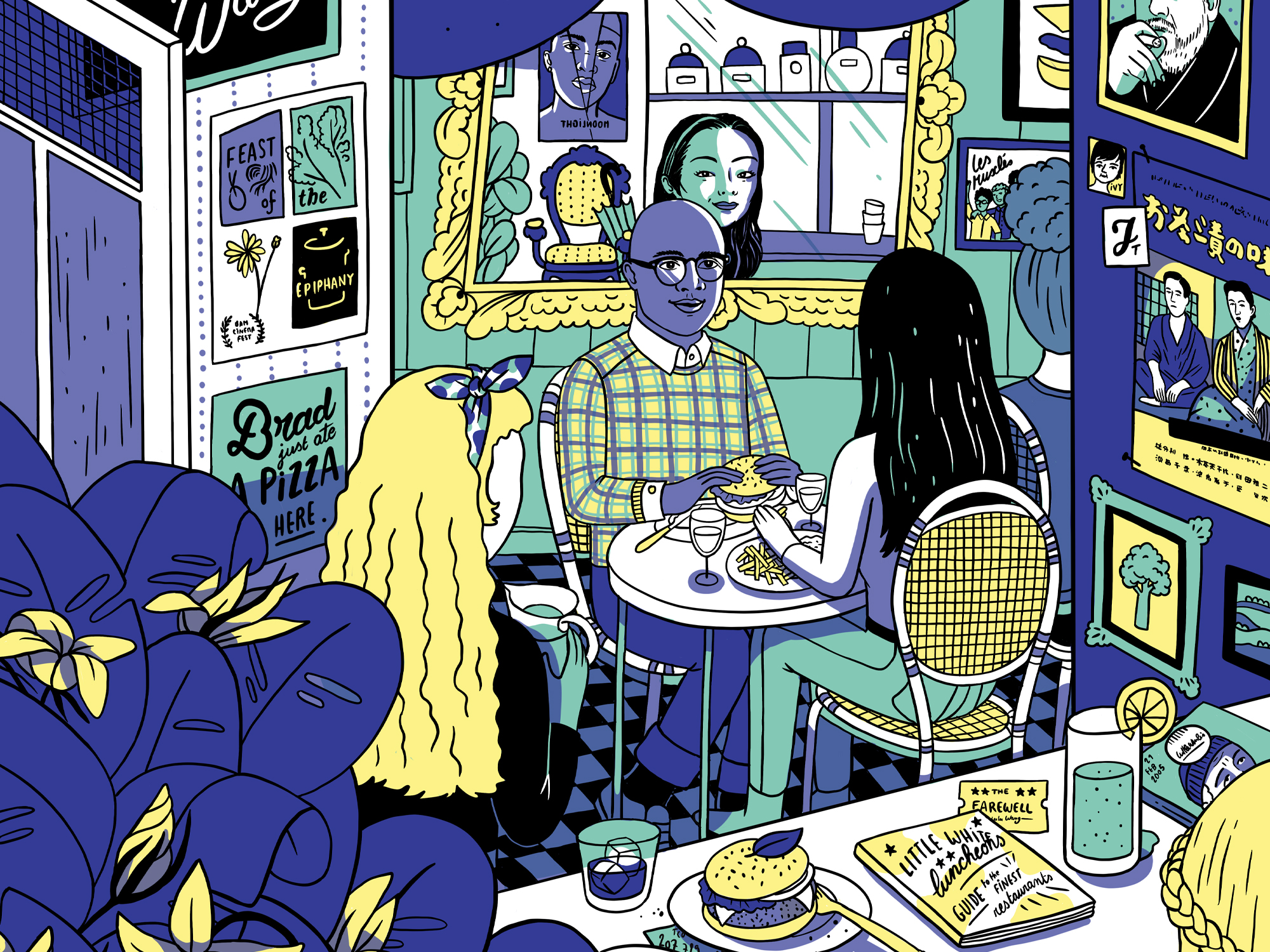 Producing an issue of Little White Lies under lockdown conditions has been a challenging and exciting task, a little like completing a Rubix cube against the clock while blindfolded and whistling 'Frère Jacques' on a loop. Okay, maybe not that tough. With cinemas closed, release schedules obliterated, the film industry on furlough and most people rightly squirrelling away in their homes to safeguard from viral infection, it meant that the option of making what you might see as a "regular" issue of the magazine was not there to be taken.
Yet necessity, as they say, is the mother of invention, and so the LWLies brain trust rubbed their heads together over a video conferencing platform and came up with something a little different: an issue dedicated to the intersections between the worlds of food and the worlds of film.
This idea was born from the fact that, during those early months of COVID lockdown, most of the world were in social unison and conversations that people were having tended to be about films and TV shows they had streamed, or recipes that they had tried with varying degrees of success. It was as if, when the taken-for-granted luxury of human contact was violently removed from the equation of how we live our daily lives, all that was left was food and film.
This issue is a celebration of how food is depicted on screen, how food can be used as a storytelling device in narrative cinema, it's about cookbooks written by movie folk, and the eating habits of movie folk, and how food is prepared, photographed and served on movie sets, and of course, an answer to that eternal question: why does Brad Pitt spend so much time eating in his movies? It's a way for readers to experience the vicarious pleasures of a hearty meal with friends, but also a look at how one of the most popular artforms of the modern age deals with a ritual that is vital to existence, but is so often taken for granted.
On the cover
This special cover was created by LWLies' own art director Laurène Boglio and it depicts the interior of a fictional Little White Lies restaurant, whose walls are bedecked with secret clues as to the content inside. Dining at the centre of the image are our star interviewees Barry Jenkins, director of Moonlight and If Beale Street Could Talk, and Lulu Wang, director of The Farewell.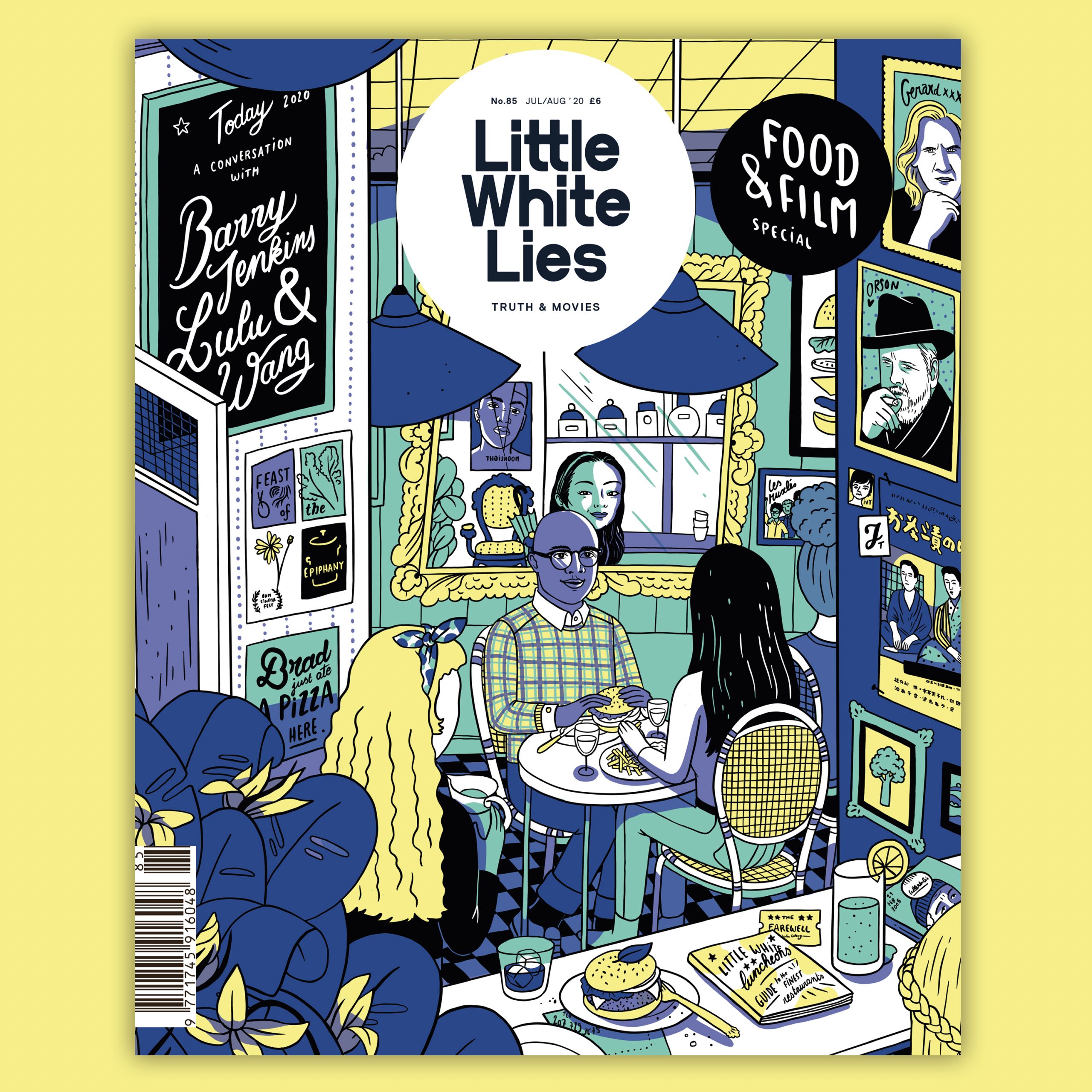 In this issue
Acts of Love
A personal conversation between cinema's premiere supercouple, Barry Jenkins and Lulu Wang.
My Dinner With…
Six magnificent movie folk recall a memorable meal.
Collage de Cuisine
Ace cut-up artists Ben Giles, Oriane Dufort and Zach Sebastian remagine iconic scenes from movies by reappropriating images of food.
A Feast for the Senses
Food historian and artist Tasha Marks explores how seeing food and images of eating on screen can translate into real world sensory explosions.
Vintage Vittles
Caroline Golum heads on a cooking odyssey with a copy of Photoplay magazine's 1927 'Cookbook – 150 Favourite Recipes of the Stars' under her arm.
The Gourmands
Christina Newland offers a short history of the movie stars who loved to live high on the hog.
Table Talk
Sophie Monks Kaufman meets the makers of a brilliant new film which deconstructs the emotions and theatre that are the uninvited guest at every dinner party.
Blood Feast
Most of us would rather not know what goes into movie gore, but as Charles Bramesco learns, much of it could be served at your average picnic.
A Matter of Taste
The hushed domestic dramas of Japanese maestro Ozu Yasujiro are powered by extraordinary and emotional dining scenes, argues Trevor Johnston.
Meals on Reels
Adam Woodward meets three professional film folk to explore the different, practical ways that they prepare and experiment with food for the camera.
Le Grande Nosh
Guest restaurant reviewer Jack Abelhammer (along with his ghost writer David Jenkins) tours Europe and the US to discover the finest fictional film eateries.
A Brad Pitt Eating Odyssey
One of the world's most famous movie stars loves nothing more than to nonchalantly eat on screen. Hannah Woodhead investigates further.
Illustrations in this issue by Laurène Boglio, Stéphanie Sergeant, Sophie Mo, Emma Balebela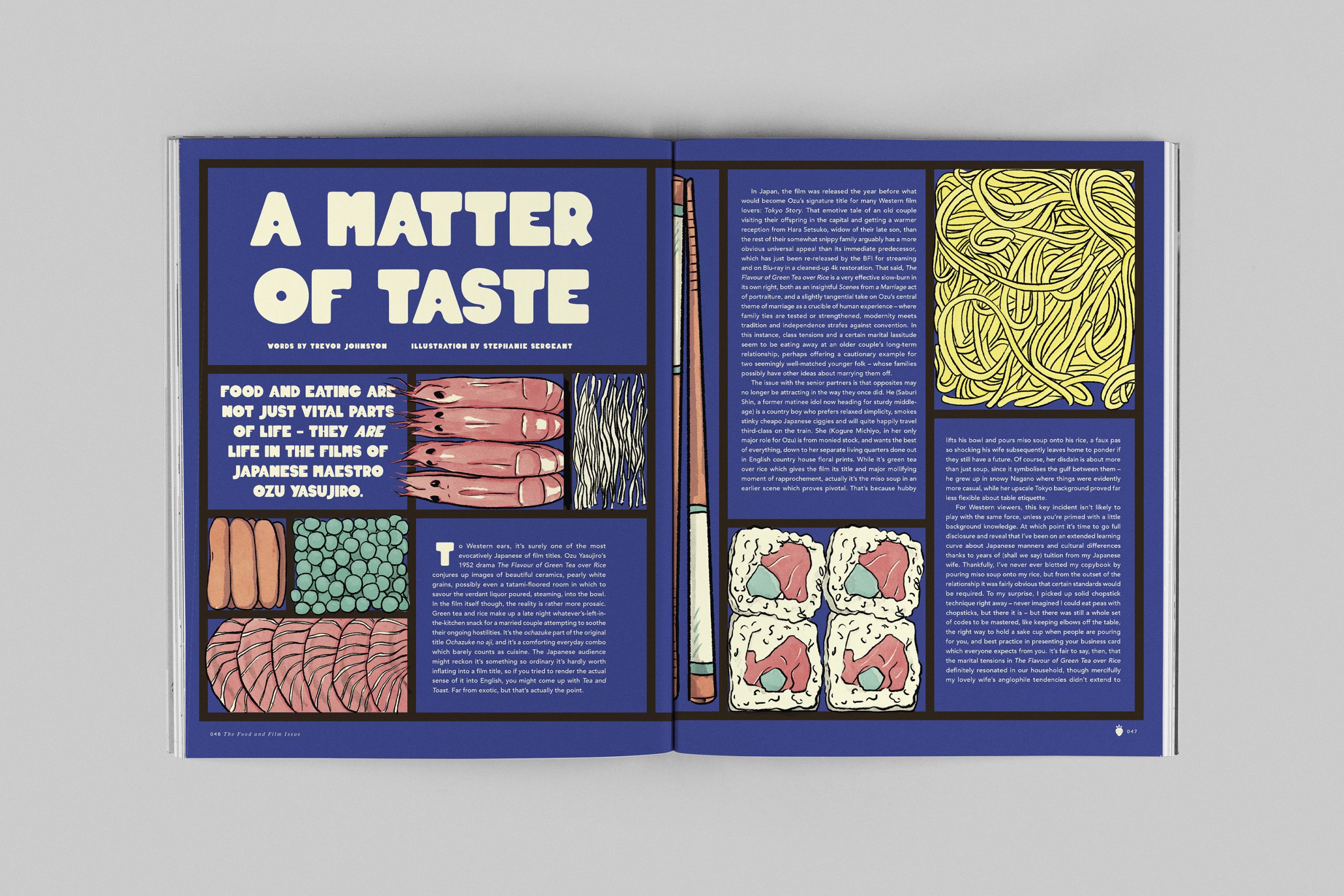 In the back section…
John David Washington gives Kambole Campbell some top secret whispers from his time on the set of Christopher Nolan's eagerly anticipated Tenet.
Bruno Dumont reveals to Elena Lazic how you go about making a new and exciting cinematic statement about Joan of Arc.
Claire Oakley talks to Elena Lazic about how she went about making her intriguing and atmospheric debut feature, Make Up.
All illustrations by Salvador Verano Calderón
In review…
Ludovic Bernard's In Your Hands
Spike Lee's Da 5 Bloods
Ninian Doff's Boyz in the Wood
Salvador Simó's Buñuel in the Labyrinth of the Turtles
Thomas Clay's Fanny Lye Deliver'd
Bruno Dumont's Joan of Arc
DW Young's The Booksellers
Matt Wolf's Spaceship Earth
On the Record by Kirby Dick and Amy Ziering
Carmine Street Guitars by Ron Mann
Richard Tanne's Chemical Hearts
Claire Oakley's Make Up
Xavier Dolan's Matthias & Maxime
Alex Thompson's Saint Frances
LWLies 85 is on sale 10 July. Order your copy and subscribe here.
The post LWLies 85: Food & Film Special – On Sale Now! appeared first on Little White Lies.