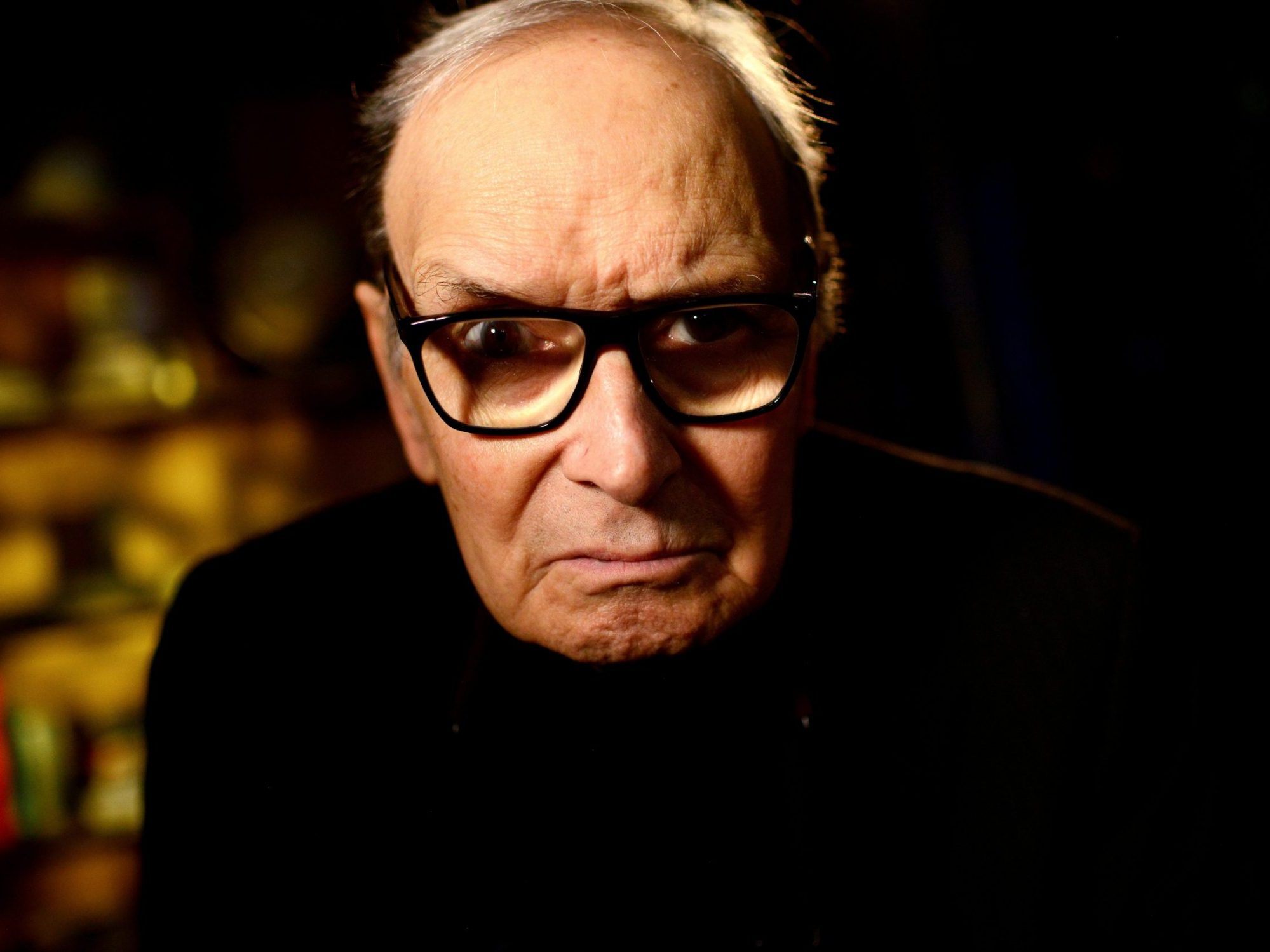 This morning, at a hospital in Rome, the great Italian composer and musician Ennio Morricone passed away at the ripe age of 91 years. The instant that the sad news broke, social media channels were flooded with an outpouring of sympathy for the most esteemed name in film scoring, each message of condolence complete with its poster's choice for their favorite Morricone soundtrack cut.
It's striking how varied the picks have been, a testament to the longevity and prolific nature of the late great's discography. Over a staggering eight decades, he worked at a consistent pace for an eclectic host of collaborators, from the Spaghetti Western classics of Sergios Leone and Corbucci to the bloody fever dreams of Dario Argento to Stateside productions headed by John Carpenter, Brian De Palma, and Quentin Tarantino. And while his death inspires the expected twinge of melancholy, we can also take this as an opportunity to survey the vast body of work this peerless artist leaves behind.
Below, we've assembled a brief playlist of ten selections that attempts to cover the breadth of the expansive Morricone oeuvre, without even coming close to charting its depth. Morricone worked on hundreds and hundreds of films, so this is only a jumping-off point — if you find you're interested, untold hours of gold await you:
"Concerto No.1 for Orchestra," 1957
Morricone began his career in what some call "absolute" classical music, composed for its own free-standing sake rather than for soundtracking purposes. He started writing for voice and piano in the '40s, before he was even out of his teen years, building a foundation of orchestral knowledge that would factor prominently into the opulence and diverse instrumentation of his later work. Below, we have one of his more expansive and ambitious 'absolute' works from this early period, characterized by the same tone of palpable tension — dread, even — that would come to be his trademark.
"The Ecstasy of Gold" — The Good, the Bad, and the Ugly, 1966
Morricone got his feet wet in film during the '50s and early '60s as an arranger, devising the orchestration for other composer's scores. He got his first "Music By" credit all his own in 1961 on the film The Fascist, a politically charged military drama, and made his way to the world of Spaghetti Westerns that he would come to call home with Gunfight at Red Sands two years later. He'd fully arrive with his career-defining work on Sergio Leone's Dollars trilogy, in particular his triumphant backing to its final chapter. As Eli Wallach's bandito Tuco searches for a cache of hidden gold, we hear the wailing of singer Edda Dell'Orso, a melody that gets a refrain later on in the Mexican standoff against Clint Eastwood's Man with No Name. The grandiose, cathartic uplift has made this Morricone's most well-known and oft-alluded-to pieces; the jackasses of Jackass used the tune to open their second feature film, for just one example.
"Navajo Joe" — Navajo Joe, 1966 
While the names of Morricone and Leone would eventually come to be seen as somewhat synonymous with one another, the musician got around during the '60s and '70s. He was credited with a dumbfounding fourteen feature credits in the year 1966 alone, three of them bona fide all-timers: the one cited above, his brisk military marches for Gillo Pontecorvo's immortal war film The Battle of Algiers, and the selection below. He went to more experimental places for Sergio Corbucci's racially problematic shoot-em-up, in which Burt Reynolds portrayed a Navajo warrior fighting off marauders threatening his tribe. The primal screaming that opens the track — memorably interpolated in Alexander Payne's Election as a leitmotif of deep-seated rage — speaks to Morricone's spirit as a self-professed experimentalist, always on the hunt for unfamiliar sounds that he could integrate into his work to make it unlike anyone else's.
"Rotativa" — Per un pugno di samba (with Chico Buarque), 1970
As his fame in Italy's booming film industry grew, Morricone never allowed himself to lapse into a creative rut, or grow distant from his roots in the concert hall. To that effect, he joined forces with the Brazilian guitar virtuoso Chico Buarque for an album that bridges the gap between his soothing, gentle bossa nova/samba stylings and Morricone's symphonic might. It's a demonstration of their shared versatility, a unique talent to slip into any genre or musical tradition and recognize the building blocks required to fit in perfectly. Buarque and Morricone would go on to release two more record together after the millennium, a touching illustration of the widespread respect and admiration Morricone commanded among his peers in all stripes of music.
"Piume di Cristallo" — The Bird with the Crystal Plumage, 1970
By the time the '70s rolled around, everyone in the Italian film biz wanted a piece of Morricone, a popularity that brought him to unexpected places, including the bloodstained glass interiors of Dario Argento. The maestro of giallo, the Italian movement of lurid cheapo slasher pictures, enlisted Morricone for his career-best Animal Trilogy comprising The Cat O' Nine Tails, Four Flies on Grey Velvet, and the high-water mark The Bird with the Crystal Plumage. Delving into horror opened up new realms of eerie, inhuman noise for Morricone, who opened the title track with little more than tinkling chimes, creepily intimate cooing, and a thin organ line to back it. While Argento's more known for his team-ups with the prog-rock band Goblin, Morricone still had a significant role in codifying the singularly unsettling sound of giallo.
"Regan's Theme (Floating Sound)" — The Exorcist II: The Heretic, 1977
Morricone made his entrée to Hollywood all the way back in the magic year of '66, with some uncredited contributions to John Huston's biblical epic The Bible: In the Beginning. He would come to land more high-profile American gigs in the years to come, though he would become famous for his reluctance to leave Italy, or develop any fluency in English. While John Boorman's sequel to the hall-of-fame horrorshow The Exorcist has been largely (and, for the most part, rightly) pilloried, even the severest critics can agree that Morricone's score represents the most redeemable component of the film. Bringing his slinking giallo guitars across the Atlantic, he sets the scene with the utmost eeriness, a slow-rolling mist preceding the great demonic hurricane the film will whip up.
"Days of Heaven" — Days of Heaven, 1978
When viewers think back on the music of Terrence Malick's epic of divine ruin in the heartland, they most likely remember the opening credits set to the cascading Aquarium movement from Camille Saint-Saëns' "Carnival of the Animals." But Morricone shared the proper Music By credit with guitarist Leo Kottke, the two of them bringing a magisterial sweep befitting the biblical proportions of Malick's story. The music attests to Morricone's unique ability to disappear into setting; whether through melody or arrangement, we can perceive time (1916) and place (the Texas panhandle). While he never occupied an especially major place in the American arthouse, working mainly in Europe and in a mixed bag of Hollywood productions (for every The Untouchables, there's an Adrian Lyne's Lolita), he delivered a true masterpiece when called on by Malick.
"The Thing (Theme)" — The Thing, 1982
A composer who begins his career as mature and fully-formed as Morricone runs the risk of stagnating as the years go by. It's not easy to continuously evolve as an artist when you work for nearly an entire century, but to Morricone's credit, he constantly challenged himself to push outward into new territory. There's something revelatory about his accompaniment to John Carpenter's monster mash down in the forbidding tundras of Antarctica — he achieved an indelible iciness by going minimal and adopting the emergent synthesizer, emitting an electronic pulse that throbs like a computerized heartbeat. While not typical of the Morricone corpus, this has turned into a point of entry for many young cinephiles, stricken by the exceptional score and rushing to google what else the composer's done.
"Serene Family" — Disclosure, 1994
One of Morricone's more unlikely jobs paired him with Barry Levinson on this 1994 erotic thriller, a film best described as "of its era." (Business executive Michael Douglas must clear his good name from the false sexual harassment accusations of vindictive ladder-climber Demi Moore. A different time!) While the tracklist boasts some great titles — give a listen to "Unemployed!" or "Sex, Power, and Computers" — the opening number stands out for showing Morricone's softer side. Without sacrificing the rich string lines he so adores, Morricone spins an image of domestic tranquility between a family soon to be torn asunder by scandal. It can be helpful to think of Morricone as an outdoor composer trying to bring his style inside, taking on a dialogue-driven drama as a departure from his usual work in bigger, more kinetic pictures. He manages both stances with grace.
"L'Eau, the One" — Dolce and Gabbana campaign, 2009
Morricone did his fair share of ad work, packaging little minute-long snippets of his music for the likes of Telecom Italia and pasta manufacturer Barilla. (It pains me that I can't find a YouTube clip of the Italian Chef Boyardee commercial Morricone did in 1990, in which little Hector Boyardee  vows to become a great chef and make delicious food for all the children after a teacher ladles him a serving of unsatisfactory polenta.) A 2009 campaign for Dolce and Gabbana featuring Scarlett Johansson as an international screen idol sitting for a sexy interview nearly tips into self-parody, as if she's doing her best impression of Anita Ekberg in La Dolce Vita. Morricone's in on the bit, his swooning violins and piano plinks emulating the glamour of Old Hollywood. This was part of what made him such a great, enduring talent: the ability to see what each individual assignment called for, and adapting to fit it.
"The Last Stage to Red Rock" — The Hateful Eight, 2015
The final stage of Morricone's career saw him easing up on his incomprehensible rate of output, easing into his station as an elder statesman of film music. To such worshipful filmmakers as Quentin Tarantino, who tapped Morricone for the foreboding Hateful Eight score that won the master his only non-honorary Oscar, he was a living allusion. Inserting him in a Western tucked away in snowy wilderness serves as a double nod to his past work on spaghettis and The Thing, suggesting that present-day Morricone can be used as a reference to himself. (Tarantino's been a longtime booster, dropping samples into Kill Bill, Death Proof, Inglourious Basterds, and Django Unchained.) Unlike so many geniuses, Morricone lived to see his legacy borne out, an influence that's shaped the last sixty years of Westerns and other action pictures. He's in a class by himself.
The post Listen to eleven essential compositions from the late, peerless Ennio Morricone appeared first on Little White Lies.