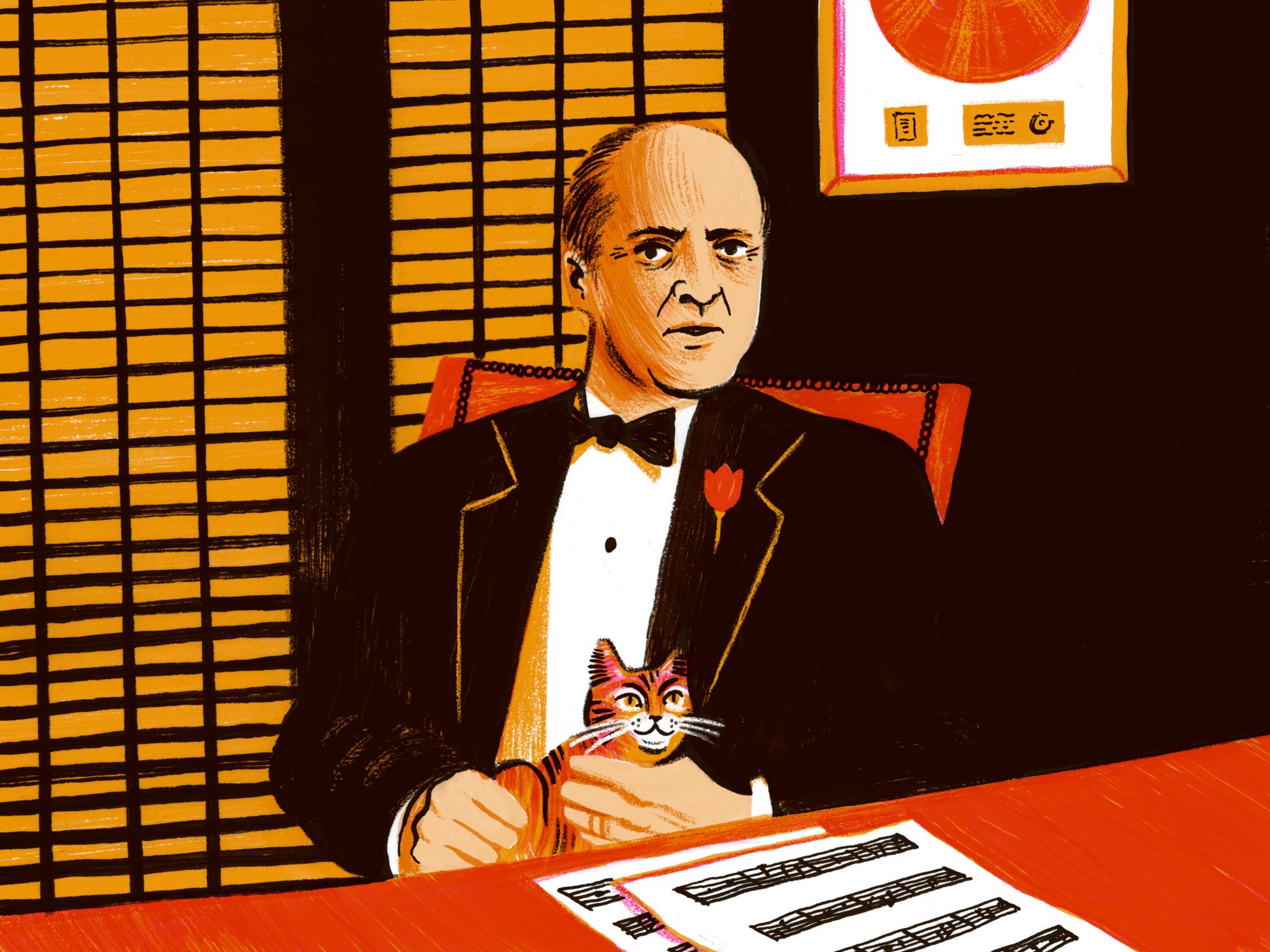 Although they never met, Rachel Zeffira regards Italian composer Nino Rota as a "true mentor". One half of the experimental pop duo Cat's Eyes and a talented soprano in her own right, she speaks of the late musician with an intense passion, and even helped to create a compilation album in 2007, 'The Secret Heart of Nino Rota', celebrating some of his rarest works.
"He's my guardian angel," Zeffira enthuses, "I feel so protective of him; like he's my dad or something. He was a true eccentric, who would make music in chaotic situations and had an apartment filled with treasures that literally reached the ceiling, and that's exactly how I am, too. He always created arrangements directly from the heart, even if that wasn't the trendy thing to do. He wrote with sincerity, simplicity and precision, and that's why his music hasn't aged."
Having worked with legendary directors such as Federico Fellini (who described Rota as "someone who had a rare quality belonging to the world of intuition") and Luchino Visconti, Rota amassed an enviable body of work in his lifetime, scoring more than 150 films. Yet none of his scores have endured quite like the one he wrote for Francis Ford Coppola's The Godfather.
The way the central theme shifts between heartfelt nostalgia and morose stillness perfectly reflects the duality of gangster life, where one can be smiling at your daughter's wedding one minute and brutally shot clutching a bloodied bag of oranges the next. Indeed, Zeffira insists it's just as much a love letter to Italian family values as it is the old-school elegance of the criminal underworld.
"The Godfather creates mixed feelings for Italians," she explains, "as the mafia thing often gets distorted and turned into something ugly. But Rota focuses on the heart and soul of the family spirit that drives Italian culture. He always said music was a vehicle for the soul and the second you hear that trumpet solo, you just know what he's trying to do."
Zeffira particularly likes how Rota varies the central theme throughout the film. "It goes from traditional folk, with the accordion and mandolin, through to more jazz-like improvisation. He's constantly playing new versions of the theme, bringing in an oboe instead of a trumpet or taking the same notes and slightly twisting them around. I think he's telling the history of Italy's musical journey and showing how multi-faceted its people are. The score goes from sounding mournful to full of light and love – and that's intentional. It shows how unpredictable life must have been for Italian immigrants at that time."
Unfortunately for Rota, the experience of working on The Godfather was ultimately a painful one. He was nominated for an Oscar in 1973, but this was withdrawn after producer Dino De Laurentiis accused Rota of plagiarism. In fact, 'Love Theme' was a variation of a far jauntier, much duller, marching band piece which Rota had written for the 1958 Italian comedy Fortunella. However, because composers can't plagiarise their own work, Rota was fully vindicated and won an Oscar for his The Godfather: Part II score two years later.
As part of Cat's Eyes, Zeffira created the music for Peter Strickland's The Duke of Burgundy in 2014. It's a film all about the intricacies of a relationship and how sadism can be just as important as gentleness when it comes to keeping a relationship fruitful, and its shifts in tone suggest Zeffira enjoys darkness just as much as light.
"Just like Rota's work, we wanted to really get into the heart of the characters," she explains. "There's grief and pain in their relationship, and one of the characters has more love in her heart than the other. Those shifts in tone were what I learned from Rota and The Godfather. What was so nice about working with Peter is he gave us complete freedom to shape his film. I sense Fellini and Rota had the same kind of relationship. The best scores are created from a place of pure trust."
Zeffira performed in the Vatican for a special set with Cat's Eyes back in 2011 – a rare honour, but one totally befitting of the ethereal beauty of the group's sound. And she says she even felt Rota's spirit guiding her while she played at St Peter's Basilica. "He had a weird relationship with Catholicism, and he definitely captured the power and intimidation of the Church with his Godfather music. You see this with things like him using a full organ sound, and not just one little baroque organ. When you walk into the Vatican, you realise how small you are in comparison, and while we were playing I could feel Rota's energy."
The post Know The Score: Rachel Zeffira on The Godfather appeared first on Little White Lies.