Expectation management is a vastly undervalued skill. Get it right and you can deliver much better results than your audience ever imagined possible – even if you knew the odds were actually in your favour to begin with. So to Jungle Cruise, a Disney adventure based on one of their theme park rides.
It's 1916 at the Royal Geographical Society in London. Dr Lily Houghton (Emily Blunt) illicitly searches for a mysterious arrowhead that can unlock the secrets of a "tree of life" in the Amazon jungle, while her brother MacGregor (Jack Whitehall) tries to convince the Society's all-male professors that an expedition to find the tree and its petals could yield wondrous advances for medicine. MacGregor is laughed off stage but Lily snags the arrowhead right under the nose of evil German aristo Prince Joachim (Jesse Plemons) and his minions, who are also after the tree, only for nefarious means.
The siblings begin a perilous boat trip up the Amazon at an inauspicious Brazilian backwater, where they enlist wisecracking captain Frank Wolff (Dwayne Johnson) to help find the tree. Skint Frank runs tourist cruises on the river, scamming them with staged "attacks" from natives. Before long our trio are fighting undead conquistadors trapped in the jungle and the villainous prince who has followed them to South America in a submarine.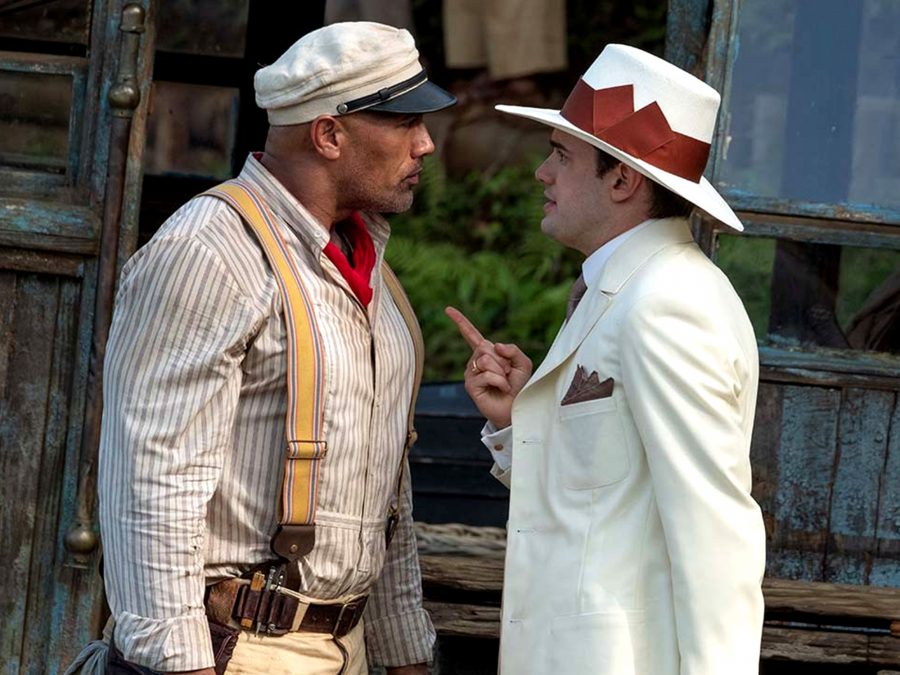 Johnson lands more jokes in his opening scene than some comedy actors manage in 90 minutes. He also wrestles a leopard. Blunt is the superior action star on show here though – fearlessly fighting, jumping and climbing like a cynicism-free female Indiana Jones. Whitehall, a popular if divisive British TV personality, is sympathetic and amusing. A scene in which MacGregor comes out to Frank (albeit with a degree of ambiguity) is handled delicately, and feels like a landmark moment for a Disney family film. Elsewhere, Paul Giamatti makes the most of a small part as Amazon boat bigwig Niro, while Plemons is great value.
Hilarious, filthy moments of innuendo pepper the script, the influence of Bad Santa writers Glenn Ficarra and John Requa (who comprise two-thirds of the writing team alongside Michael Green, who co-wrote Logan and Blade Runner 2049) keenly felt. The final act drags a little and there's some ropey CGI in places, but director Jaume Collet-Serra keeps the energy up and the performances lively as he manages the considerable budget step-up from his usual (excellent) B-movie fare.
Even with such likeable, charismatic leads, few could have hoped for a more enjoyable romp from a film that essentially crosses The Mummy with Pirates of the Caribbean, and is based on a theme park ride that was itself originally inspired by John Huston's 1955 adventure The African Queen. Expectations be damned. Subtly progressive and tremendous fun, Jungle Cruise is the best family blockbuster of the year.
---
ANTICIPATION.

Charismatic leads and a solid director… albeit with theme-park ride source material.
3
ENJOYMENT.

Outrageously entertaining and even contains a few unexpectedly moving moments.
4
IN RETROSPECT.


Joyful family entertainment that'll keep naughty parents amused too.
4
---
Directed by



Jaume Collet-Serra

Starring



Dwayne Johnson,

Emily Blunt,

Edgar Ramirez

The post Jungle Cruise appeared first on Little White Lies.