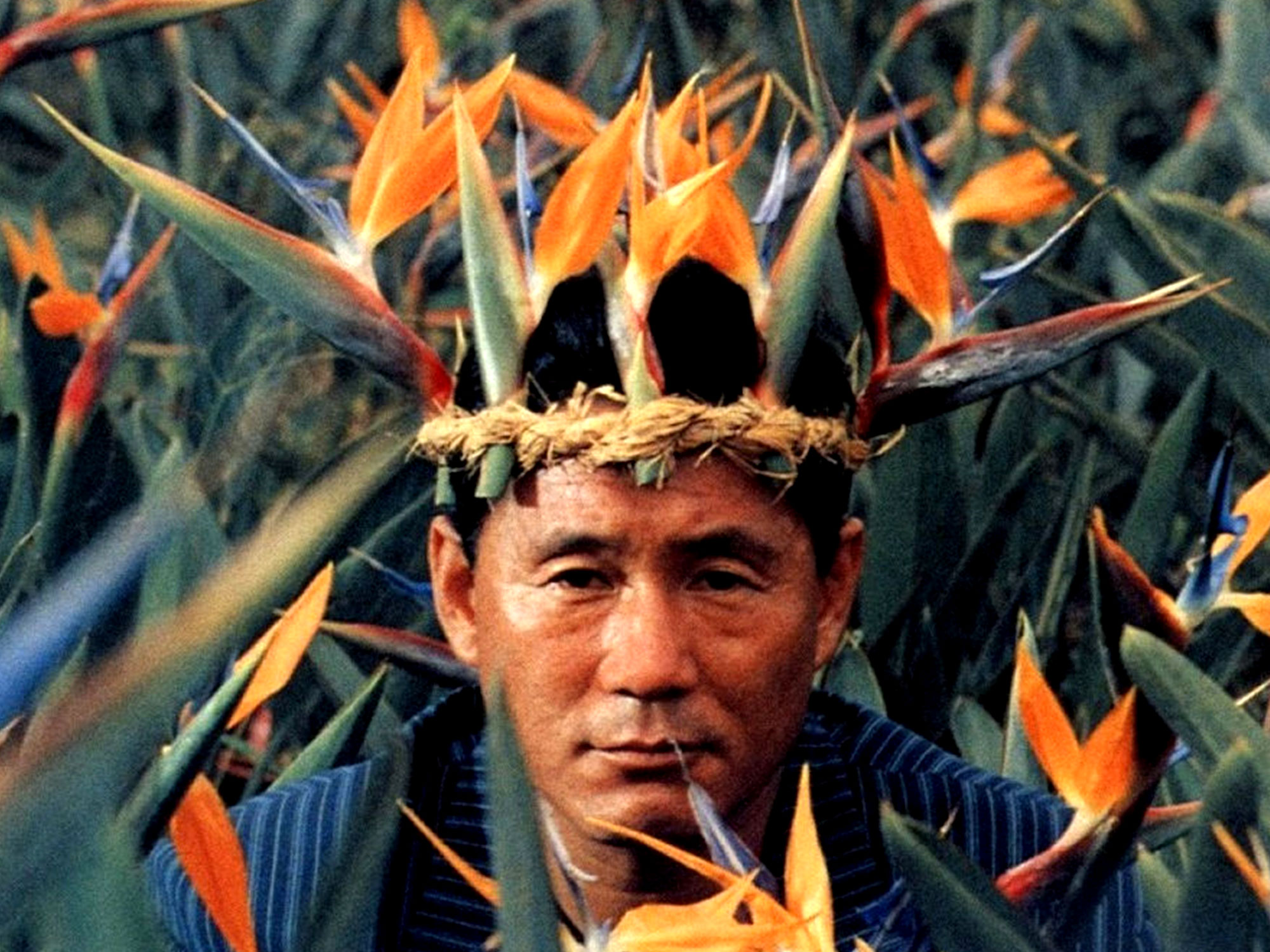 It took until 1997 for Japanese audiences to take Takeshi Kitano seriously as a filmmaker. As one of the country's most prolific television personalities, a stand-up comedian with a penchant for wacky gameshows (Takeshi's Castle, anyone?), they had little reason to believe that he was capable of anything more than mindless laughs. It wasn't until his nihilistic, ultraviolent crime drama Hana-bi took home the Golden Lion at Venice in 1997 that Kitano's serious filmmaking "hobby" was acknowledged by the home fans.
The genesis of Kitano's transformation from TV loon to crime auteur actually came years earlier. Mortified after finding cinema audiences laughing at his first serious acting role in Nagisa Ōshima's 1983 war drama Merry Christmas Mr Lawrence, the comedian made it his mission to reinvent himself as a genuine filmmaking force by the end of the decade. Opportunity knocked when he was handed the reigns to gritty crime flick Violent Cop, a film in which he was already cast as lead actor, after director Kinji Fukusaku dropped out. But it was his self-penned 1990 follow-up that provided the first Kitano film that could truly be considered his own.
Boiling Point is a film that remains widely misunderstood and unfairly criticised. A meandering road movie about an untalented baseball player pondering revenge on the local mob, it is usually considered the unfocused middle part of a triptych of early crime films featuring Kitano on both sides of the camera. If Violent Cop had been an limited introduction, 1993's gangsters-on-vacation romp Sonatine would later be considered his first masterpiece. Boiling Point, meanwhile, made less than $1,500 at the domestic box office and was an unmitigated financial failure for the wannabe director.
Yet it proved to be a turning point for Kitano's career. It amplified the stylistic tropes for which he would become known, with gratuitous long takes, vivid, widescreen cinematography and brutal, unflinching violence inflicted by Kitano's character against his adversaries. It cast away a shell by featuring no music, coming out on the other side with the seeds of a decade-long partnership with Studio Ghibli composer Joe Hisaishi via 1991's A Scene at the Sea. Its disastrous box office performance inspired Kitano to distribute via his own production house Office Kitano for the first time, marking a greater breadth of control over his works.
Most importantly, though, Boiling Point provided the first glimpse of Kitano the autobiographical director. This was quickly established as a central theme of his work, evidenced in 1996's Kids Return, a teen drama based on his rebellious school years, 1999's Kikujiro, modelled on the director's relationship with his abusive father, and the surreal autobiographical trilogy of Takeshis', Glory to the Filmmaker! and Achilles and the Tortoise in the early '00s.
Boiling Point, like its successors, is a creative substitute for Kitano's own life struggles. In this case, it explores his unstable, dichotomous identity – half unfulfilled TV comedian, half aspiring film director – through its two lead characters: underwhelmed baseball player Masaki, and volatile yakuza Uehara, the latter played by Kitano himself. If the analogy wasn't made obvious enough by the fact that Uehara appears at the exact halfway point of the film to displace Masaki as the lead, then his explosive entrance makes it even clearer. He announces himself as the ying to the near-mute Masaki's yang when he appears brandishing a blade at a room full of yakuza, who pin him to his seat beneath an image of a pink butterfly.
Even the title evokes a sudden elemental change, and the film is riddled with symbolism that underlines the overarching theme of metamorphosis. The story follows Masaki on an unlikely adventure from his sleepy, mob-corrupted hometown to the lush, idyllic subtropical island of Okinawa. Upon his return to the airport, he is given butterfly eggs to take home as a souvenir. And blooming flowers are found everywhere in between: on Hawaiian shirts, in a field of vibrant Strelitzias, and most notably, in a bouquet that conceals Uehara's machine gun.
Perseverance, we are constantly reminded, is what drives Kitano's narrative. Whether it's Masaki's "100 times" bat-swinging practice, which results in him scoring a home run on his second baseball game, or through the physical transformation Uehara forces upon a colleague by pounding his finger off with a giant stone slab. The paperweight is by far the least subtle of these metaphors – it has the word "perseverance" inscribed on it in kanji.
The fact that Boiling Point begins and ends with Masaki sitting alone in a dark toilet cubicle at a baseball game is perhaps the most insightful hint to the TV comedian's plight. The mirror images lead the viewer to question whether the larger-than-life adventure of the film's plot actually took place at all, or whether it was conjured up in the mind of its protagonist. Neither conclusion bodes well for Uehara, and therefore Kitano the filmmaker. Either the sexually aggressive yakuza brute succumbs to a grim fate of his own making, or he never existed in the first place.
This pessimistic outlook would foreshadow a morbid downturn in Kitano's personal life. Just four years after Boiling Point's disastrous box office return he almost perished in a motorcycle-related "unconscious suicide attempt", which he attributes to career-related depression. But it was this event that would, effectively, complete his transformation; the climactic turning point for his filmmaking fortunes.
With his face permanently disfigured, and with the public questioning whether he would ever work again, there was much greater anticipation for Kitano's return to the dual role of actor-filmmaker, which eventually occurred with Hana-bi. That film would end up becoming widely regarded as his defining work – proof that Kitano was the filmmaking powerhouse that he had dreamed of becoming in that darkened toilet cubicle on Boiling Point.
The post How Takeshi Kitano went from comedian to crime auteur appeared first on Little White Lies.