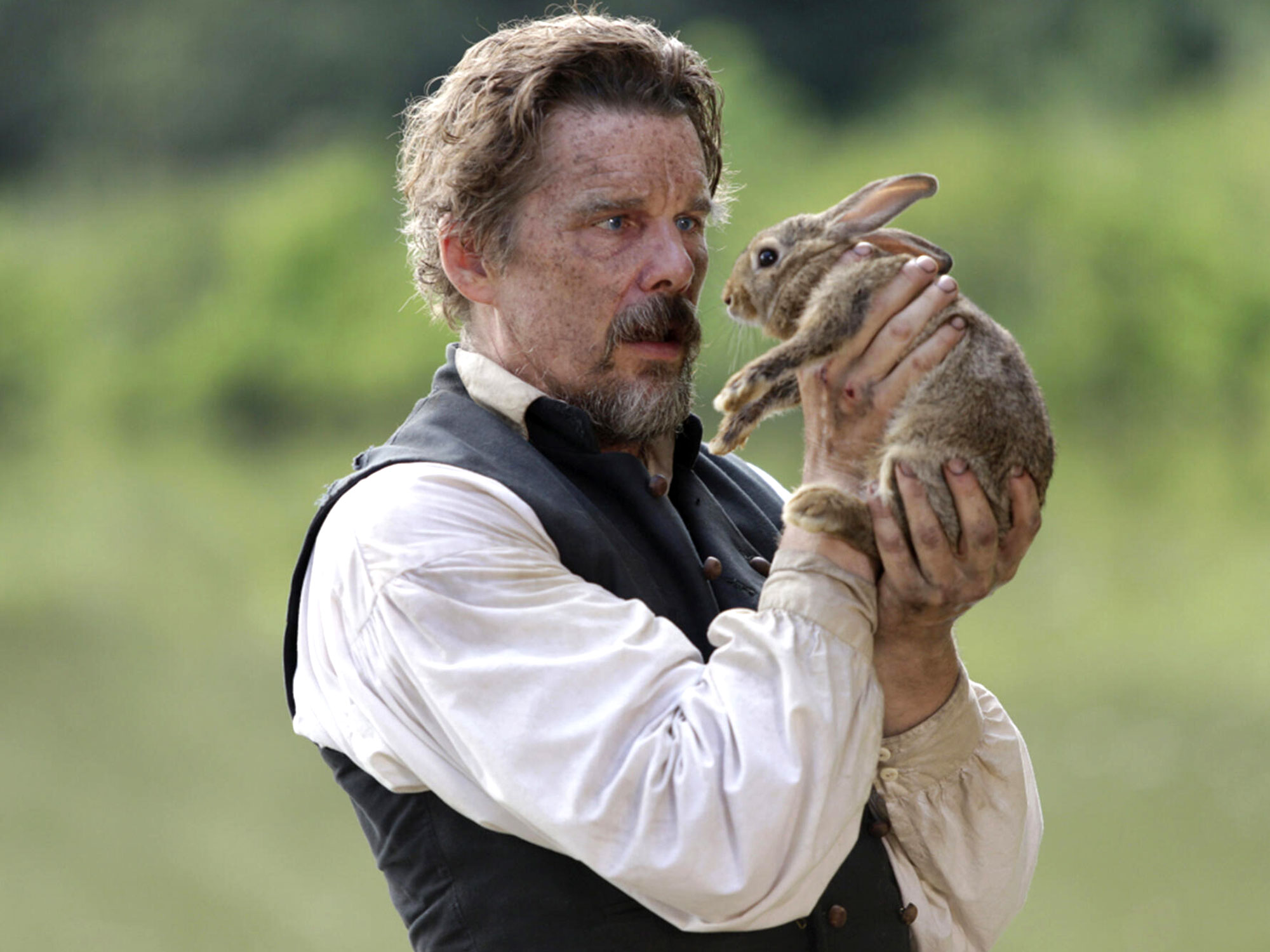 "All of this is true. Most of it happened," reads the opening title card in Showtime's seven-part miniseries The Good Lord Bird. This disclaimer points to the humour that is woven amid the horrors of the bloody battle between pro and anti-slavery forces in the years leading up to the American Civil War. All historical retellings step outside the bounds of accuracy for dramatic effect, and as with the recent Elle Fanning series The Great, this initial piece of information sets the off-kilter tone.
Based on James McBride's 2013 novel of the same name, it tells the story of a fictional enslaved boy Henry Shackleford (Joshua Caleb Johnson) who is given the moniker 'Onion' by the controversial abolitionist John Brown (Ethan Hawke). Onion has to juggle a case of mistaken identity after Brown believes he is a girl, all while surviving this dangerous landscape in a dress and bonnet.
Portraying real events featuring Brown's loyal band of abolitionist soldiers during a period referred to as Bleeding Kansas, the line between justice and vengeance is blurred. Choosing to fight with righteous fury, he uses scripture to back up his methods of freeing all slaves in the South and to point out the hypocrisy of so-called Christian slavers.
John Brown might not be a household name in 2020, but in the mid-1800s he was already legend. His reputation definitely preceded him and Hawke delivers a larger-than-life performance of a figure who burned bright and loud. The unkempt bushy beard, skin creases that paint a picture of life hard-lived and wild eyes is unlike any role Hawke has previously played, including a very different man of faith in First Reformed.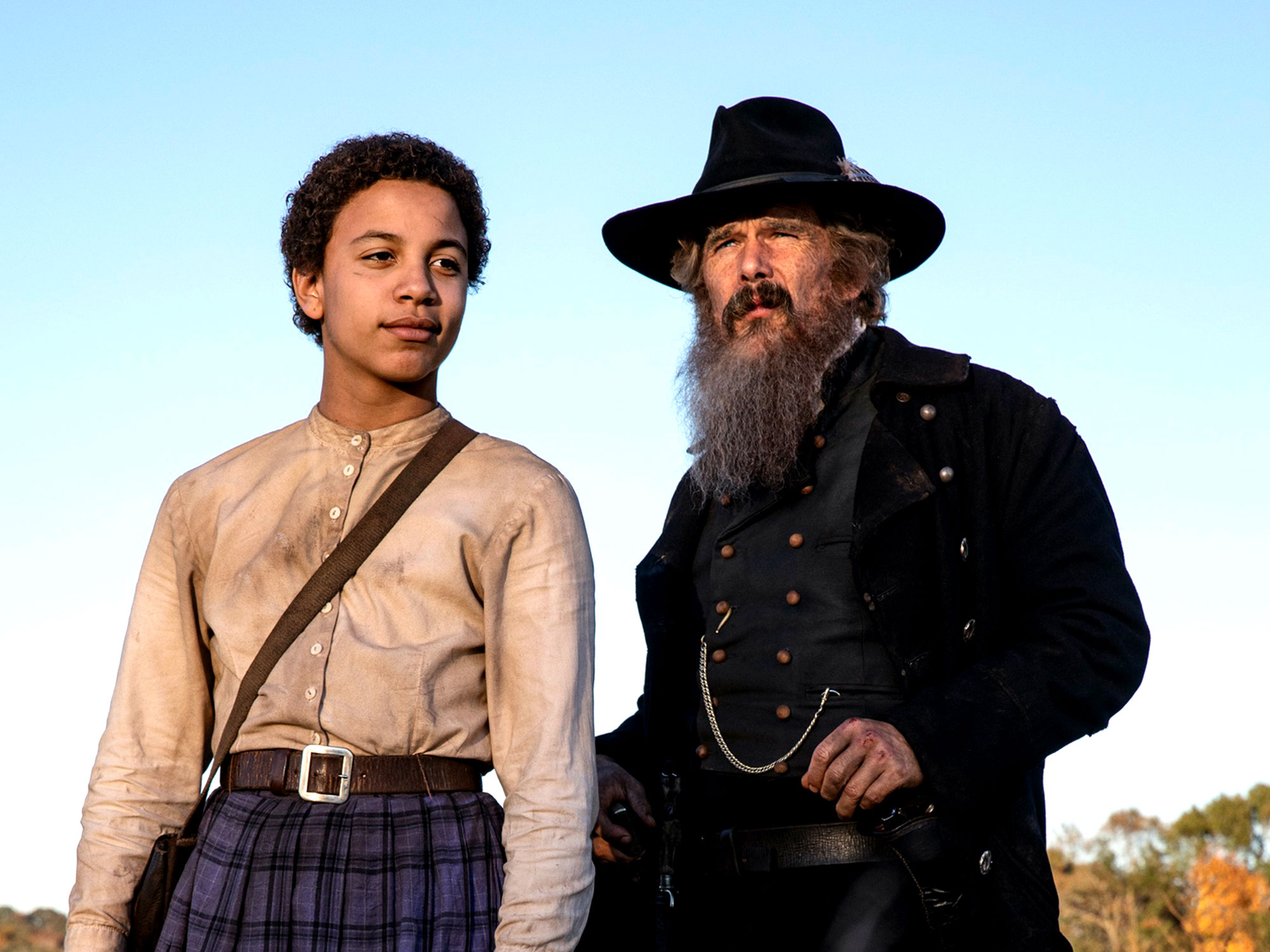 A passion project for the veteran actor, Hawke also serves as co-creator (alongside Mark Richard) having first met with McBride four years ago to discuss an adaptation of his book. This level of commitment is evident from every sentence he utters, often yelled and with spit flying in all directions. It is an incredibly captivating and magnetic turn that doesn't shy away from Brown's incendiary personality and inner-rage at the injustices plaguing the US. This is far from a fairy tale depiction of this pre-Civil War period.
Hawke's unflinching presence is hard to look away from but it is in the quieter moments with Onion that both he and Johnson shine. Supporting stars include Tony-winner Daveed Diggs as abolitionist Frederick Douglass, Maya Hawke (marking the first time the father and daughter have worked together) and Boyhood star Ellar Coltrane once again plays Hawke's son.
With a central performance this bold, it would be easy for the rest of the ensemble to be overshadowed. Thankfully, balance comes from Johnson as the narrator and entry point into this violent and unjust world. A running joke about Brown's rambling sermons before meals and the scripture quizzes that often occur during inappropriate moments pepper the action with much-needed levity. This role could easily slip into the white saviour trope, but Brown's bombastic demeanour and frequently highlighted fallibility and flaws ensure this is avoided.
Onion's lack of options and the varying motives of men who fight alongside Brown are a reminder that even though their leader's commitment never waivers it doesn't mean that the intrinsic racist structures will come crashing down. "America will never have peace until we've dealt with slavery," Brown states in the first episode – a knowing line that points to the nation's deepest wound which has yet to heal.
The Good Lord Bird premieres October 4 on Showtime and Sky Atlantic later this year.
The post Ethan Hawke delivers a fiery sermon in The Good Lord Bird appeared first on Little White Lies.