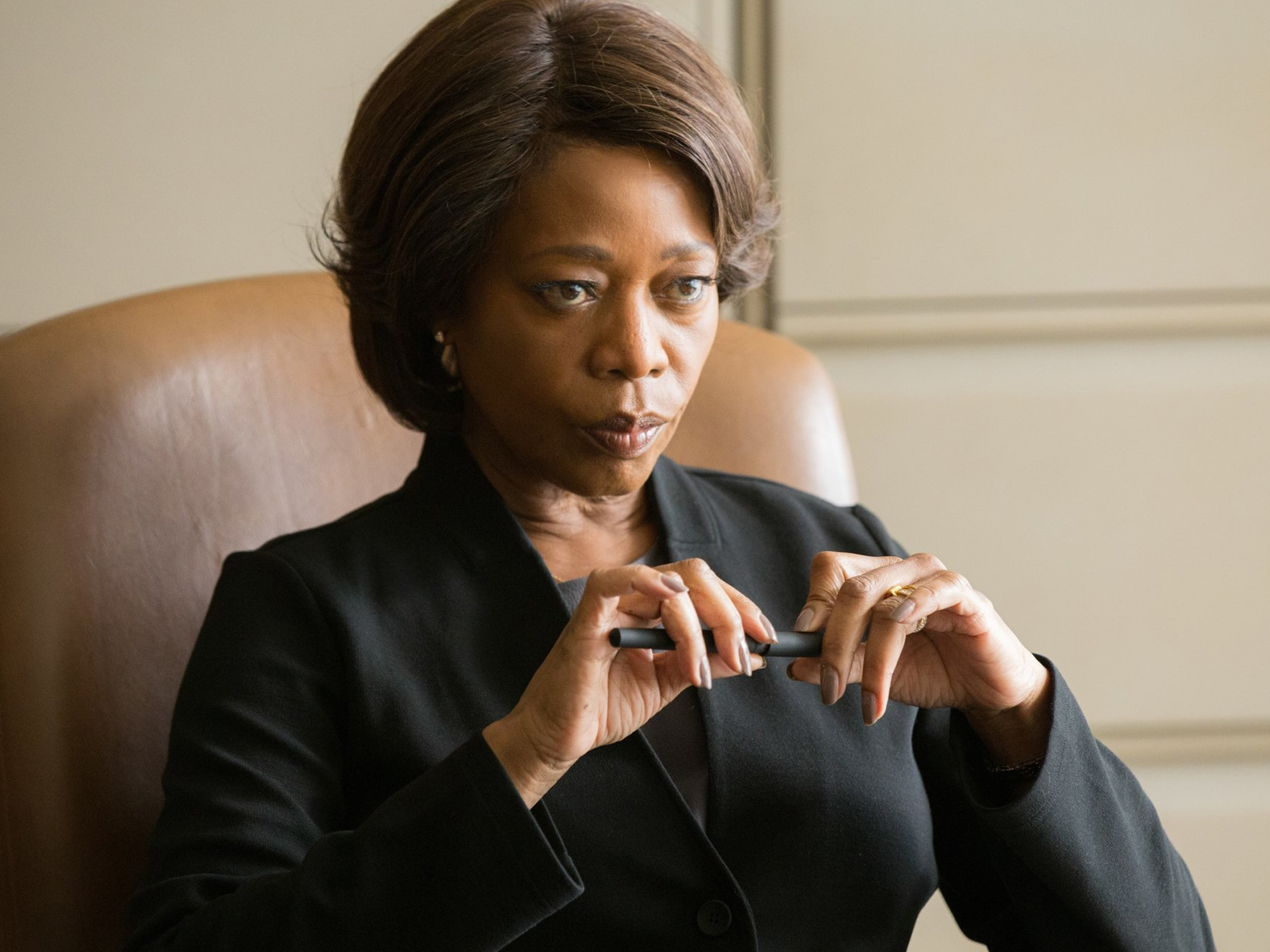 This is the unflinching third feature by Chinonye Chukwu which follows death row prison warden Bernadine Williams (Alfre Woodard) through a moral crisis in the run up to her thirteenth execution – of convicted cop killer Anthony Woods (Aldis Hodge).
The story begins with Bernadine's twelfth execution – of a Mr Jimenez. The camera remains still and the blocking of actors produces a painterly effect as we watch the capable warden prepare a white sheet over the bottom half of the prisoner's body and place a microphone over his head, moving it away before he finishes the Lord's Prayer. The execution threatens to go awry when the syringe begins to leak, yet the frenzy in this moment is eerie and controlled. This atmosphere of dread and potential disaster remains in place for the film's runtime.
Due to the mishap, Bernadine is now under the microscope of the unseen Governor, as her focus shifts to Anthony and the question of whether or not he will be granted clemency. He is a convicted cop killer, has spent the past 15 years on death row despite contradictory evidence and, admittedly, compromised witnesses. Bernadine knows this, yet remains stoic in the face of protests outside her office every day. She defers to the demands of her job when challenged by Anthony's lawyer, Marty Lumetta (Richard Schiff).
Throughout we see the ways in which Bernadine's job negatively impacts her life, her trouble sleeping, her heavy drinking and a fractured marriage to Jonathan (Wendell Pierce), a high school English teacher ready for them both to retire. Woodard as Bernadine is revelatory, an actress often overlooked and who regularly delivers quality work that is taken for granted, and Clemency offers her the deeply complicated lead role she was long overdue. Woodard shines in the moments Bernadine has to herself, enraptured in thought and unresponsive to the call of 'Warden', or using the full strength of her body to gulp back tears. Hodge is equally compelling as a man trying to remain dignified and hopeful in a wholly undignified situation.
This is an agonising adult drama that is staunchly anti-capital punishment but that doesn't rely on the frills of a heart-wrenching score, bombastic monologuing or swooping camera moves. Chukwu's direction is tight. The performances are restrained and effective. It's quite a feat to place the audience in the shoes of the executioner, with no biographical footnotes to their actions, yet still imbuing them with the human intricacies that prevent them from becoming a stock villain.
Seeing the film originally at the 2019 London Film Festival, I felt like I was trying to walk ankle deep through wet sand. Chukwu is a master of show don't tell, and the deft emotional performances she elicits from Woodard and Hodge make this heavy experience completely worth it.
The post Clemency appeared first on Little White Lies.