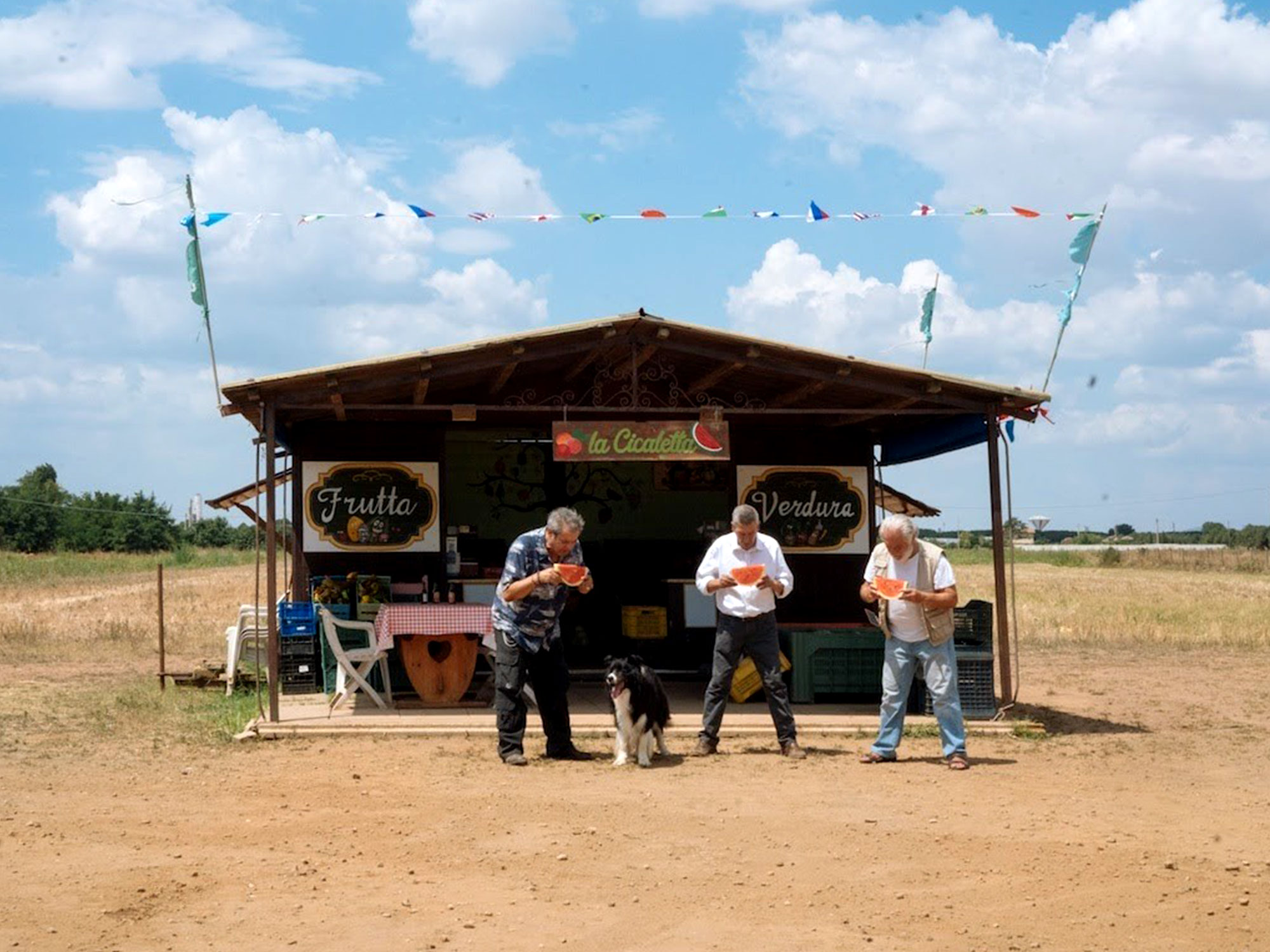 The films of late-blooming Italian writer-director-actor Gianni de Gregorio are a little like sitting out on a sunny European piazza, the breeze blowing across your cheek while you slowly nurse a glass of cool Chablis. His films are gentle to a fault, and boast a quality that is rare in most other cinema: they are deeply relaxing, and seldom offer anything more than a sting of wistful comic episodes always opt for the humorously melancholic over the mournfully dramatic.
This delightful fourth feature sees de Gregorio playing the same lovable, wine-quaffing schlub as previous works (2008's Mid-August Lunch and 2011's The Salt of Life), only this time he's a retired Latin professor whose quality of life is being hampered by his meagre pension. His old pal Giorgetto (Giorgio Colangeli) is in an even worse place, having been a layabout for most of his adult life and owing bar tabs all over town.
On the advice of a loosely connected friend of a friend, they head out into the suburbs of Rome and meet the garrulous and salty furniture restorer Attilio (Ennio Fantastichini), and a few shots of grappa later, and the three of them have reached the mutual decision to leave Rome and set up a hotel on an island in the Azores. A bottle of beet only costs €1.30 over there, so their money would take them a lot further.
The story ambles along as these three woefully unprepared brothers attempt and make some fast bucks for their trip as their initial certitude is constantly dampened by small realisations and epiphanies, such as when de Gregorio's professor finally manages to talk to the blonde woman who drinks in his local bar, or when Attilio becomes sentimental over the prospect of giving his dog to his daughter.
A subplot involving a rough-sleeping Malian immigrant Abu (Salih Saadin Khalid) who the men take under their wing is a little trite, and his character is a little too lightly sketched and malleable for their acts of generosity to come across as much more than self-regarding wish fulfilment. Yet the film does float by gracefully on a wave of easy, lightly ironic charm, and de Gregorio himself is just an extremely warm and funny screen presence.
His films tend to be about elderly people attempting (and failing miserably) to rekindle the pleasures of a carefree youth, and frankly it'd be grand if he keeps making subtle variations of this very robust template for a few more years to come.
The post Citizens of the World appeared first on Little White Lies.