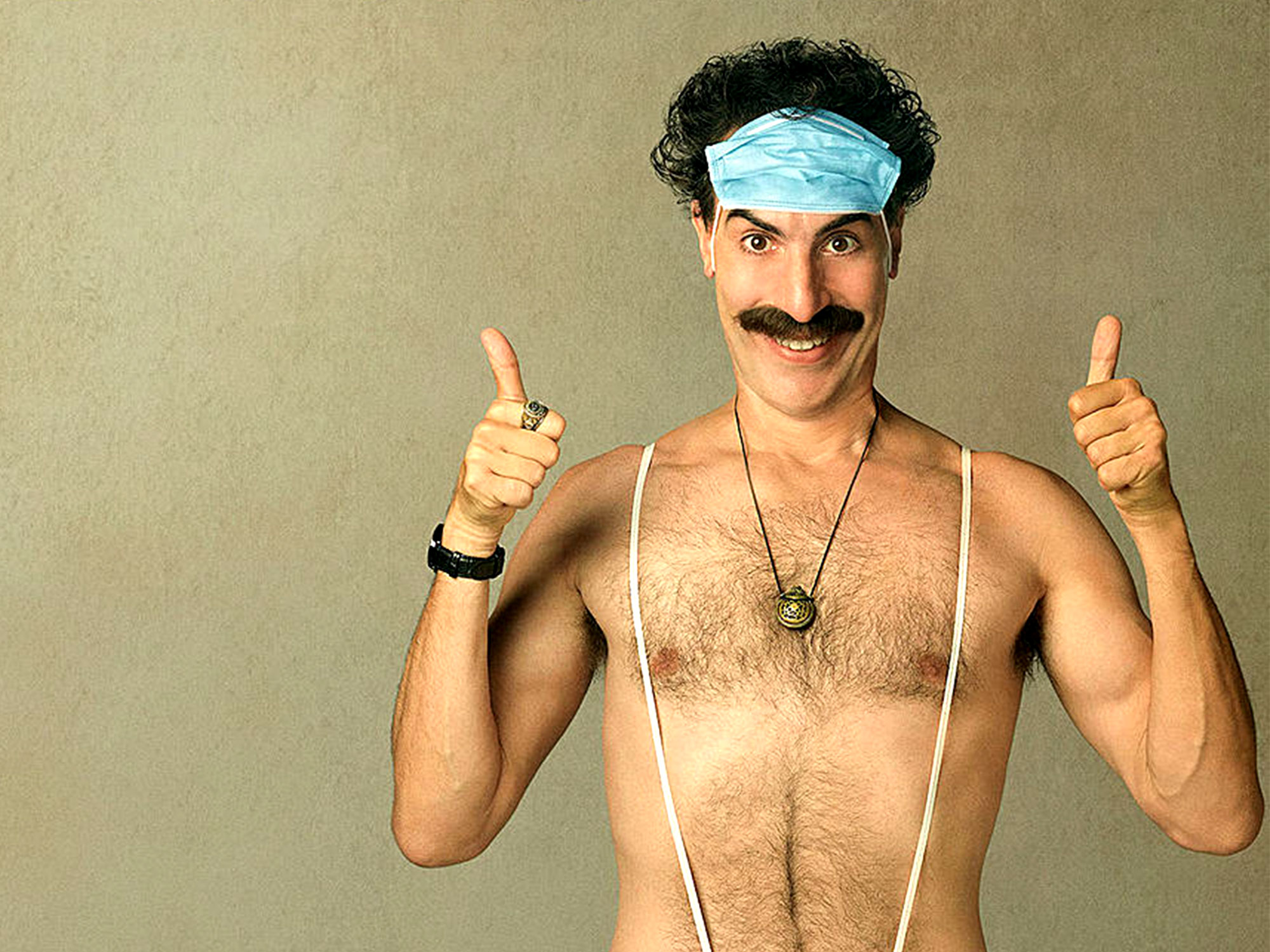 Just when we need him most, Borat has returned to us. Sacha Baron Cohen took a big bite out of Dubya-era culture in the United States with the blockbusting 2006 movie vehicle for Kazakh reporter Borat Sagdiyev, who came to the West on a mission of enlightenment that quickly spun out into cringe-worthy calamity. Now, Cohen and his alter ego will apply that same searing satire to an America in the throes of fascism and a pandemic. What could go wrong?
Today brings the first trailer for Borat: Subsequent Moviefilm. Last time around, the nationwide road trip was motivated by Borat's desire to capture actress Pamela Anderson for a forced marriage; this time, he's on a quest to present his daughter to Vice President Mike Pence so that the current administration will shine favor on his homeland. Again, foolproof plan.
The clip shows that Borat returns to a changed America as a changed man, now too famous to walk the streets without getting recognized and chased by "SEXY TIME!"-shouting fans. So he employs a series of disguises, donning fat suits and facial prosthetics so he can get the drop on his unwitting subjects/victims once again. In one such instance, he brings his daughter to a Southern pastor for an abortion that he claims has been precipitated by incest.
That's just the first of the ruckuses he raises, from a tense encounter with a cop (apparently, women aren't supposed to ride on top of the car in the States) to a quarantine from hell with some good ol' boys to a final confrontation with Pence at the Conservative Political Action Convention earlier this year. Somehow, Cohen evaded arrest, and has left the rest of us with another monument to the brilliant stupidity that defines American culture.
The question is now whether Borat's original lightning can be re-bottled. Bush lent himself to mockery much more readily than Trump, a joke that tells itself, and Cohen's approach may have to adapt to that much. Either way, we know that we're in for another glimpse of Cohen's hirsute, nearly-nude body. In that sense, some things never change.
Borat: Subsequent Moviefilm will come to Amazon Prime Video in the UK and US on 23 October.
The post Borat is back in the trailer for his Subsequent Moviefilm appeared first on Little White Lies.