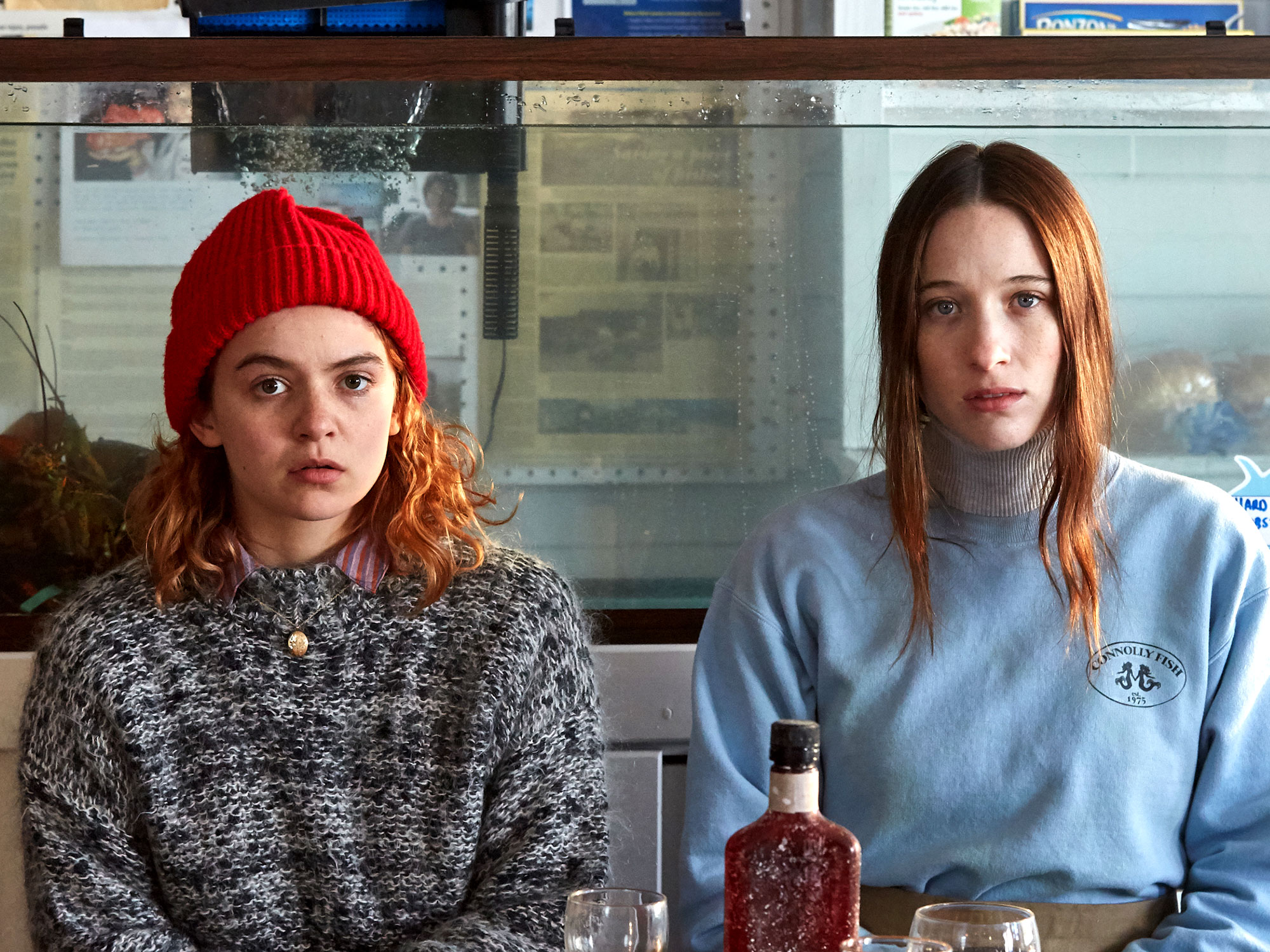 Blow the Man Down opens with an attention-grabbing group rendition of the eponymous sea shanty, which originated in the 19th century, with alternate lyrics referencing the New England port town of the film's setting. Thanks to a montage of misty skies, icy-looking water and squelchy sea creatures, as well as the region and shared taste for anachronistic music, viewers may initially be reminded of Robert Eggers' recent The Lighthouse.
Instead, writer/director pair Bridget Savage Cole and Danielle Krudy present a multi-layered contemporary mystery that's less stylistically outlandish than Eggers' film, though certainly full of its own memorable idiosyncrasies. To name just one, those singing fishermen reappear as a Greek chorus of sorts, popping up throughout the film with a song and the odd fourth wall-breaking glance to camera.
Those shanty-chanters and a few supporting players aside, Blow the Man Down is all about women. In Maine's Easter Cove, a long-ailing matriarch has passed away, leaving her two adult daughters divided over how to manage her unpaid debts: the older Priscilla (Sophie Lowe) is determined to keep the family fish shop going, while Mary Beth (Morgan Saylor) is desperate to finally escape this sleepy town for a college place that was deferred in order to care for their mother. After feuding at the wake, the latter goes to a bar to drink the pain away, becoming chummy with a belligerent man whose later attempted sexual assault of her results in him receiving a harpoon in the neck.
The sisters' subsequent improvising of a (darkly comic) means of disposing of the body brings to mind the Coen brothers' Fargo. But it is not the only narrative thread, as Cole and Krudy are also interested in a more expansive portrait of the somewhat sinister machinations of quaint smalltown life.
Mrs Connolly was also a matriarch figure for Easter Cove itself, and her absence leaves several senior female residents (Annette O'Toole, June Squibb and Marceline Hugot) jockeying to pull the strings, their sights primarily set on dismantling the local bed and breakfast which operates indiscreetly as a brothel – there's literally a candy dish of condoms by the front door. It transpires that the owner, Enid (Margo Martindale), and one of her sex workers, Alexis (Gayle Rankin), have a connection to Mary Beth's victim.
As the various narrative strands begin to intertwine, and as the number of characters to keep track of stacks up, the telling of this macabre tale of murder, money and moonlighting begins to feel a little overcrowded come the halfway point. But the deadpan script and an array of compelling performances will more than sustain your interest all the way through to the killer ending.
Blow the Man Down is available on Amazon Prime Video from 20 March.
The post Blow the Man Down appeared first on Little White Lies.