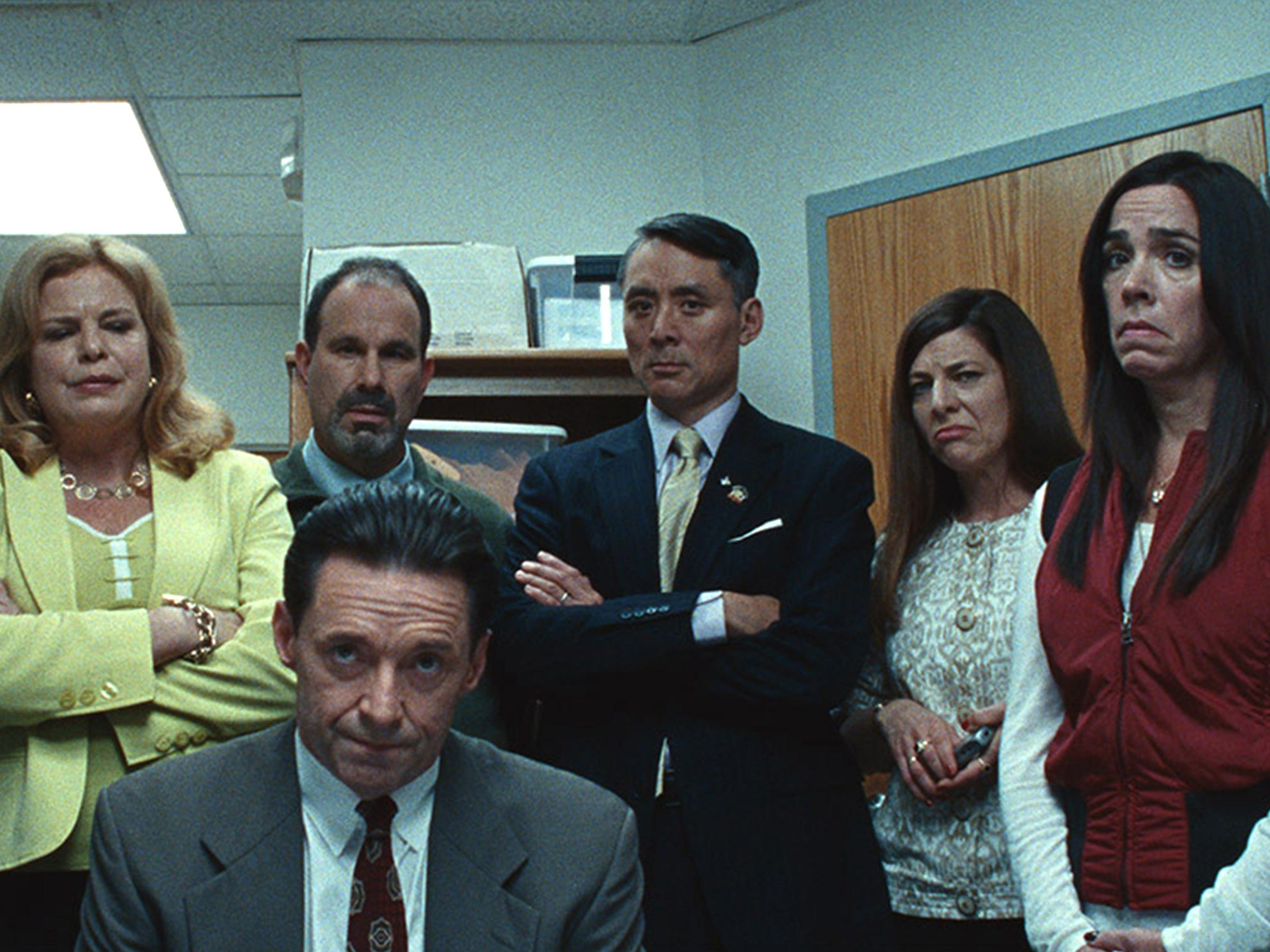 In 2004, a huge scandal rocked a small, well-to-do school district in the Long Island area of New York. Beloved superintendent Dr Francis 'Frank' Tassone was arrested on embezzlement charges, and was eventually convicted for stealing $2.2 million from the public school system he was trusted with overseeing. The money had been frittered away on vacations, cosmetic procedures, real estate, and – most scandalous of all – his double life with a male exotic dancer in Las Vegas.
It's a stranger-than-fiction story with innate appeal – and who better to pen the Hollywood version than someone close to the subject? Screenwriter Mike Makowsky is a former Roslyn student who remembers the scandal well, and his razor-sharp script, teamed with Cory Finley's knack for depicting stark amorality first glimpsed in 2018's Thoroughbreds, works wonders for this wild tale of corruption and greed, while Hugh Jackman, playing the unscrupulous schoolmaster, delivers some of his finest work in years.
His Tassone is as slick and jovial as Jackman himself: he runs a book club popular with all the local mothers; he drinks charcoal smoothies (in 2004!); he wears sharp suits; he drives a nice car. His cologne is Hugo Boss, his hair is groomed to perfection – dyed an inky, box-fresh black. Frank Tassone takes pride in his appearance, meticulously crafted to give off a certain image. Thanks to his efforts on the school board, Roslyn has become a school district of national note, with parents jostling for places and students moving on to top Ivy League schools. As such, when scandal threatens to erupt, Tassone et al scramble to avoid a full-on PR nightmare, keen to preserve their hard-won reputation.
It's a story about the lengths people will go to for self-preservation, deliciously mean and as funny as it is outrageous. Tassone rarely loses his cool, approaching oncoming chaos with an unnatural calmness. It's shocking – and creates a sense of anxiety in the audience – to see someone who is so utterly convinced of their own superiority and cleverness, that they don't even have a contingency plan in case they get caught. Finley delights in showing sociopathy at its most banal; in Thoroughbreds, it was bloodthirsty teenage girls, in Bad Education, it's greedy public school administrators who insist their hard work for a thankless job should come with greater restitution. The scenes between Jackman and Allison Janney, who plays assistant superintendent Pam Glucklin, are comedy dynamite, while Ray Romano – fast becoming the king of supporting roles – is equally delightful as real estate broker "Big Bob Spicer", together making for one of the best ensemble casts of the year.
Yet, as much as Frank Tassone is a villain, Finley invites us into his world and offers vital insight into how his mind works. One scene, set to Moby's 'In This World', is a beautifully choreographed set piece which delivers possibly Jackman's most challenging role to date: as a man who cannot dance. He would do well to learn from his Bad Education experience and seek out more roles that offer him a chance to flex his dramatic skills, as beneath all the showboating, Jackman is a very good actor, and it's nice to be reminded of that every once in a while.
The post Bad Education appeared first on Little White Lies.