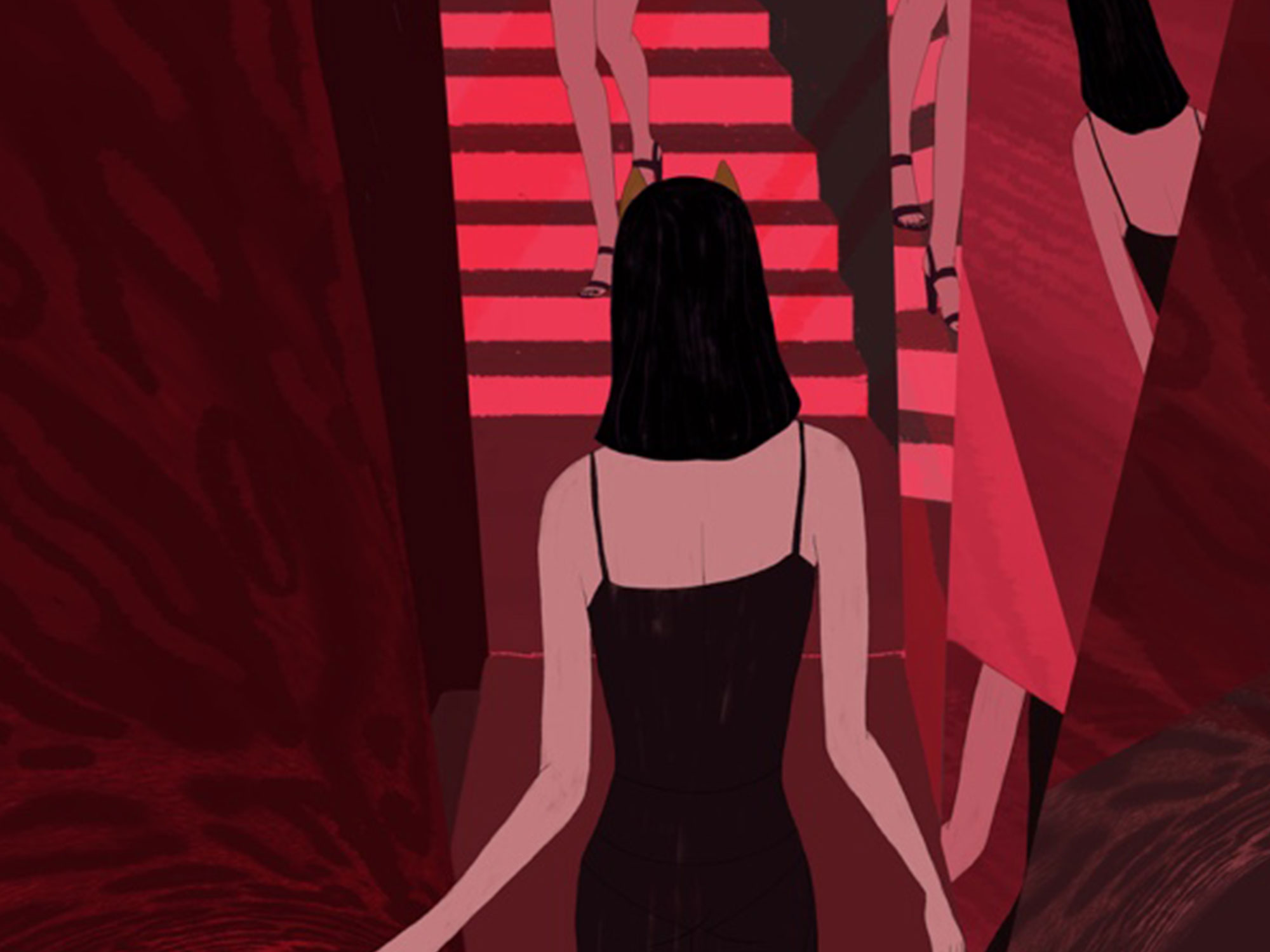 One of the first film festivals to take place in cinemas in the pandemic era was Portugal's arthouse fiesta, IndieLisboa. I attended for five days searching for a film that would hypnotise all of my senses. I knew from the beginning of Hungarian animator Nadja Andrasev's 12-minute short Symbiosis that my search was over.
Opening with a woman holding her breath at the bottom of a swimming pool as she watches other bodies float past, it is immersively sexy with a mood of estrangement that resonates with how it feels to be a shy voyeur in the shadow of extroverts. Andrasev worked as second assistant director on Peter Strickland's BDSM lesbian love story The Duke of Burgundy; the two films share a heightened sensuality and the same insect supervisor, Tamás Németh.
Symbiosis is about a woman named Sophie who discovers that her husband is cheating on her with multiple mistresses. She follows him and collects mementos from these women which she takes home and adds to a secret shrine. The first comes about by chance: a strawberry blonde strand of hair tumbles off her husband and Sophie impulsively tapes it into a scrapbook. Soon she is scavenging old sushi out of the trash, and receiving a tattoo from a mistress who works in a tattoo parlour.
These stolen objects are alive with the energy of the original owner, so the fish layer of sushi becomes a vagina opening. "We needed her to collect different senses," Andrasev tells me, "tactile things as well as auditory, like laughter coming out of a perfume bottle and her tasting things and smelling things."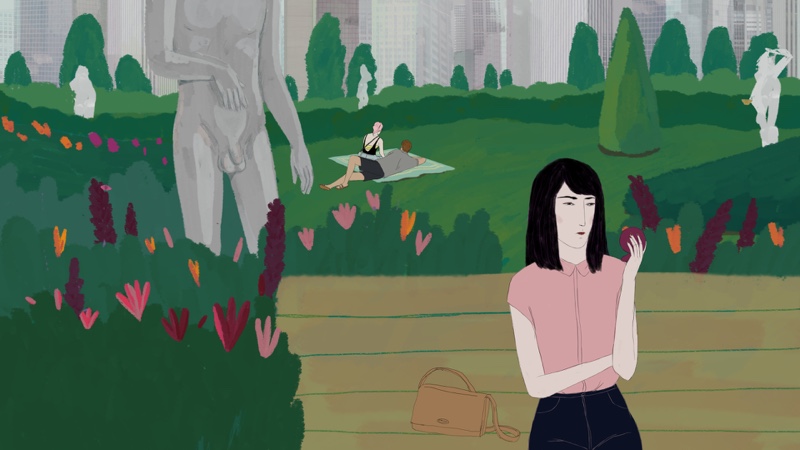 The source of the idea was Nadja's personal experience. "A few years ago I was at a party and I looked around and realised that there were six women who I had some jealousy issue with. Back then I was really distressed and had this ironic idea that they are my collection of butterflies. Over the years I came to a different conclusion and realised that I could still make this film but it doesn't have to be so dark and pessimistic. My personal journey is in the film."
This journey is a reference to Sophie's envy morphing into an awe for the other women, which scans almost like her discovering lesbian tendencies except that the man remains a source of connection. "It was very important to me that the women are not portrayed as negative characters and that she is becoming more attached to them." says Andrasev. "It's a strange admiration towards other women that you cannot tell them because they are not really your friends."
I mention that I think a lot about how if you've had sex with one man then you are linked to all the other women he's had sex with. There are some women I would love to talk to and sometimes I look them up online because we have this one connection and I want us both to talk about a certain man, but it will never happen. It turns out that Andrasev has taken things a step further. "I have a sizeable collection of these women and about half of them are my friends now. It's kind of like taming your monsters."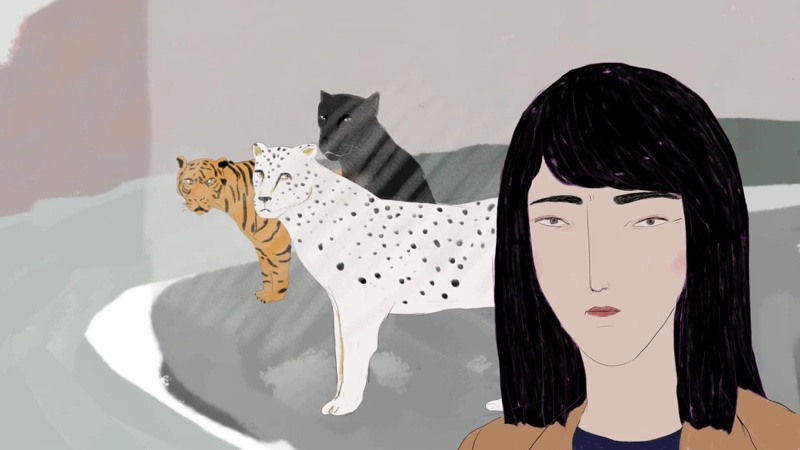 There is an element of objectification, or at least physical appreciation, in Andrasev's depiction of these tamed monsters as they appear in the film. "You can start thinking about a man's perspective: appreciating sexuality, beauty and the intelligence and talent of other women. It's a little bit of an obsession, like you are in love with them in a strange way because you can see the attraction."
There is a stark disconnect between the abundant sex life that Sophie sees her husband enjoying and their situation at home, watching TV feet apart, with him disinterested in her body. "It was important for me to show that a lot of people who are in a relationship are repressed sexually because their sexuality depends on one person," says Andrasev. "The main character rarely sees her husband naked and vice versa, or she's making herself available but he's not taking the chances. Single people have a much healthier sex life in some ways. It can be sexually lonely in a relationship too."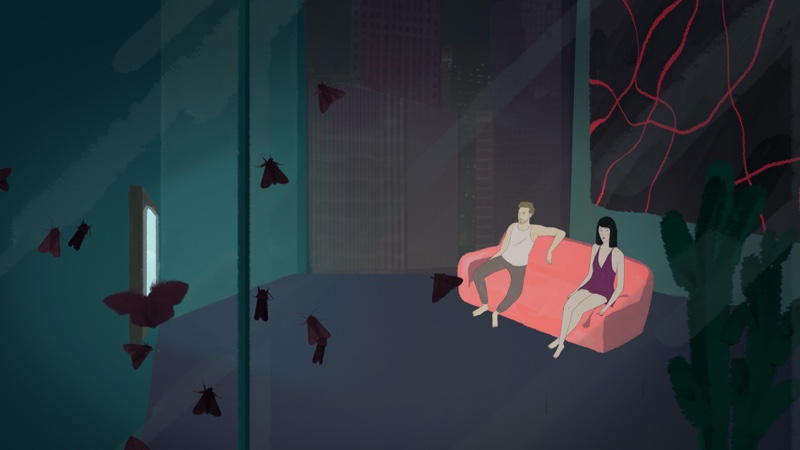 The story is told with the physical clarity of silent cinema, with a spell cast through a deliciously charged sound design by Péter Benjamin Lukács and original compositions by Mads Vadsholt. What instructions did Andrasev give them to create such a dreamy ambience? "I was thinking of her being in a jar that has a vacuum-y atmosphere," she explains. "She's in her own mind, even though she's in a huge city. I imagined a New York City vibe, to show the endless possibilities of another woman coming around the corner and her loneliness in such a huge city. It was great to work with Peter and Mads, the film would not be what it is now without them."
Andrasev also gives thanks to the professional animators – many of whom are friends of hers – who expedited completion with their expert skills. "I designed the characters but for half of the backgrounds I had two background artists to help me. There was one person, I basically gave him all the beauty shots – the pool, the underwater scenes and the sushi sequence – because I knew that he was really good at erotic sensual animations. I picked different animators for different parts of the film."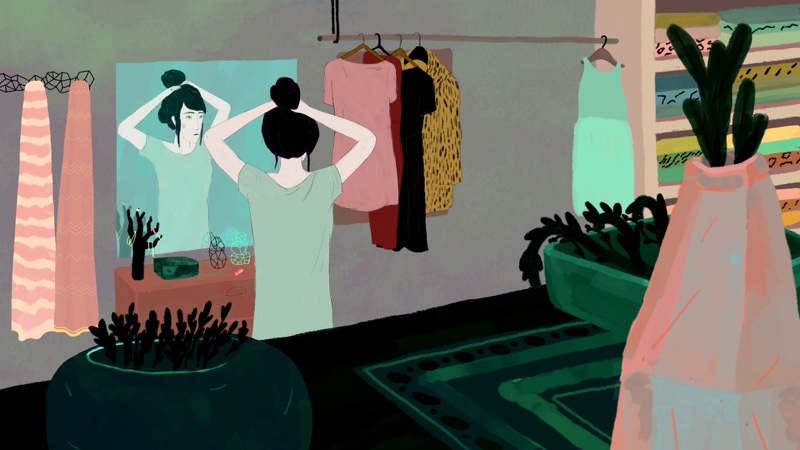 Over the next six months Andrasev will be working as a co-ordinator on a feature-length animation called White Plastic Sky by Tibor Bánóczki and Sarolta Szabó, set in a post-apocalyptic Budapest. So although she has an idea for her next film, it will be awhile before she has the time to work on it. Nonetheless, it is ticking away in her mind, as she contemplates approaches that will have the requisite subtlety. "It's a similarly personal topic. I'm very afraid to make a didactic film. It's an important theme to me and I don't want to mess it up, so I really need to take some time."
I coax her to reveal more. "What's interesting now as a topic is women who are in or approaching their forties and don't have children yet. Maybe they put off this decision until the last minute and have to make this decision soon. I would like to make a film about this dilemma of women running out of time, and if there is a thing that they can do, or should do, or not do. For me, it's really aggravating that men don't have to make this decision. They don't have a clock ticking like women do. I would like to be very cool and laid-back about dating, but it's like, 'Okay I can be cool and laid-back for two more years and then… goodbye' It makes you feel like men view you as needy. Women are not needy, it's just a decision they have to make."
Symbiosis played at Indie Lisboa which ran from 25 August to 9 September.
The post A new animated short explores sexual envy from a female perspective appeared first on Little White Lies.